Retro/Grade Review
Good: Fantastic Music, Interesting Visuals, Unlockables
Bad: There is a LOT Going On, Only 14 Songs, Challenge Mode is Boring
User Score
8.8
(4 votes)

NOT
There is a LOT Going On
Once you start a game you can select 1 of 6 different difficulties. Beginner (lowest) is only 2 lanes and is easy to pick up, where as X-TREME (highest) has 5 lanes and requires a lot more effort. This difference makes it easy for anyone to pick it up, plus allows you to gain more skill before harder difficulties. While this element is simple and well thought out, the same can't be said of the gameplay.
At the start Retro/Grade feels like your run of the mill rhythm game. You see inputs and you move your ship to enter them. Based off your accuracy and streak you will receive different amounts of points / higher multiplier. Shortly after this there will be things coming from behind you, which you have to avoid. These will further lower your margin or error, plus requires you to figure out your course of action. Moving too slow, missing an input, or anything of the sort will result in damage (leading to death / failure) and will reset your multiplier. If you have the fuel you can alter time to just before you messed up, though getting that right takes some getting use to. Running out of this fuel will also mean you automatically fail the level.
To make things even more complex there are various types of inputs. Rockets require rapid fire inputting and lasers require you to hold down X for the duration. Additionally there are also black holes you need to avoid, lasers that require you to be in a certain lane, enemies attacking certain lanes, which might overwhelm some gamers. While I could usually keep up with the patterns, I found the game too convoluted to actually be enjoyable. You will spend more time figuring out where you should be than actually hitting inputs, which gets old fast.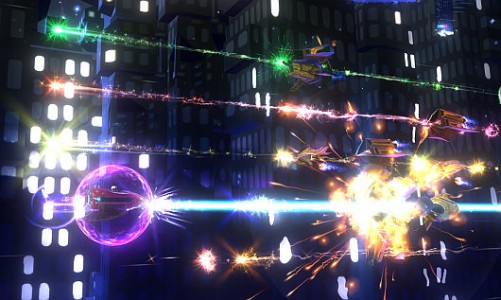 Only 14 Songs
Retro/Grade might have some enjoyable songs, but the selection is pretty poor. The whole campaign is whopping 10 songs, which can easily be completed in an hour. Sadly the songs don't change on different difficulties, so expect to hear the same songs a lot. According to the music player in extra there are another 4 songs, but I've yet to encounter them.
Challenge Mode is Boring
After you finish the games story or just want to do something different, there is always challenge mode. Here you will have to complete various levels under some sort of condition. While this sounds good on paper, most of the challenges are actually pretty boring. Lanes are not colored differently, mirror level, reduced health, perfect the level, beat it at 85% speed and other things. The issue isn't that they're unoriginal or lame, but simply that the game feels exactly the same regardless of what the "challenge" is. In many cases I didn't even notice a difference between the challenge version versus the normal version. Thankfully there are some unique elements like a scrapped version of the level, though that's an uncommon one.
VERDICT
Retro/Grade isn't a bad game, but it is certainly an annoying one. Sadly the gameplay feels needlessly complex and it doesn't help that the game is going in reverse. This means every action is actually an undo, your goal is to hit 0 points, honestly it's all too convoluted to be enjoyable. Sure there are some enjoyable elements, though they're far and few.
[
Editor's Note:
Retro/Grade
 was reviewed on the PS3 platform. The game was provided to us by the publisher for review purposes.]
Page 1 2
Retro/Grade Review

,