E3 2012: God of War: Ascension Multiplayer Demo Hands-On
After taking the time to visit the Sony booth and play the God of War: Ascension multiplayer demo I can safely say that the devs have done an excellent job of making a multiplayer experience that fits in the GoW universe. It plays really well and manages to keep the visceral, brutal feel that we have all come to know and love from the God of War franchise.
When I played the demo I was given the option of picking one of two weapons and either heavy or light armor (note that in the full game you will be able to fully customize your character as you see fit). I put on the heavy armor and hammer on my first round and went to work in a mode titled "Favor of the Gods." This mode has you performing various tasks in order to gain the Gods' favor. These tasks include scoring enemy kills, opening the red chests scattered around the map and capturing the alters scattered around the map. The map that I played was the one that has been shown off in the trailers that has the titan Polyphemus chained in the background. Killing him is the best way to gain favor as offing him will net you 1000 points.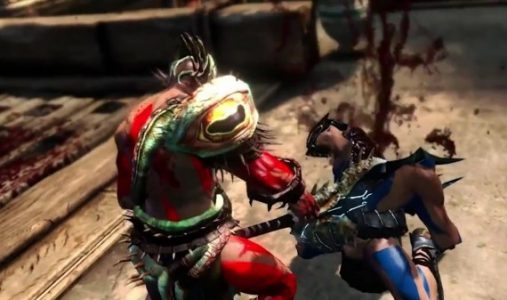 The combat does not stray from the familiar feeling and controls of God of War. It was easy to pick up and play and I found myself having tons of fun without having to worry about a learning curve. The coolest part of the demo was the ability to perform brutal kills when your opponent is close to death. Activating the brutal kill will give your opponent a gruesome death that could be as quick as stepping on his face or as grotesque as bashing him in the head multiple times with a giant hammer until his face looks similar to that of Hercules' in GoW3. The carnage gets ramped up a couple notches when you perform the execution on the titan Polyphemus. When you pick up the spear that drops into the map, your character cuts through its bottom jaw and splits it in half, leaving it flopping in two different directions. He then proceeds to jab the spear into the titan's eye in a fashion that would make Kratos proud.
The multiplayer for God of War: Ascension definitely feels like it belongs in the God of War universe. It carries the GoW feel and look while managing to distance itself enough to act like its own mode, rather than a bunch of different Kratos characters running around. After seeing how great the single player looked as well I have no doubt in my mind that Ascension will be a great addition to the franchise and I am excited for it to release next year.