Bad News For Those Looking To Get Borderlands 2 'Ultimate Loot' Edition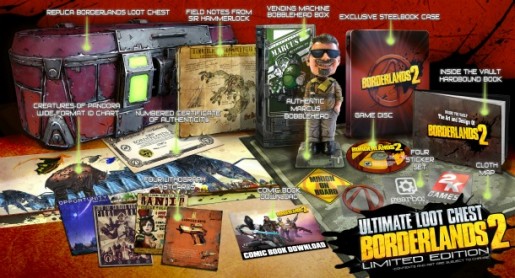 Interested in picking up the 'Ultimate Loot Edition' of Borderlands 2 that was announced not three weeks ago? Unfortunately, it seems like you, and many others around the world may be severely out of luck. In speaking with Kotaku, Randy Pitchford, the boss of Gearbox studios let fans know that more copies of this edition being made available is not likely. "I want to apologize…It doesn't seem likely that there can be more loot chests manufactured by launch, but please keep in mind I'm not the sales guy, not the manufacturing or distribution guy".
This is a rather disappointing statement to be heard, especially after all of the excitement surrounding both of the limited editions. Had we only known how "limited" these editions of the game would be. All hope is not lost, as Pitchford attempted to let fans keep hope in their heart by saying "if we can make something happen here, we'll report it on our website". This certainly doesn't mean that it will happen, but hopefully it means he will try his best to.