Rockstar Social Club Gets Full Redesign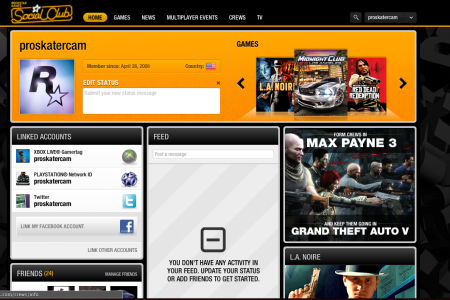 In preparation for Max Payne 3′s new crew system, Rockstar has gone ahead and revamped their Social Club site. The revamp sees a redesign for the site, resembling a Facebook/Twitter style page, which coincides with the ability to link your Facebook or Twitter accounts to your account. A cool feature to this new linking style is that you will be able to find friends that are also using the Social Club and add them; certainly nice if you're looking for new people to play with, that you didn't even know played games!
As the Social Club previously provided, stats for applicable Social Club games will show on your home page now, once your accounts are linked. On top of such, coming on May 9th (this Wednesday!), crew management will be available for pre-registration. Luckily, Max Payne 3 doesn't release until next Tuesday, so that should give you plenty of time to organize your crew and be all ready for launch day. Also, don't forget that whenever Grand Theft Auto V happens to release, crews will carry over, so don't neglect the new feature if you aren't particularly interested in Max Payne 3. Head over to the Rockstar Social Club page to check out all the new changes and get prepared for Max Payne 3 next week!