Playstation Store 'Ultimate Editions' Coming Tomorrow, Big Sales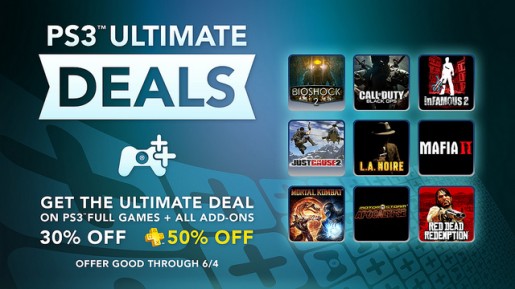 Often it is arguable that the prices on full PS3 games on the Playstation Store are overly high, and lack any real deal factor. Sony seems to realize how people feel about this problem, and as a result are going to be putting out their own ultimate editions of popular games. Starting tomorrow, nine games will be made available on the Playstation Store in the form of either custom edition, or pre-done DLC bundle. These nine games will be available for 30% off to normal users, and 50% off to Playstation Plus users.
This is quite the deal considering some of these games complete are considerably cheaper than buying the equivalent items retail. Act fast if you're interested as this deal will only be available from 5/29-6/4. For a full list of games, their included items, and pricing, head over to the Playstation Blog. In my personal opinion, both Red Dead Redemption and Mafia 2 are excellent games, and for this price, are even better. Furthermore, it should be noted that the online on Bioshock 2 is rather dead, so buy at your own risk with that in mind.