"OMG Finishers" In WWE '13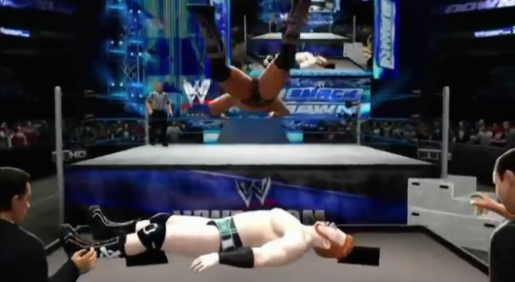 WWE '13 will have a new finishing move gimmick called "OMG Finishers". Cory Ledesma and IGN's Rich explained this more on their respective twitter accounts.
@RichIGN tweeted:
"Some more ‪#WWE13‬ details for you – Punk, Undertaker and Mark Henry now have the 'OMG' Catching Finishers"
Although no gameplay footage of this has been shared yet, it's an interesting concept that will keep wrestling fans happy. I'm sure Randy Orton's RKO will be there too since he catches opponents from mid-air in real life.
Cory Ledesma tweeted that you can now do finishing moves on announce table now:
‪"#YES‬. Moves on the announcer table are back! ‪#OMG‬"
This feature was stupidly removed from WWE '12. It's good to see that it's making a comeback in WWE '13. It was one of those things that should have never been removed in the first place anyway…