With October 25 fast approaching, I have come up with a number of reasons as to why Battlefield 3 will be the best shooter to come out this year, especially over Call of Duty: Modern Warfare 3. Before anyone starts screaming "fanboy" and "paid by DICE" know that I am a huge fan of both games but I just see more potential in Battlefield than in the Call of Duty series as a whole. So here goes my point of view as to why I believe Battlefield 3 will be the best shooter we will see this year.
My first, and biggest, reason that Battlefield 3 will shut out the competition this year is that since it doesn't see an annual release, the developers have had time to put care into every single aspect of their game ranging from animations to content. With Call of Duty games seeing a yearly release, its hard for the devs to come up with very many new ideas before they come out with the newest edition. Instead of being a full sequel, it turns out to be Modern Warfare 2.5 instead of 3. Battlefield 3 has seen a vast array of improvements since both Bad Company 2 AND Battlefield 2. With new additions such as a prone option and updates to their class system and already amazing multiplayer, Battlefield 3 has looked to make improvements with each game instead of copy and pasting their features every year.
The next big point to touch on is the graphics and animations in Battlefield 3 compared to Modern Warfare 3. If you are to compare the two side by side, Battlefield 3 does look better both graphics wise even running at half the frames per second in a slightly lower resolution and in the animations department. From reloading your weapon in a half and full state to vaulting obstacles, going prone and crawling the animations are full and smooth with everything having that small added touch to detail due to the power of the Frostbite 2 engine. Modern Warfare 3's graphics do not seem to have improved much at all over Modern Warfare 2. Things do seem slightly more polished but there is only so much you can do with an engine that was used for the past 3 Call of Duty games. If it's not broke don't fix it right? (Or improve it.)
My third and final point is the story in the two games. While they both deal with war against the Russian army, Modern Warfare 3 continues a story that should have, and could have, ended in the second title. But Activision loves their money and saw the opportunity to make this a trilogy so they went for it. Battlefield 3 is coming into the console era with their first attempt at a single player campaign in what used to be a multiplayer only PC title. From the two videos seen so far on the single player portion of the title, it looks to give players an engaging war experience putting them in control of some intense moments. Seeing one of your squad mates shot right before your eyes and then dragging him behind cover, a man looking at a toy dinosaur from his son then being told that he will be home in time for his birthday, all of these elements can come together to make excellent story telling devices. We can look forward to depth in the characters as well as their development and possible attachment to them. In Modern Warfare 3 we can look forward to a load of explosions and adrenaline fueled moments brought on by two angry British dudes and the American Army. Oh don't forget the high possibility of yet another cliffhanger leading into Modern Warfare 4…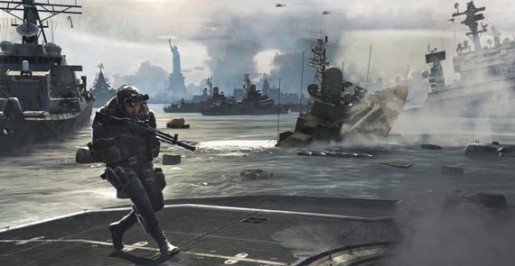 I believe that both of these games will be great in their own respects to their different fan bases but Battlefield 3 is something new that shooter fans have not seen on the console. But as is how the world goes, fans of Battlefield 2 that still play it on the PC as well as fans of the upcoming game will always argue that their game is better than the other, as fans of Call of Duty will always argue that theirs is better. But I will leave you with this: Call of Duty 4: Modern Warfare was the beginning of Call of Duty's rise to fame when it released in 2007. Battlefield 2 held the title of best Modern Shooter before that in 2005 for 2 years and still holds popularity and is still widely played by fans without having to put out a new title every year.
Why Battlefield 3 Will Trump Modern Warfare 3

,