E3 2010: Brink Hands-On Impression
Brink is one title most first-person shooter fans have been anticipating for a long time. Unfortunately, the game has been delayed until Spring 2011, it was originally scheduled for release in the of Fall 2010. This year at E3, Brink was one of the many playable games from Bethesda. Curious as to what the game had to offer, I went ahead and tried it out and with a Bethesda PR representative to tell me all of the details about the game.
Brink, (on the Xbox 360, PlayStation 3, and PC) takes place in a floating city called The Ark in the year 2035. Following the destruction of Earth, two factions; the Security and the Resistance, are in a battle with each other to take control of the city. Players will be able to choose from the two factions when playing the campaign mode. Before a campaign is started, the player can customize their own characters similar to Borderlands.
The demo that was available on the show floor was a training mode with several missions which really reminded me of Borderlands, along with the levelling system. Fans of Borderlands, expect Brink to have the same level of customization available. Playing the demo didn't actually give me the opportunity to try out the customization mode, but the representative guaranteed me that final version of the game will have a lot of skills and abilities for a character can equip.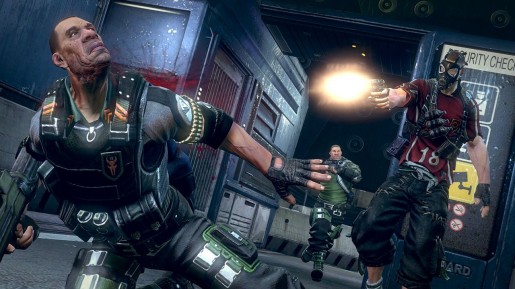 Brink plays similar to any other first person shooter. The controls are a little bit different, but the learning curve isn't that bad. The L1 button is used to aim, while the R1 button is used to shoot. When a player decides to spring, pressing the L2 button will do the job. It takes time to get used to the new controls, but the game is easy to play.
A neat feature the a representative told me about Brink is that the game has a co-op mode, and anyone can jump right into the game at any time. It doesn't matter if the player is in the middle of the campaign mode or playing by themselves online. The mission system is kind of different, in the training mission that I played, I got to choose a variety of missions by accessing the Wheel Menu through the D-Pad. It's very easy to keep track of the missions because there is an indicator that tells players what missions are needed to advance.
Certain missions in the game will require the player to change jobs. In the training mission that I played, after completing on objective, I was asked to switch from Soldier to Engineer to hack a computer, then I had to switch to another class to plant some C4. For people who like objective type missions, Brink is something to look forward to. The available classes in Brink are Soldier, Engineer, Medic, and more.