Hanabi Deluxe II, a cooperative board game with set collection and memory mechanics, has recently been released by R&R Games. Designed by Antoine Bauza, the original game was released back in 2010 and was a card game. The game sees 2 – 5 players working together for around 30 minutes to put on an incredible firework display – with Hanabi being Japanese for fireworks. However, does the game play with a bang or is it more of an uneventful pop? Let's find out!

The base game of Hanabi revolves around perfectly creating 5 coloured fireworks with tiles numbered 1 – 5 in order. Putting all of the tiles face down in the center of the table, giving them a good shuffle, players draw 4 or 5 tiles – depending on the player count. Most importantly the players do not look at their own tiles, making them face outwards – visible to all other players.

The game starts with the players having a pile of 8 clock (clue) tokens, and three fuse tokens. On a turn a player can perform one of three actions. If a clock token is available the player may choose to discard it to give one piece of information to another player. Pointing towards a number of someone else's tiles the player can say either a colour or number. When giving a clue players must point towards all tiles from the player that match the clue. For example, if a player had 3 blue tiles and 1 white they must point at all three if they say "blue" as the clue. In this example the player would not be allowed to also give the numbers of the tiles, as either a number or colour, not both, is allowed.

If a clock token is not available it may be best to discard a tile. Stating that they are discarding the player turns one of their tiles face up and places it off to the side. As well as replacing the tile from the middle, being careful not to look, the team gain a clock token back. When a player feels they have enough information about a tile, on their turn, they can choose to play it. If the tile works, being played in order, the team is one step closer to a perfect firework display. If the tiles doesn't work, perhaps that tile has already been played or a tile is played out of numerical order, the team discards one fuse token.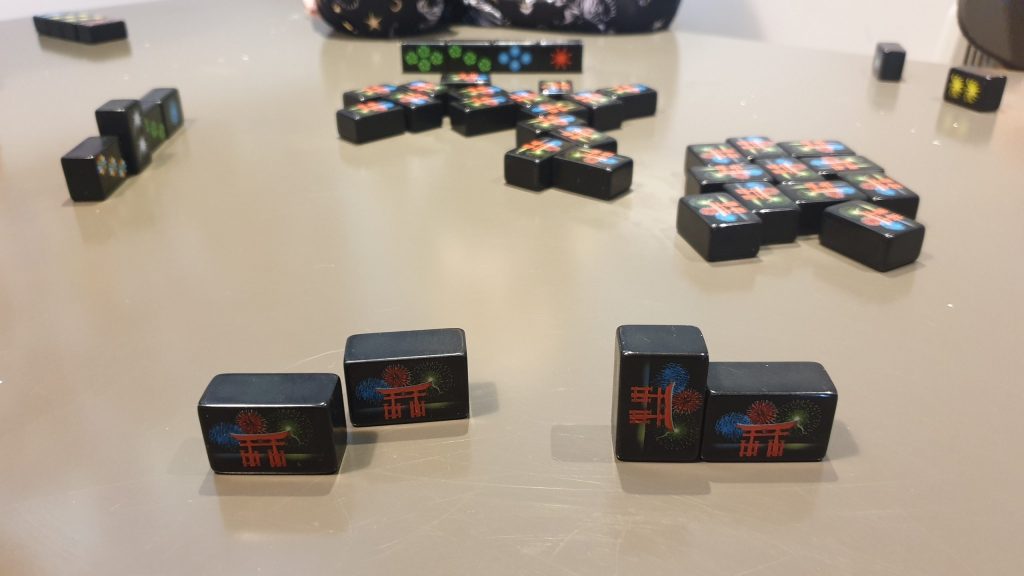 The team gets a bonus if they complete one of the five fireworks, getting one of their discard clock tokens back for free. The game continues clockwise with the team spending clocks, playing or discarding tiles. The game ends with an instant loss if all three fuse tokens are discarded – signalling an explosion. If the team manages to avoid this (which is relatively common) the game ends when all fireworks are perfectly formed or all of the tiles in the middle are drawn. If the tiles run out each player gets a final turn before the game ends. The team then gets as many points as played tiles. A table in the rulebook then describes the firework display from "booed by the crowd" through to "Legendary".

When the game has ended if the victory isn't perfect the scoring feels a tad lacklustre. It is effectively just looking up a table to see how well you did, similar to the popular party game Just One. While it is somewhat necessary to allow for some kind of ending, which isn't a perfect show or an explosion, it lets the fun of the experience tail off a bit. If there was a way of recording scores provided so players could attempt to beat previous records it would at least give more meaning to the number.

Hanabi has been referred as a game similar to the smash hit card game The Mind. There are some similarities, players are trying to play the tiles in order. However, it is closer to the inverse of The Mind, with players unable to see their own tiles. The feeling of pressure from playing the tiles in order is present. Still, it is not to the same stress inducing magnitude, with players actively able to give clues and help each other. This results in an experience that is more cooperative, and more welcoming to new players.

The simplicity of the rules helps Hanabi be an ideal game to play with new and experienced gamers alike. On a turn you can do one of three things, none of which are complicated or come with cascading caveats. Within a few turns players will have done the three different actions, dropping the awkwardness of learning a new game within minutes. This allows players to get stuck straight into the experience – including cheering when players succeed in risky plays or discards.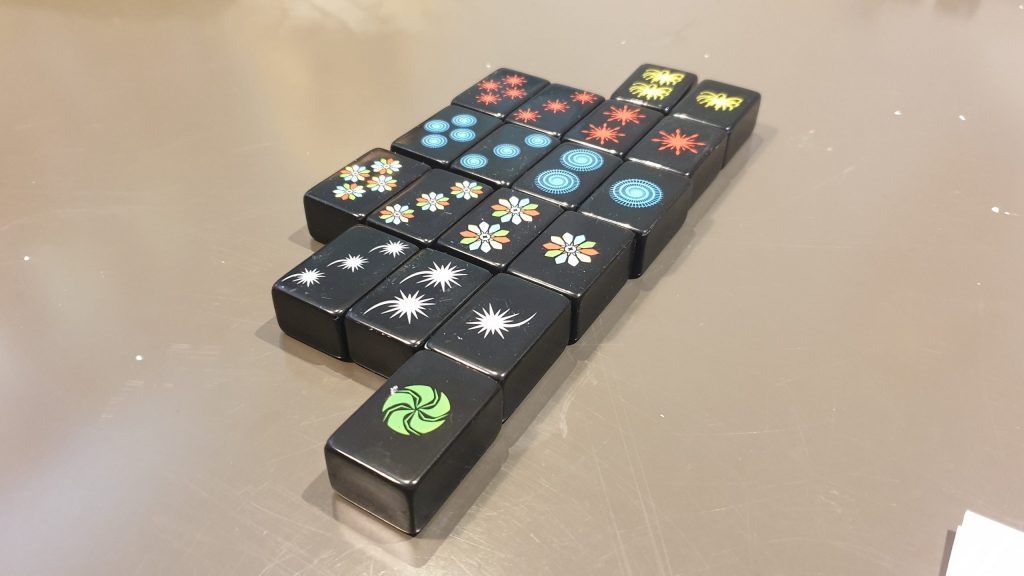 Hanabi Deluxe II comes with solid, chunky Mahjong-like tiles, unlike the regular edition which is card based. They sit nicely on the table and cause a satisfying clink when played or discarded. The tiles do require a somewhat flat surface – not only for in front of players, also for the pile in the middle. Cards wouldn't need as much room. Nevertheless, holding the cards so they are visible for all other players cannot be more comfortable than having the tiles stood up, handsfree, facing your teammates. Next to the tiles the plastic fuse and clock tokens do feel small, yet in any other titles they'd be a positive component to highlight.

A range of variants are included with Hanabi Deluxe II, even before adding in the Master Artisan tiles. Included are a set of multicoloured tiles. These are used in various ways, allowing players to adjust the difficulty. Making the game easier players can use the multicoloured tiles as any colour. This is two fold as players have a higher chance of being right, as well as there being additional tiles of each number for the different colours. The Master Artisan expansion adds in bonus tiles that players get instead of a clock token when completing a firework. These bonuses are immediate actions such as gaining a discarded tile back to telling one player the colour and number of a single tile. Each are useful at the right time but are still hard to get!

The end of a non-perfect firework display may be slightly anticlimactic, yet the rest of a game of Hanabi is engaging. Being frustrating in a good way, each player has a lot of information to give but must be picky with the ability to only give out bit part information. The production quality of this new Hanabi Deluxe II set is very high, with the chunky tiles being very satisfying to play with. Whether they will work better than cards for everyone isn't a given though. For when you want a relatively quick cooperative game, with a spot of stress rather than bundles, Hanabi is a great game to turn to.

(Editor's Note: Hanabi Deluxe II was provided to us by Asmodee for the review. The game is currently available from local board game stores, find your local store here.)