A Year of Rain is a real time strategy title which recently released into Early Access. Clearly wearing heavy inspiration from Warcraft III on its sleeve, the game is a small-scale RTS. Each player (or AI) has a hero character, as well as regular troops, with resource points to capture and exploit with the bases you build.
The big quirk of A Year of Rain is the focus on cooperative gameplay, whether that be with a real human or with an AI partner. All gameplay modes see you paired up with someone else, whether that be skirmish versus AI, Online skirmish versus players or the campaign. Particularly having a coop campaign in an RTS game is a bit unusual and much appreciated, though during my testing I did run into some issues with actually achieving this. The process of playing with a friend isn't particularly intuitive but the developers did put a video out (linked in the Steam discussion for the game) to show how to go about this. Even doing that correctly though we had issues where the game server was unable to put us together in a game – hopefully this is a teething issue which will clear up as the game matures.
The core gameplay, as has been said, is pretty much pure Warcraft 3. You have resource nodes to send workers to extract, as well as forests to cut down. These same workers also act as your construction units. Once you get a barracks, or equivalent, built you can start pumping out basic military units to join your hero. Unlocking new military units is done by building more structures, with new abilities or upgrades for your units unlocked by buying research from these assorted buildings.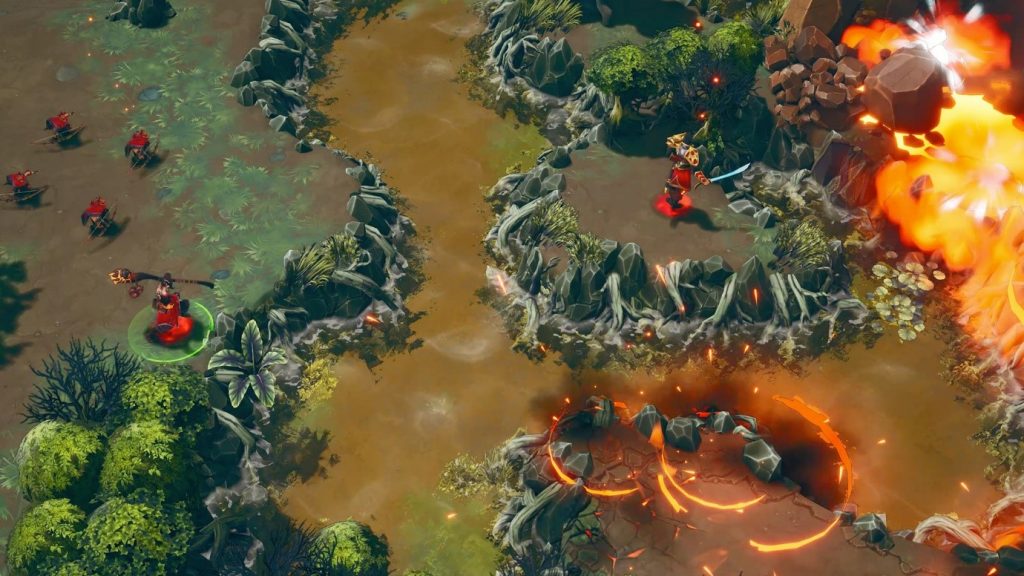 At the start of the game you select the role of your hero from tank, support or damage, which affects the abilities you get to unlock as the game progresses – something which is also modified by which of the three heroes available for each of the three factions you opted to play as to begin with. These heroes have some useful abilities and are significantly more potent than regular units, but they aren't the army-destroying powerhouses you might expect – they still die pretty easily and are likely to be focused down. The weak effect some of the hero abilities have was a bit disappointing; when I first flung a fireball and saw the nice satisfying explosion I was a little miffed to only see a tiny sliver of health come off the enemy health bars caught in the flames.
There is a tight population cap in place and the closer you get to the hard cap the more heavily your resource income is 'taxed' so you rarely even get to that cap. This is not a game of vast armies, but of small frequent skirmishes. This is a very good thing in practice, because the unit pathing is diabolically awful. Groups of regular units constantly get in each other's way, preventing melee units from getting to the enemy and being useful. This is bad enough with regular units but when it's your hero getting stuck in your pack of spearmen while taking fire from enemy ranged units this is particularly frustrating. At the moment, much of the micromanagement of units is simply moving them around each other to mitigate the pathing issues. The developers have posted a roadmap on which improved pathing is item number 1, but right now this is a major problem.
What is this, a UI for ants? Another technical issue, other than the aforementioned difficulties getting coop games running, is the lack of good high-resolution monitor support. As can be seen from the screenshot below the interface is simply too small when running the game at 3840×2160, and required some leaning in towards the monitor to read elements of it, which isn't ideal.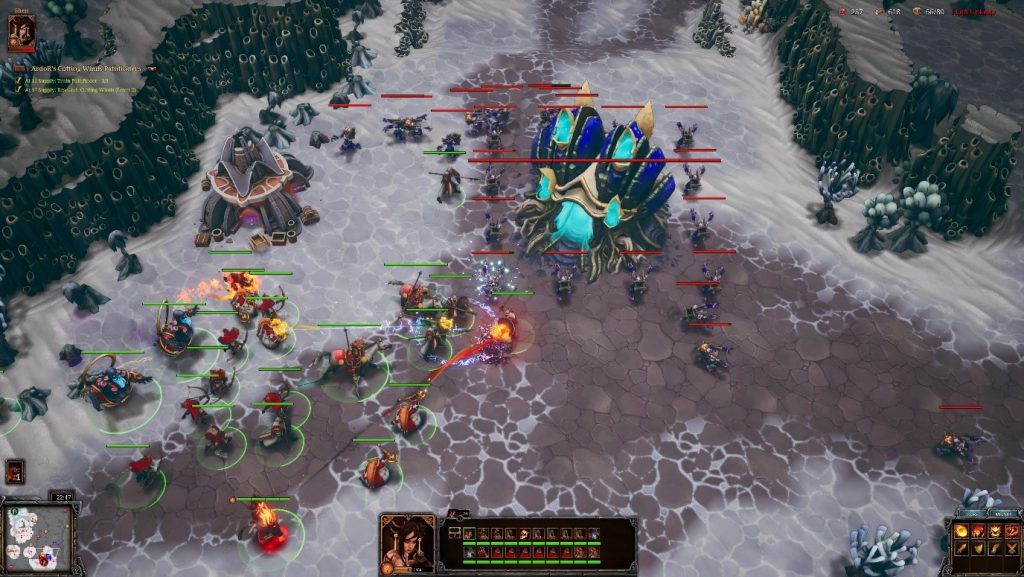 So, Early Access being Early Access these issues are fairly forgivable, particularly as A Year of Rain does get a reasonable amount right. The biggest areas A Year of Rain succeeds in are the music and graphics which are both excellent. A colourful and heavily stylised appearance does at first glance make this look even more like Warcraft but it does still remain reasonably distinct. Importantly, it is undeniably pretty. The music is also excellent, which is no surprise as the steam page proudly states they had Neil Acree compose it (well known for his work on a lot of Blizzard games including World of Warcraft and Overwatch). The rest of the sound design isn't as stand-out but is serviceable, though some of the voice acting of side characters was a little questionable in places.
The AI in the game generally seemed to behave adequately, not a patch on a human but not as braindead as in some games. The AI does have a tendency to send in single weak units, which others have suggested that this shows a weakness in the AI, but that's a legitimate scouting strategy. As a cooperative partner the AI is relatively passive. Still it responds promptly to the pings you can provide to tell it where to go/attack/defend, so playing the campaign is still viable without another human. It is clear though that the intent is to play with another person and that definitely is a better experience, as in most games; both due to the inherent appeal of doing something while chatting with friends, and because a real person can show a bit more initiative than the AI (hopefully at least…).
All in all, A Year of Rain feels like an old game with a modern presentation and a coop twist. Once the Early Access issues are ironed out it seems like this will be a very solid game, but it's also coming out at an inopportune moment in a lot of ways. A couple of years ago a new Warcraft III-ish game would probably have been lapped up by fans, but with the imminent release of Warcraft III Reforged a Year of Rain is going to have a much harder fight on its hands to establish a strong enough multiplayer following to sustain the PvP scene. The presence of a cooperative campaign may be enough for it to carve out a niche though, and I do look forward to returning to it once the pathing issues are sorted out.
(Editor's Note: A Year of Rain was provided to us by the publisher for the preview.)