Despite Archangel Eli being one of the most interesting and creative bosses in The Surge 2, he comes at a time where it's possible to create a build that removes his difficulty entirely. Since this is the last fight and doesn't offer much beyond a conclusion to the story, I suggest just building towards being overpowered. Here's our The Surge 2 Archangel Eli guide:
Editor's Note: This guide does not include the method to unlock the 2.0 weapon. At the time of writing, it is not currently known how to unlock it in The Surge 2.
Preparation
Prior to this fight, there is a single level 10 enemy that spawns by the med station who you can kill in 20 shots with the R-1 'Diode' Laspistol drone. For those who haven't figured it out by now, this drone can sever limbs like the player character, meaning you can farm level 10 gear here. Just keep repeating until everything you have is level 10 and remember its right arm has a weapon, regardless of whether it's armored.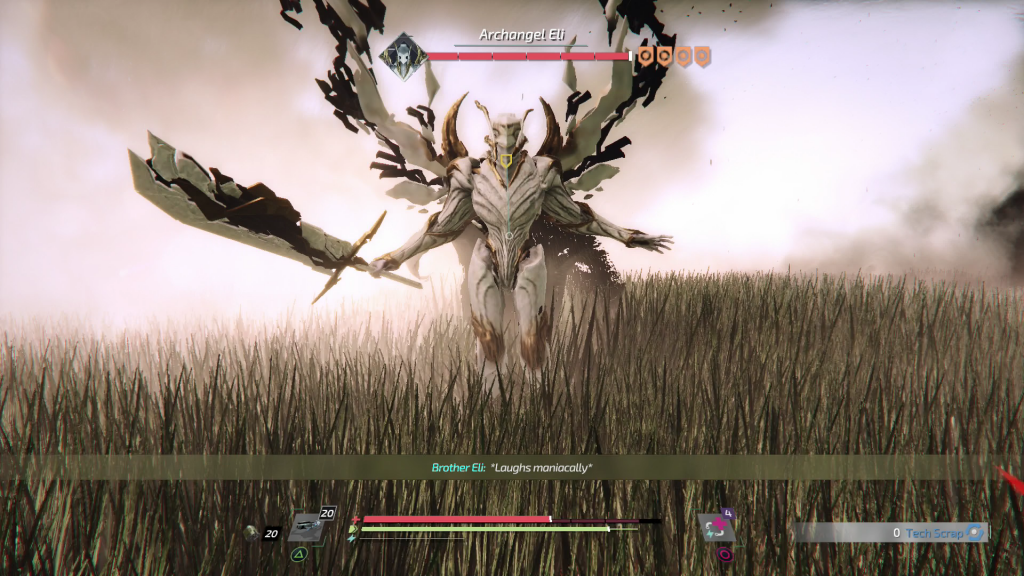 After that, I equipped Medi-Volatic Injection, Auto-Healing Dynamo, Nano Absorber EX, Battery Auto-Healer, Kineto-Plasmic Shunt, Energy Dynamo, and Ancillary Core. I actually had more things equipped, though they don't actually make a difference if you handle this fight correctly. I also used the R-1 'Diode' Laspistol drone and Brother Truman's Faith, but you want something fast.
Method
Round 1 and 2
If you're reading this for Archangel Eli, simply skip this part. That out of the way, Brother Eli is a fairly easy boss. He is literally, waits for an attack and pounce when he finishes. Even if you make mistakes, he isn't aggressive enough to cause an issue, so take it slow and wait for an opening or learn his moves and then punish him.
Round 3
For the final fight, with this build, it's actually entirely possible to just steamroll him. Seriously, I did not put any thought into my tactic and just healed through all his attacks. He shouldn't cause a problem due to all the life you're constantly gaining and he lacks a move strong enough to really cause an issue. Just make sure to pay attention to stamina and energy.
Video Guide
For more guide like The Surge 2 Archangel Eli Guide, check out our Game Guide page.