There has been an interesting struggle between players and Mortal Kombat 11's Kombat Pack. After the brief wait for Shang Tsung, we got a number of teases that leads nowhere before Nightwolf was finally shown. In that time players have had ample time to speculate on the remaining two characters.
Datamining suggested a small pool of characters, which included Nightwolf, Sindel, Sheeva, Fujin for returning characters and Terminator, Spawn, Joker and Ashley J. Williams for guest. The initial Kombat Pack trailer revealed most of these and teased two more guests, with music fans noted sounded like Terminator and a chainsaw that people associated with Ashley J. Williams. Following that there were Google search results that showed Terminator and Ashley J. Williams as two characters coming to Mortal Kombat 11.
At this point it seemed like a lock until yesterdays leak showed Joker as the final character. His model has had a divisive reaction in the community and plenty of frustration at the change. However, the idea of including him makes sense in terms of marketing. Joaquin Phoenix's Joker movie releases Oct. 4, 2019 and it's a good way to remind people it exists and the listed release date would act as a good way to remind people to buy the Blu-Ray version.
Now that we have the trailer, which confirmed the remaining two characters were, in fact, Terminator and Joker, one final thing suggests a last second change.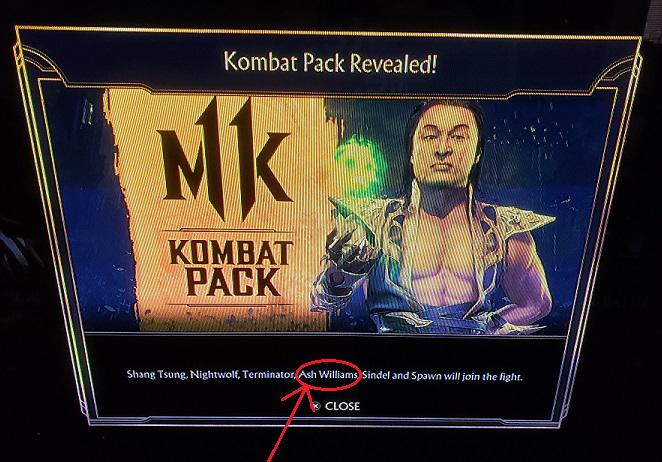 Test Your Might reader BLeonard posted an image of the promotional banner that appears when you first load the game. Apparently an early version of it, one several users claim to have saw, list an Ash Williams as being included. Currently it lists the correct grouping of Shang Tsung, Nightwolf, Sindel, Terminator, Spawn and Joker. Several people have also suggested this might be why the Joker model looks incomplete or rushed.
While this might be a disappointing change, one that I personally feel, at least it shows Ashley J. Williams will likely be the first character out of the second Kombat Pack.