After recently coming back with all guns (or at least gaming mice) blazing Mad Catz have released a limited edition of their iconic R.A.T. 8+ gaming mouse. Being the 30th Anniversary R.A.T. 8+ mouse this is one of Mad Catz' top products and only 1,000 of them exist. Coming with 11 programmable buttons, via the Mad Catz software, and a 16,000 DPI optical sensor the mouse is clearly built with gamers in mind. However, is this a R.A.T. anniversary you would want to celebrate? Let's find out!

Starting from plugging in the mouse, users will find that they have access to a solid peripheral. Yet, this is only part of the R.A.T. 8+'s potential. By default a lot is instantly available: the back and forward side thumb buttons, precision aim button, scroll, middle mouse click, profile control and sensitivity button are active. Though, interestingly the backwards and forwards were flipped from normal. With all of this active you could use the mouse to comfortably play any game, customising the sensitivity to some extent.

Installing the Mad Catz software opens up many more options and tweaks to the user. Straight to the glowing, all of a sudden, not only are users able to program the speed of the colour change of the multi-colour LEDs but also which colours they pulses between. Mad Catz aren't just happy with a few colour options though, not even a colour wheel. Gamers can choose from 16.8 million colours, illuminating the mouse in three locations – with the additional ability to lower the brightness of said LEDs.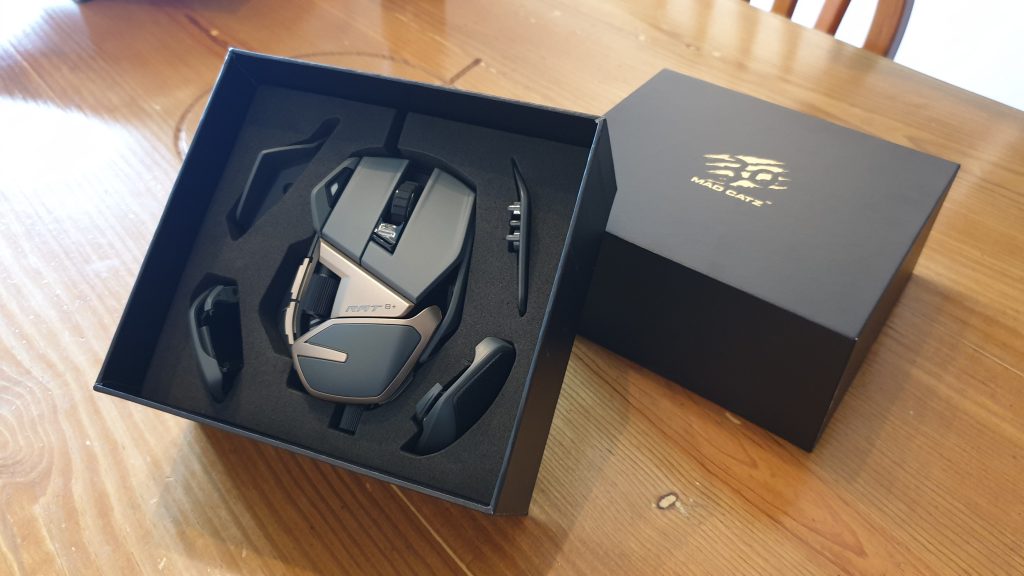 Glowing aesthetics aside the software is really designed so gamers are able to fine tune the sensitivity of the mouse and set up macros. The "sniper" or precision aim button isn't going to be for everyone. While useful in something like CS:GO it is less so in a MOBA like Dota 2. This is where you can set up different profiles for the mouse, so one can use the button as the precision aim, while another profile can use it to map an item slot to. On top of this there is a side facing scroll, adjacent to the thumb buttons, that isn't used by default. Like every button users can choose from a decent list of actions or even can record their own macros – such as important things like sending the message "indeed" in a chat.

The sidewards scroll is incredible for mapping volume controls to. Not only can you control the volume without barely moving your hand but also without tabbing out of a game. By extension if you're using a program such as Spotify scrolling the volume up or down makes an overlay briefly appear. This small overlay on the top left of the screen allows you to pause or skip songs – all while continuing to gaming. Again, using a different profile you could map this to zoom in and out of an RTS map or anything you see fit.

Going with two distinct colours, with a mixture of a gold brushed chrome colour and a matte dark grey, the R.A.T. 8+ 30th Anniversary edition is a sight to behold. It manages to pull of this striking design whilst more importantly being comfortable and ergonomic. From adjusting the palm size with the press of a switch, with almost millimeter indents to pick between, through to swapping sections, from smooth matte to a slightly grippier texture, the customisation lets it fit the hand of most. I'm unsure how well it would work for a left handed gamer but for right handed it at least it should have you more than covered.

Production quality wise, as with the other R.A.T. products, the materials used are of premium quality and stop the mouse from warming over hours of play. Having used the regular, non-anniversary edition, R.A.T. 8+ mouse for a long time, it is clear that it is a robust design. It has survived being dropped, being thrown into a bag for working at conferences and daily use – without a single sign of wear and tear.

Getting slightly technical, Mad Catz is stating that the Pixart PMW 3389 Optical Sensor is "state-of-the-art" and of that I have no reason to doubt it. Even on a slightly uneven surface the mouse was able to track the slightest of movements. The OMRON micro-switches are there to give the mouse a long life, but importantly they are incredibly sensitive across the whole left or right click. Therefore, regardless of the hold style you employ it'll be smooth sailing.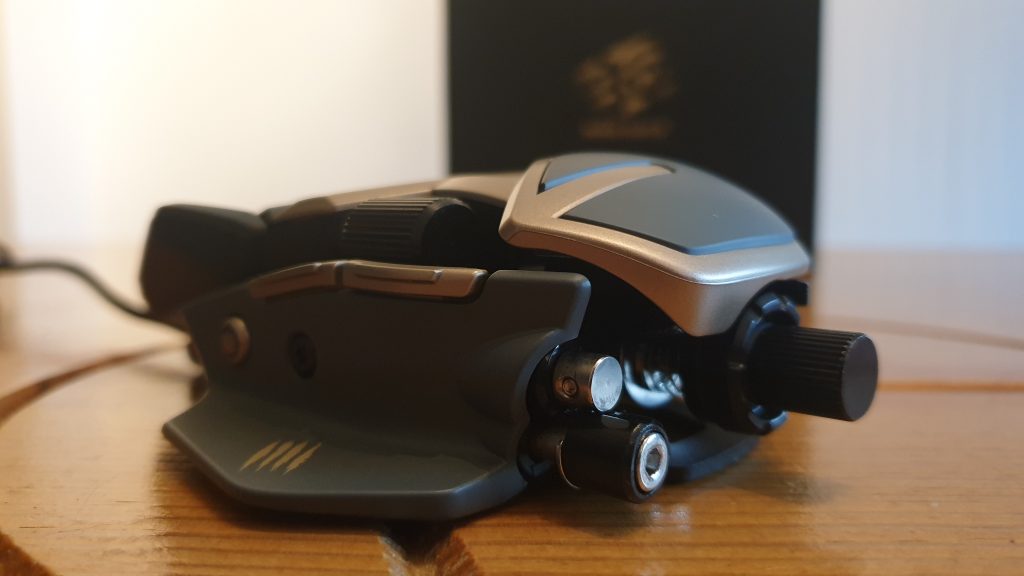 Verdict

The R.A.T. 8+ Anniversary Edition mouse is phenomenal peripheral that is the perfect celebration of 30 years of bold standout products. The iconic look is there with a comfortable to use product, which doesn't neglect performance. While the mouse is something special out of the box, downloading the software is the way to go. It blows the doors off the customisation and takes the mouse to the next level with near limitless options and macros to make your life easier. The price is going to be a stumbling block for some, you could get a mouse that looks as good or performs as well for cheaper, though getting both to the quality of the R.A.T. 8+ is hard – making it deserved of the premium price. On top of that there are only 1,000 of this specific design available – so it is an opportunity to really stand out!

[Editor's Note: The R.A.T. 8+ Anniversary Edition was provided to us for the review.]