Since KILL la KILL aired back in 2013, it has gained a fair amount of popularity and interest. Given the over the top nature and combat heavy nature of the series, it was inevitable that it would have some kind of game. With KILL la KILL – IF attempting to bring quality fighting mechanics to a world made for watching in awe, it seems like a perfect. However, given the nature of anime games and the lack of content in the source material, will KILL la KILL – IF be like Dragon Ball FighterZ or is it just another lackluster anime game?
To no real surprise, KILL la KILL – IF story covers the main points of the anime series. It's enough to get an idea of what is going on, character relations and the overall arch, with enough space to make watching the series feel fresh. The biggest downside is what is missing, as much as how it's presented. Often times scenes will feel too abridged or have stiff and awkward movements, taking away from the overall experience. These aren't bad enough to ruin the experience, as much as living up to the potential we've seen from other games. Sadly, similar things can be said about gameplay too.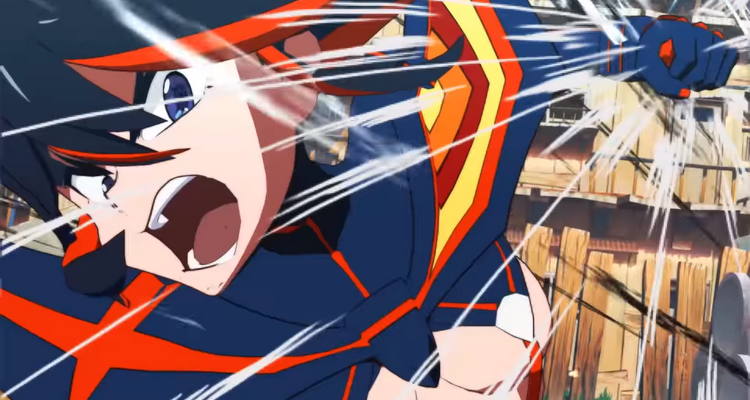 Given the original series was a mere 24 episodes and a small handful of characters, there isn't a large roster. The base game includes eight different fighters, with a few variants, which make up the core characters. For those familiar with the series, it's Satsuki, Ryuko, the Honnouji Academy Elite Four, Ragyo and Nui. While all these characters have their own unique play style, quirks and in some cases mechanics, it isn't enough to make the experience feel diverse. Similar to the story, there just aren't enough characters to expand the world to the point it needs to grow.
After a brief tutorial, which really just highlights how you do things, players are left on their own to figure things out. Given combat is more like an elaborate game of rock, paper, scissors, it doesn't take long to get an idea of what you can do, making the hardest part figuring out your opponent.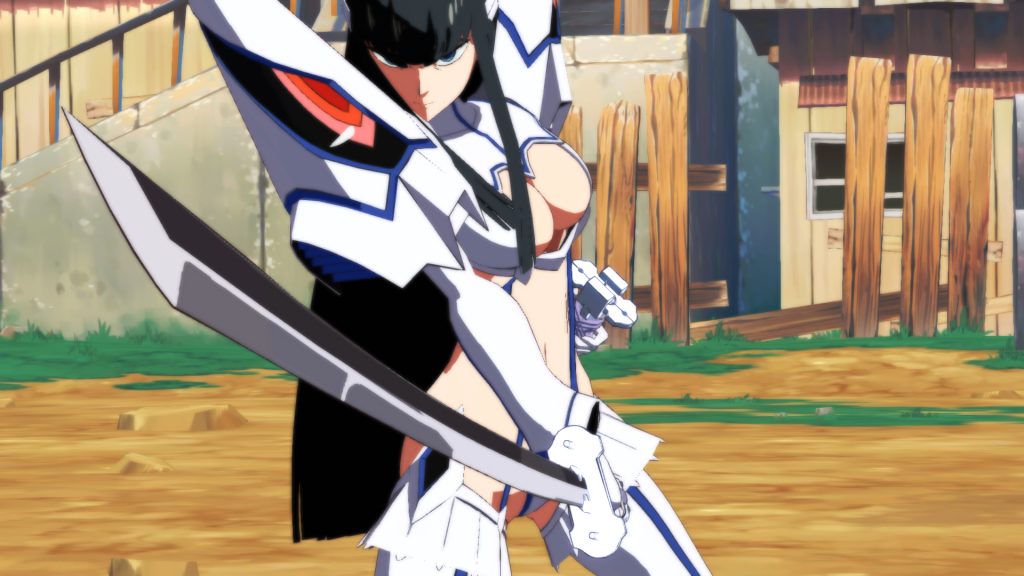 The only real trick to playing is knowing when to attack, defend, rush, play distance and go all out. Even if this sounds like an overview that would hold true for practically any fighting game, the easy to grasp mechanics make it a lot simpler than you'd think. There is a dedicated close range, long range, guard break, defend, rush and several special attack inputs. This is literally pushing a one to two buttons and alternating between them to perform the desired combo.
At no point did I feel combos were hard to input, if anything it takes very little to be good at the input process, it's the meta game that is hard. Even if you can out think your opponent or AI, there is more to it than just going for guard break and punishing or waiting for a mistake to rush a defenseless foe.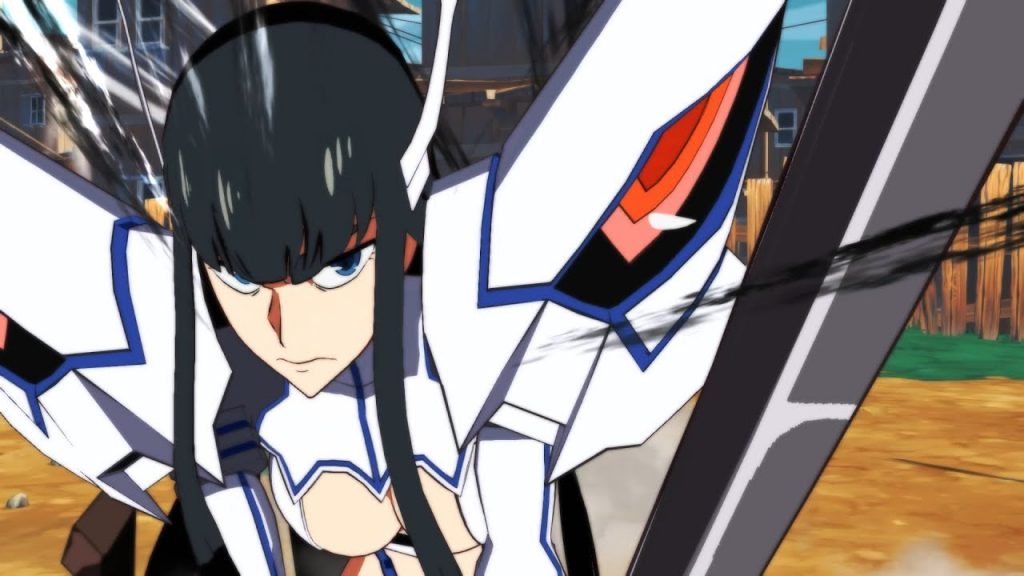 This is where the different characters and weapons start to shine. For example, Nonon and Ragyo have strong ranged game and weak close quarters combat. Planning your attack is enough to be devastating, to the point where some of the hardest enemies for close range fighters can easily be defeated without getting an attack in edge wise, with the opposite holding true for Ryuko and Uzu.
Despite Satsuki and to a lesser extent Ryoku being more average fighters, in that they don't excel or fall behind in any category, their dual wield versions play way more into a rushing play style. Sometimes a single devastating attack is good, where as other times a fury of attacks can overwhelm anyone.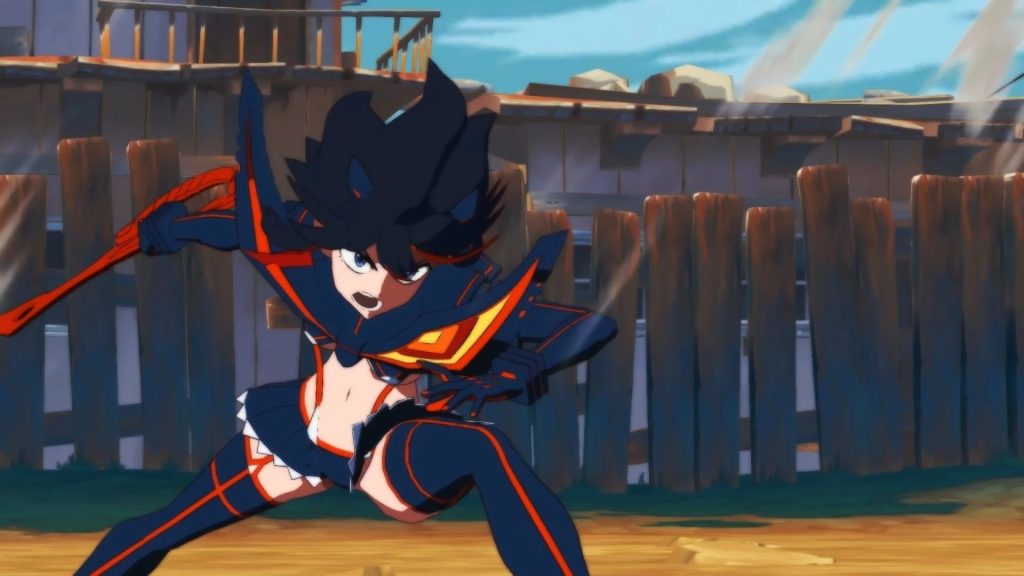 While there is a fair amount of runway, there isn't much to do. After story you have offline and online versus, training and two different survival modes. Obviously PVP will vary depending on the overall player base, with the challenges feeling oddly frustrating. Instead of having a linear progression in terms of difficulty, survival comes down to luck. Some opponents will have better AI than others, getting a boss can ruin a good run and it's hard to make up for mistakes. On average I healed 2 to 7 percent after a fight, so unless you play a very specific way, you're going to lose. Even if you get hit by the occasional blood valor, a special attack that disrupts a combo and can lead to gaining various perks depending on when you do it, you'll quickly take enough damage and lose without a more cautious or measured approach.
Verdict
The hard thing about KILL la KILL – IF is, it really isn't a bad game or even a simple game, though it feels so rudimentary in practice it can be easy to lose interest. Even if that is a concern, it allows average or even below average fighters the chance to feel like a bad ass by doing some extremely cool combos. Seriously, even just button mashing you'll have Ryoku throwing red slash waves, making explosions, zipping across the screen, the occasional cutscene and feel like you have a lot of skill. For this, I can see the value, it's just important to note this isn't on par with something like Dragon Ball FighterZ, it's more like a flashy fighting game that is more mind games than input skill.
[Editor's Note: KILL la KILL – IF was reviewed on PS4 platform. The game was provided to us by the publisher for review purposes.]