Recently, there has been a massive push for true wireless headphones. From AirPods to Galaxy Buds to even high end options like the Master and Dynamic MW07, there is a lot to choose from. Naturally, it made sense HELM Audio's first offering would be a pair of true wireless headphones. With about 7 hours of battery life, a case that can add up to 30 hours more and Bluetooth 5 support, they have a lot going for it, but does it live up to expectations or do they fall short?
From the moment you take the HELM True Wireless 5.0 Headphones out of the box, you're greeted with a stylish looking product. The case has a transparent plastic design, allowing you to see the headphones, even when its closed, with the HELM Audio name in metallic text. Inside, the headphones are held in place by rather strong magnets designed to keep them in place and charge the device. For those wondering how strong, I can lift the case a couple inches off the ground if I don't use a lot of force and dropping them in the general location will usually result in them landing in place.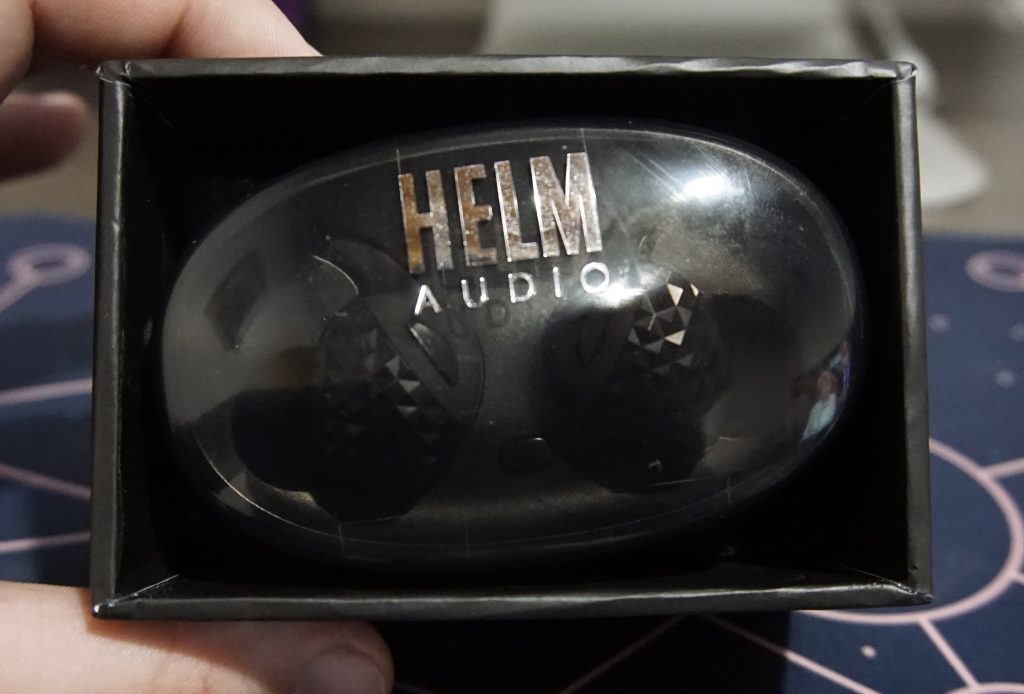 As for the actual headphones, the design is actually quite pretty. There is a black diamond design that not only looks stylish, stands out when light hits them. Each part has a single button on the side, a top fin that, contrary to similar products can't be removed, with an interchangeable ear piece. The top button utilizes different functions depending on the side and how many times or long you press it, giving it good amount of functionality.
One thing that surprised me was how well these both fit in my ear and felt. With the default set up they were secure to the point where I couldn't actually make them fall out. This gave me some confidence when using them on the go or at the gym. They also offered decent isolation, given the secure connection, allowing them to not only look nice, feel like a complete product without needing additional accessories or parts.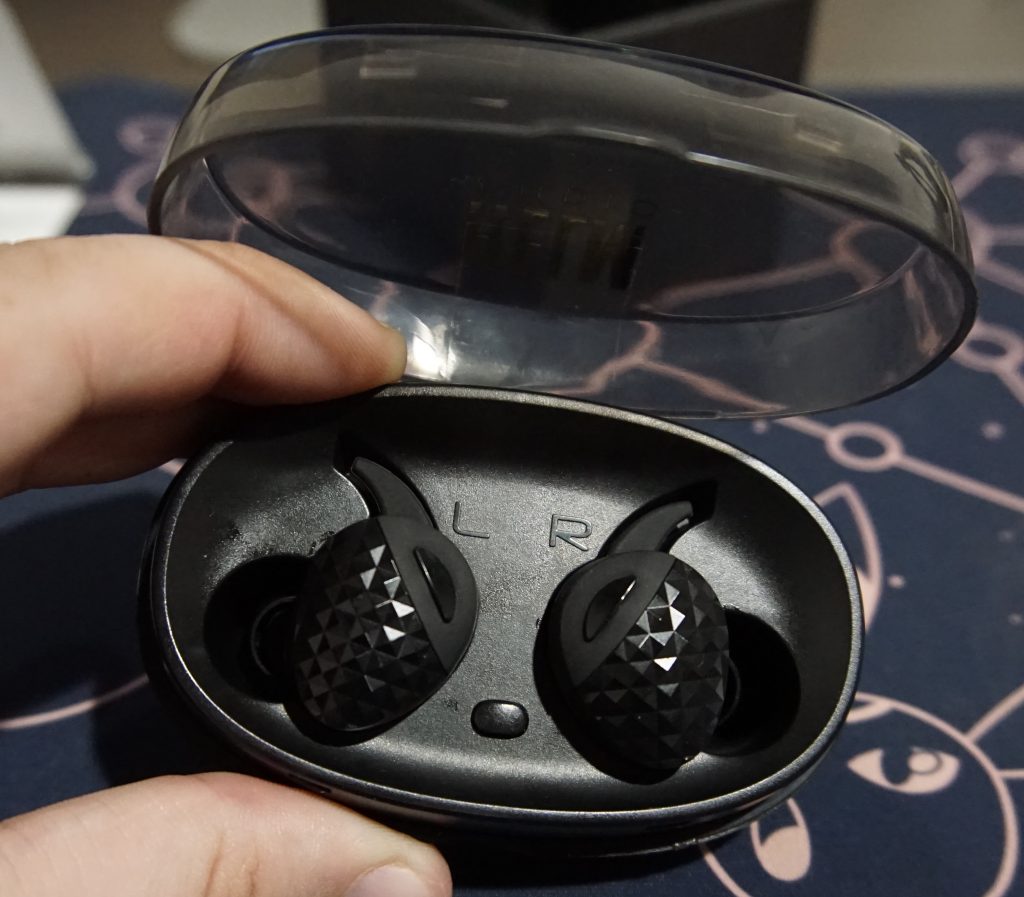 Initial set up couldn't be easier. Take the earpieces out, wait for the device to say it's pairing and look for it on the intended device. Depending on the device, if the earpieces are not connected to each other, it will give you the option to force pair, making it easier to avoid problems. If you do run into issues pairing, holding the button for about 15 seconds resets them and about four seconds puts them in pairing mode, if they don't do it by itself. Once they're connected to a device, they will pair within seconds to it when you remove them from the case.
While I did not notice an increase in quality between my FiiO M9, Sony Walkman and iPhone 6S and XS, the sound was still pretty good. Compared to similarly priced items, the HELM True Wireless 5.0 Headphones met or exceeded, to the point where they're my go to earbuds. The only real drawback is they don't have the sound staging you'd find on larger headphones, but in terms of general use or someone looking for something easy to carry, they're more than capable.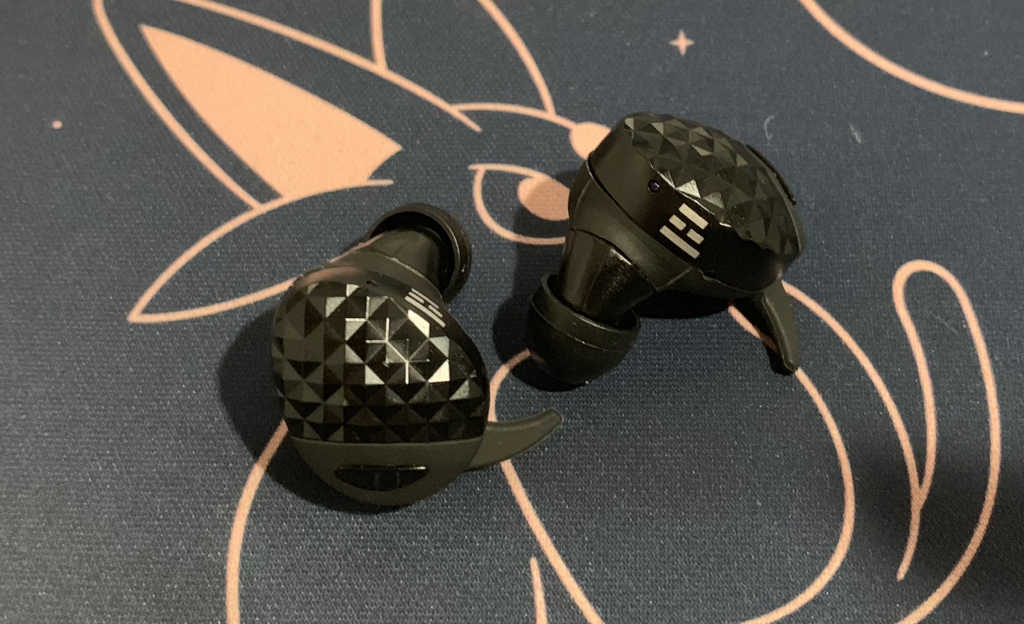 What really surprised me wasn't the sound, as much as the range. Putting my iPhone on a table in the basement towards the middle of the house, I was able to listen to them without any interruption. So if you wanted to clean or do housework, you may do so without them on your person. Plus, the included buttons make it easy to start, stop, turn up or down the volume and move through your playlist without having to pull your phone out or you can summon an assistant and go about it that way. And if you want to go a bit further, I was able to go so far as my car, which was past a good number of obstacles before it started cutting out, a feat my Mu6 fell about 8 feet short of. In reality, I could probably be anywhere on my property with my phone in that room and listen without interruption.
In addition to testing the sound, I had a few important phone calls and messed around with the assistant and was impressed with the sound. It was clear enough to prevent miscommunication and proved accurate whenever I asked Siri to do something. At no point did I find or was I asked to repeat myself or take them off, allowing me to go about my day with them on.
Verdict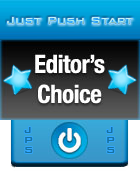 I would be hard pressed to name another pair of true wireless headphones I like more than these, especially given the $129.99 price point. With the only real downside being the size of the case, something that is unavoidable given the impressive charge it offers, it's hard not to see why true wireless headphones are so popular. So, unless you're expecting something that can match or beat more expensive or larger options, I think you'll as impressed with these headphones as I am.
[Editor's Note: HELM True Wireless 5.0 Headphones were provided to us for review purposes.]