Harry Potter Dobble is the brand new version in the pattern recognition franchise from publisher Asmodee. Known as Spot It! in the US, this is a family weight 5 – 10 minute game which sees 2 – 8 players matching symbols. Gone are the likes of four leaf clovers and Dobble hands, replaced with a variety of characters, symbols and objects from the iconic wizarding franchise. However, is this wizardingly wonderful or woeful? Let's find out!

Not happy with being one game Harry Potter Dobble comes with 5 different modes, though two modes are effectively the reverse of others. None require more than dealing cards, in terms of setup, so are ready to go straight out of the tin. The first mode The Tower sees each player randomly dealt one of the 55 cards, with the rest stacked into a central tower. As quickly as possible players aim to notice a matching symbol on their card with the top card of the tower. Correctly matching sees the player gain the card – becoming their new card to work with – and whomever gains the most cards wins. The Well is this mode in reverse with the deck starting out split evenly between players. The objective to match a symbol from your pile to a central card to get rid of it – then the player to have no cards left first wins.

In mode three, Hot Potato, players hold a card in their hand. Looking around all the cards the first person to find a match with another player calls it out and passes their card to the matched player. The round continues with the matched player using this new card. Whenever a match is found all cards that the matcher has are passed on until only one player is left with all the round's cards. After a set number of rounds, the player with the fewest cards wins. Similar is Poisoned Gift. For this mode players aim to match the top of the deck with another players card. Correctly doing so results in the matched player gaining the card – with the aim to have the fewest cards.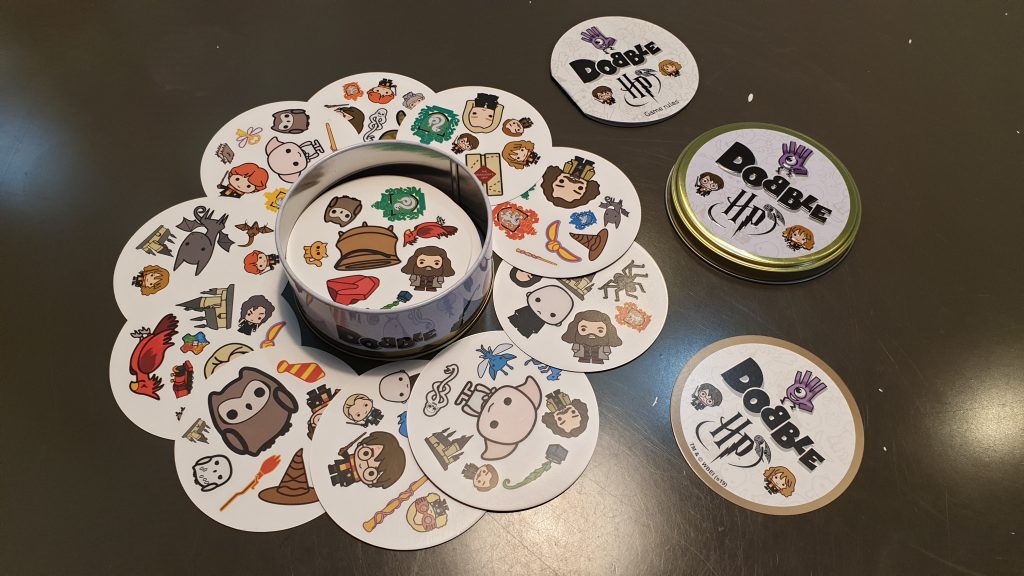 The fifth game mode, Triplet, can be awkward unless you have someone happy to deal and watch. In this mode 9 cards are revealed and players are tasked with finding three cards with matching symbols. Playing this mode is just as frantic and fun as the other modes, with an abundance of cards to look at at once. The problem comes when 3 matching cards are found and 3 new cards must be placed. Given the split second nature of Dobble, whomever is replacing the cards is momentarily distracted – giving them a decently sized disadvantage. As the round is over relatively quickly if one player assumes a dealer only role, managing the cards and not playing, it is an incredible mode but it feels a bit odd making someone sit out rounds even if it is for mere minutes at a time.

What makes Harry Potter Dobble work is that every single card is guaranteed to have one, and only one, matching symbol to every other card in the deck. This means that given long enough players know their card can be played – they just need to find that one symbol. It isn't quite that easy in practise though as players will be racing to finding one on their card. There are odd peaks and troughs in speed as players are able to spot the images. Making things remarkably harder, the same images are of different sizes on each card. One card might have a huge Hermione but then next it could be small – meaning you glance over it in a rushed panic.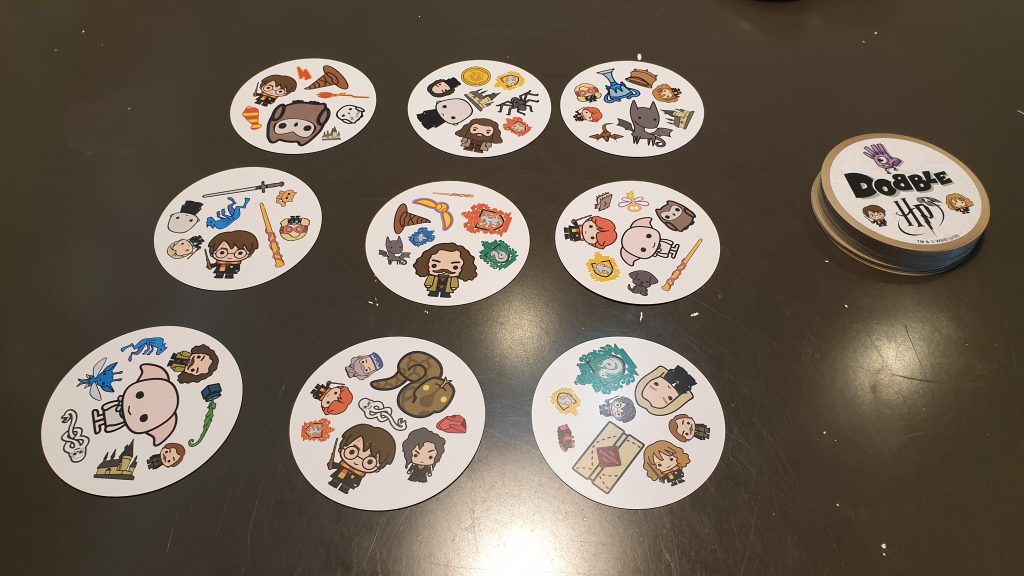 Harry Potter Dobble is designed to be small and lightweight making it incredibly portable. The way the game plays means you only need only a tiny flat play surface. It is entirely possible to play the Tower/Well modes with the central pile on something solid between players and everyone holding their cards in their hands. Combine all of these factors together and you have a game perfect for throwing into a bag when going on holiday or out for a day.

In general the rulebook does a great job of explaining the different modes, being both clear and concise. Each mode is super easy to pick up and explain, however the rulebook isn't entirely without fault. While helpfully the majority of the characters, items and creatures are listed not all are included. It may be the more obvious characters like Dobby but some would have found it useful. To make matters worse it actually lists Buckbeak as Buckbeat, a small typo but something that should have been noticed.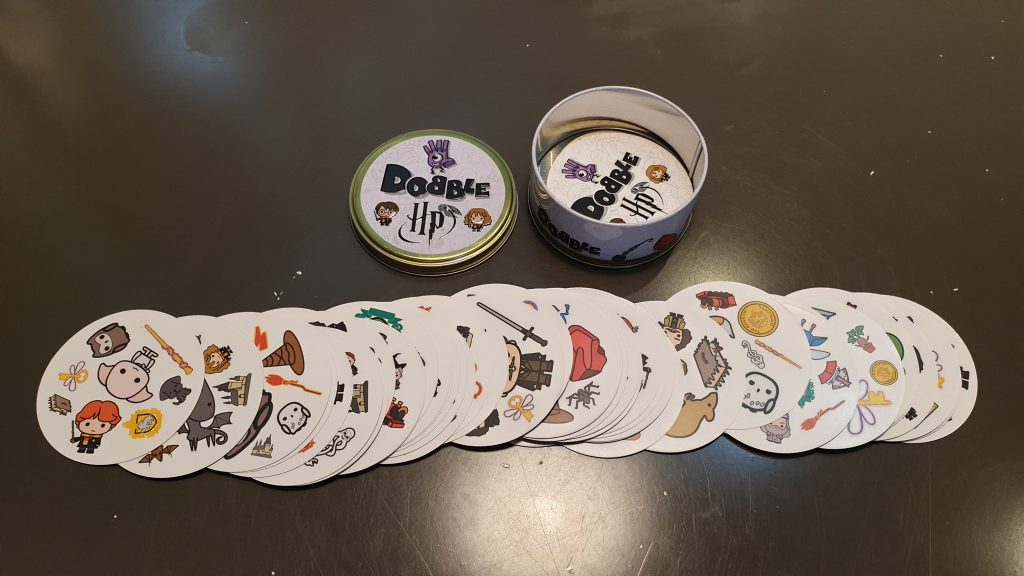 The back of the tin suggests that the game will play with 2 – 8 people. The top end would cause mayhem, and not necessarily in a bad way. Even at 5 the game becomes more and more frantic as you attempt to be quickest. Alas, at 2 the game can stutter somewhat. In what can be an oddly competitive game when an opponent strings together discarding a few cards it can feel disheartening. This is possible with more people but commonly streaks are broken up so it isn't as apparent. It is also harder to keep track of whom is the current leader with more players, so even if you aren't the player succeeding it isn't as obvious whom is. This helps curb frustration even though the game shouldn't be taken that seriously.

If you are looking for a fast filler that'll drive more panic, tension and frustration that it really should, and all in a good way, Harry Potter Dobble may be for you. You'll need to be at least somewhat of a Harry Potter fan to truly appreciate this version, as not every symbol is listed in the rulebook. Otherwise you'll be left shouting out "blue thing" or "that guy" and the game slows as you have to point and prove what you were matching. Overall though, aside from the niggle with the fifth variant, the gameplay is simple, solid and will entertain every time it hits the table.

[Editor's Note: Harry Potter Dobble was provided to us by Asmodee for review purposes. The game is currently available on 365 Games for £14.99. It is also available from local board game stores, find your local store here]