Undo Cherry Blossom Festival is a brand new cooperative board game with storytelling and mystery elements. Designed by Michael Palm and Lukas Zach, this is one of the first three Undo titles from publisher Pegasus Spiele. Set in Japan this adventure sees 2 – 6 players (though could slightly roughly work solo) working to uncover what has occurred in the lead up to a man's death. Players are able to travel through time making small but hopefully meaningful adjustments to alter the course of history. However, is this an intriguing way to spend 45 – 120 minutes? Let's find out!

The easiest way to describe this new series of games is a choose your own adventure like experience, where the adventure is interacting with various points along a person's life. It is closer to this than an escape room style game as it is narrative and discussion driven rather than puzzle solving or about escaping. The premise of the Undo series is that a person has died but throughout the journey players may be able to save their life, if the right choices are made.

This review aims to be spoiler free, covering only the details revealed on the introduction card, back of the box and manual cards. If you want to know nothing story-wise at all skip to the next paragraph now, when setup and the general mechanics are discussed. Players are welcomed to Okayama, Japan, not by joy. Amid the Cherry Blossom Festival you, as an individual or group, find a late-middle aged man dead on the floor in his living room. Within reach of the man is a photograph showing someone you don't know and a broken glass of wine. This is the first point you will visit, with the ability to time travel to select other points in time.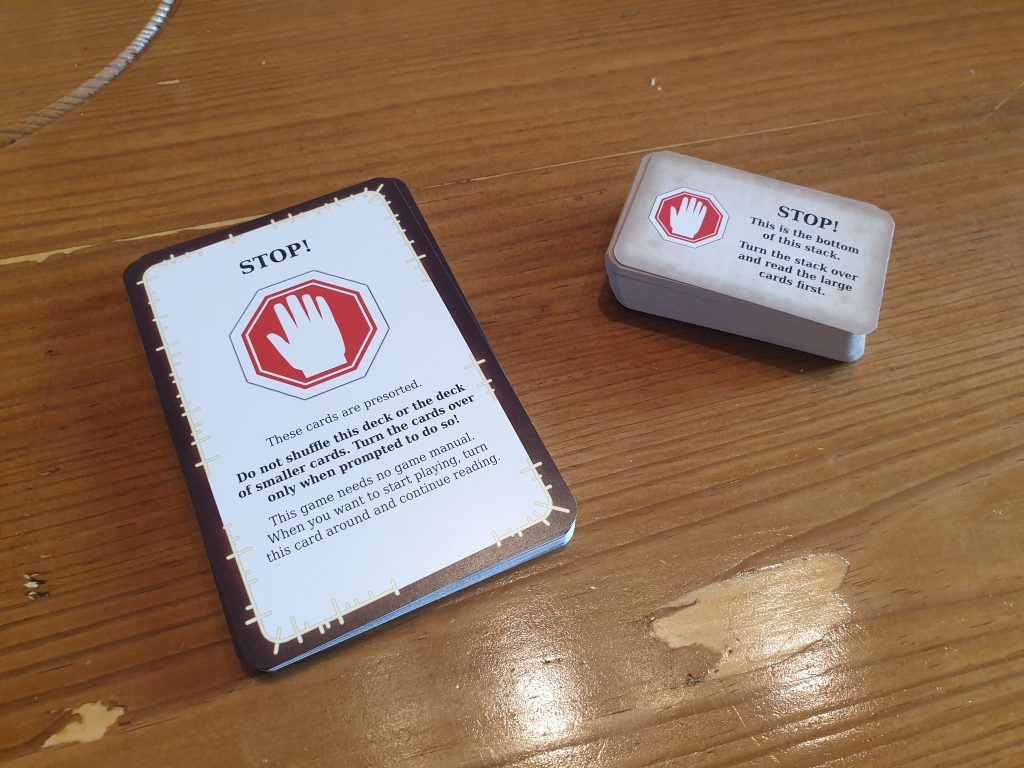 To play the deck, which comes with warning signs on both sides to limit spoilers, is removed from the box. The components include larger story cards, smaller outcome cards and clue cards. The story cards range from moments before the event to many years in the past. Following the steps in the manual cards players lay cards out in order across the table, or if limited in space in 2 or more rows. A few "End of Story" cards are put off to one side for use at the conclusion of the game. Then, below each location a clue card is placed with numbers denoting which one to place where. Turning over the first story card as the manual cards suggest – and highlighted by a red lantern – the adventure begins.

Unlike escape rooms which come with a time to beat there is no predetermined length – which is why the suggested game length of 45 – 120 minutes is so varied. Players read a starting few cards to explain the exact way to play and are then presented with the introduction card. This sets the scene and lines players up with their first choice of when/where to go next.

At each story card location players are presented with some information about what occurred there. There is then the ability to spend a clue card to gain more information about a specific keyword. Whether or not a clue is revealed at this time it can be obtained later at any point by still spending one clue card – so this option isn't lost. It is now time for the players to discuss the details on the card, and the A, B or C presented choice. If players cannot agree then voting occurs with a different player being designated the tiebreaker for each round. Picking the right option with give you a + point, while choosing what originally happened sees a neutral 0. Unfortunately, if a choice makes the situation worse a negative is revealed. Regardless if players still have time cards left they spend one to visit another location and the discussions start up again.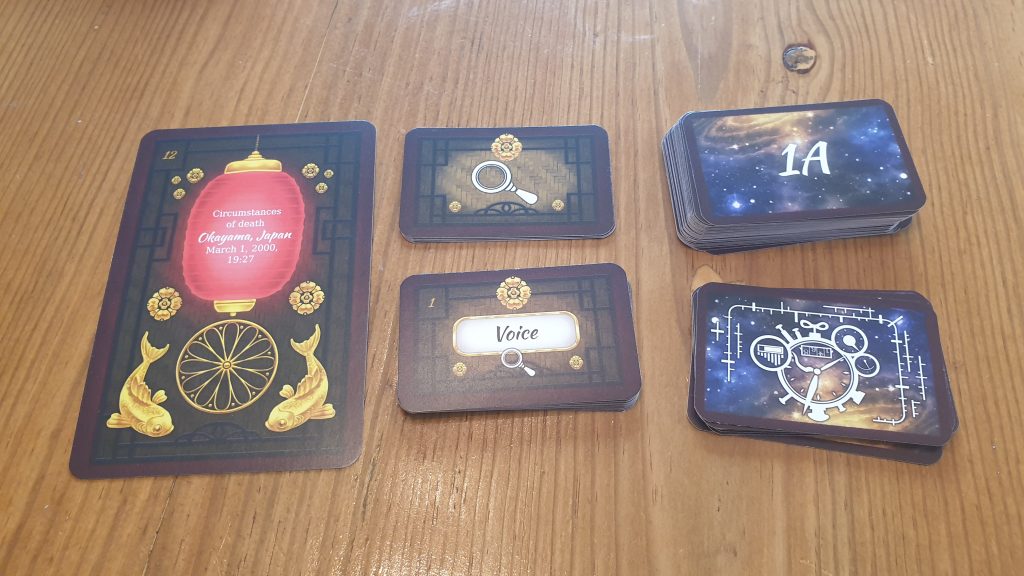 Players will be visiting most but not all of the story cards, and once they have been to 10 the game is over. At the end of the game players will "score up" to see if they made enough of an impact via their decisions. There is a ranking system after the game ends to judge your performance against. Each gives a slight variation to how well your attempts at saving the life went, and it is not guaranteed to be saved. I often find these cards are a little uninspiring – being just a couple of sentences different between the endings. This being said this is followed by the best element of Undo the solution card.

During play there is an odd feeling of not knowing the impact or an outcome of your changes. It is slightly frustrating while playing as you long to know more before you next make a decision. Alas, all you are given is a number, be it positive, negative or neutral. The solution card not only says which decisions were the most important ones it gives the story based reasons why. It then goes above and beyond this by further adding details to the storyline. Once finished this flurry of details appeased our appetite for what happened for the level we were invested in the events. Though it didn't stop us flipping the remaining clues and events we didn't use to find out everything.

Some may be put off by the theming of the Undo series, as they all start with a death in one form or another. This does impact the way you play though, as to some extent there is a life at stake. If you spend the time to invest into the narrative, discussing the options, then you will get sucked in. It is an immersive experience that could be easily broken though. Players could simply race through picking arbitrarily or whichever sounds the coolest, but if the players do this they'll miss what Undo is all about.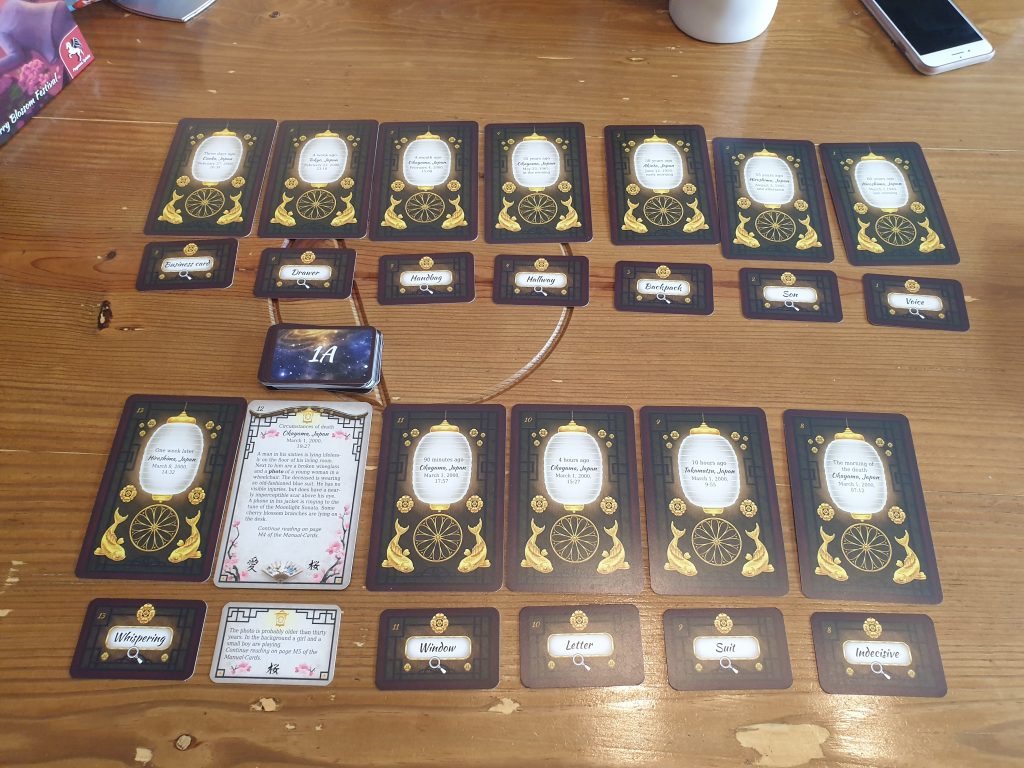 Pegasus suggests at the end of the story stage it is possible to pack up Undo and put it on the shelf for a while before retrying if you failed to succeed. Whilst this may be the case it might not work for everyone. I have a "great" habit of remembering pointless facts and numbers, so remembering a number or decision made in a story would most probably stick in my mind. If you are like this it is certainly a one playthrough. Most would probably fall into this camp at least somewhat, plus the storyline won't have the same impact the second time you progress through it – whether you had skipped the solution card or not.

The journey is structured as you can only go back to specific events, yet it feels like you have ample choice. Even towards the end when less locations are available decisions are just as important. All of a sudden it starts to become as much of a choice of where not to go as where to go. Each time a new story card is flipped one of the time cards must be discarded so three locations will be left tantalisingly unflipped – adding to the mystery of what exactly has happened right up until the end.

Through only a small deck of cards and limited components Undo Cherry Blossom Festival manages to start and more importantly develop the story of a life. This is all wrapped up with player decisions, with the chance to save that life within reach. There are interesting twists that make the man's life one you want to know more about and get invested. Sometimes a choice might not show itself as important until later on details are learnt, again making you always want to know more. Yes, player could get to the choices and randomly pick and move on – though this would be wasting the potential of the title. Undo Cherry Blossom Festival is a game that the more you put in the more you'll get out. It is on the edge of what is considered a game not an activity, yet is definitely something to experience.

[Editor's Note: Undo Cherry Blossom Festival was provided to us by Pegasus at UKGE 2019 for the review.]