The Quest for El Dorado is a hexagonal grid movement race board game with deck building gameplay from famed designer Reiner Knizia. Published by Ravensburger the game sees 2 – 4 players spend around 30 – 45 minutes cutting their way through South America's jungle, boating and journeying past villages to get to El Dorado first. However, is this something to build up to or start with? Let's find out!

The speed of setup somewhat depends on how you previously packed the game away. Each card type for the market must be put into a pile of three, with the six starting types put on the available market board. The main map must then be built, with barriers placed between large hexagonal map tiles. Players are able to design their own routes or build pre-designed tracks – which come with difficulty ratings. Each player takes a matching small deck of starting cards and in reverse turn order adds their meeple to the starting line.

Starting by drawing four cards, players get the choice of playing cards from their hand for movement or money – with the option to keep hold of cards. Being a race movement is key. Cards used for movement need to match the terrain type a player wants to move onto. For example, a player could move onto a jungle hex featuring two machete symbols by play a machete card of value 2+ but not multiple cards totalling 2 machetes. By extension a 2 paddle card could be used to move across a water hexagon with a single paddle symbol and onto another water hexagon with one paddle symbol. Effectively, players can overspend or move across multiple tiles with a card but not combine values.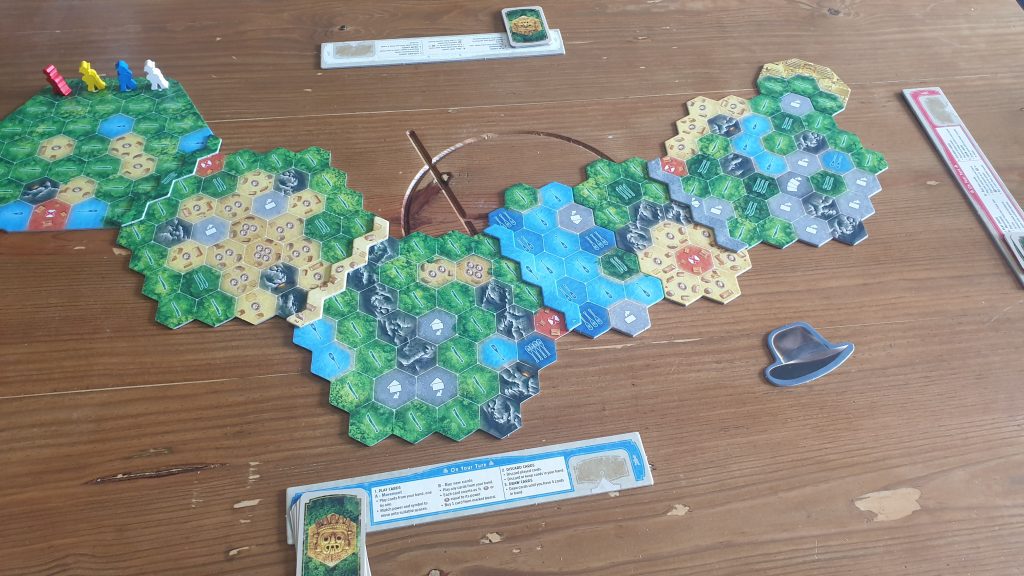 The second usage for cards is gold. Basic cards with no coins on them are worth 1/2 a coin, with others costing or providing the indicated amount of coins. You can use the sum of these played cards to purchase a single card from the store. These must be one of the 6 starting piles unless of type has been full brought. If this is the case any card type can be chosen to replace it on the market. Purchased cards are added to your discard pile, along with all used cards. Unspent movement symbols or gold are lost. At the end of the turn players draw up to a total of four cards, with play moving onto the next player. If at any point your draw pile is empty when you need to draw cards simply shuffle your discard pile and that becomes your draw pile.

There are a range of additional hurdles to overcome along the journey but there are also new team members available to help. Making the race harder players cannot move through hexagons already occupied. Also, the first player to reach the edge of each map tile is met by an additional barrier they'll need to spend an appropriate card to move onto, though they then clear it out of the way for those following.

To help players out most of the cards are not just simple explorers or sailors. There are cartographers that see additional cards draw or scientists that allow players to discard bad cards. While this might sound counte-intuative to new players the ability to only have good cards in your hand every time you draw is powerful. There is even a native that knows the lands allowing you to move onto any hex no matter the normal cost.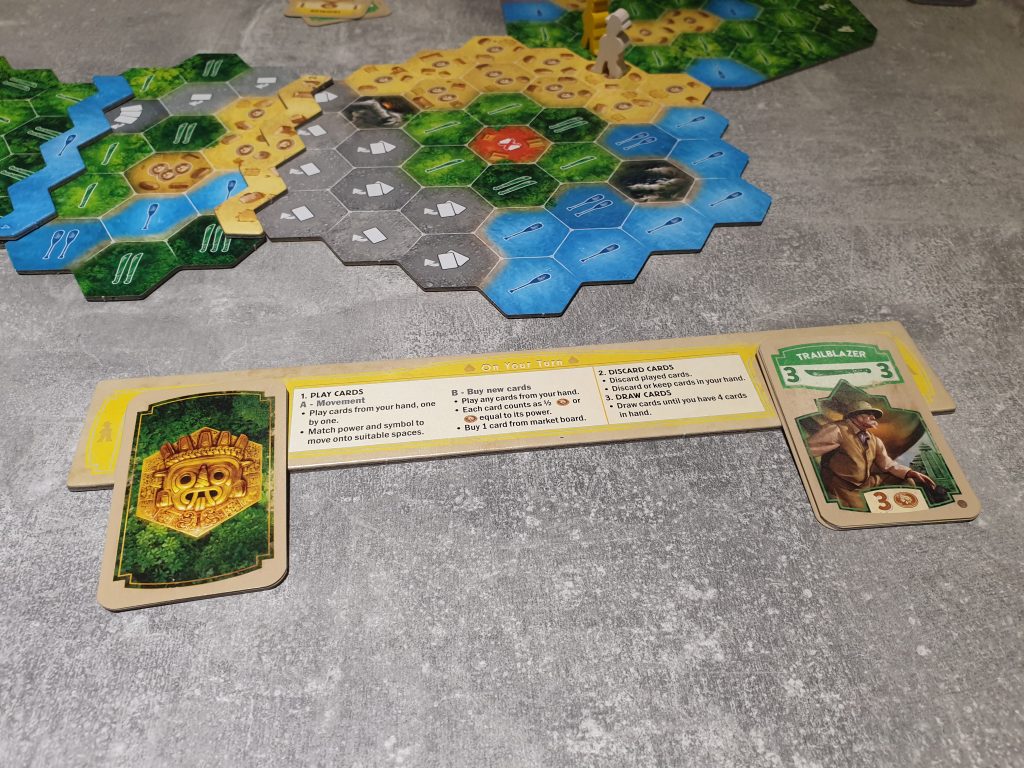 The game plays until a player reaches one of the three finish hexagons – adjacent to the entrance to El Dorado. At this point when the current round ends the game is over – with everyone having had the same number of turns. There is a tiebreaker if needed, whomever claimed the most map tile barriers, otherwise whomever got there wins!

There is an advanced variant included in the box, called caves. As you may guess it sees caves added to the board along the route to El Dorado. During setup the 36 cave tiles are shuffled and formed into piles of 4. These piles are placed on each mountain hexagon on the maps boards. During play when a player stops alongside a mountain hexagon, both the first time and if they move away and then back to the same mountain, they claim the top cave tile. As soon as a player has claimed a cave tile it can be used or held on to, the choice is theirs. These tiles give one time use abilities ranging from drawing an additional card on a turn to specific numbers of terrain symbols for movement.

This is a race where players are in a constant dilemma between charging forward with all of their cards and acquiring better cards. When to spend, standing still and seeing your opponent get a lead can be a hard decision to make. It is this decision that adds an air of importance to every turn. Even if you go into the game with a plan of limited spending if others spend lots you start to be very aware of their superior cards and the attraction of making a purchase only increases. The decision is only made harder when caves are included, as the bonuses could be awesome!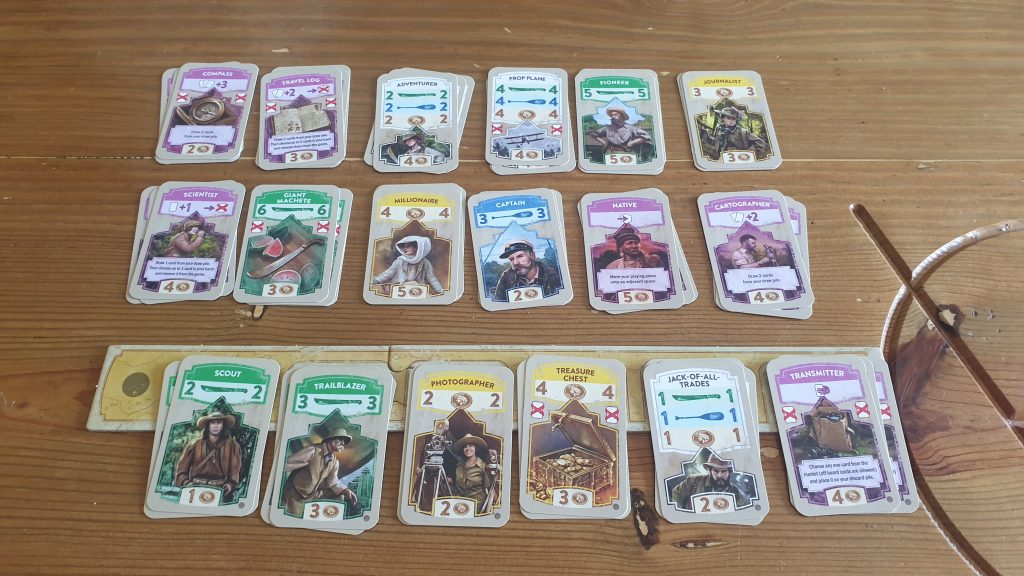 The boards players are racing across do the job perfectly, allowing for different routes each time as well as presenting a nice route to journey down. The barriers that sit on top are equally of decent thickness so they don't obstruct the hexagons below but aren't too fiddly to pick up once passed. While the cards feature both male and female characters the adventurer meeples are all one design. Thankfully, they are of non-standard meeple shape which makes them feel more like adventurers on a quest.

The caves add to the game by extending the choices to players: giving players another thing to distract themselves with from the main quest of the finish line. These hardly impact the rules of the game, so it is a no brainer to include them after a game or two. If everyone is used to deck building it is probably fine to include them right off the bat. Despite this, if playing with brand new players I'd leave them out just to streamline the choices and experience a little. This is mostly due to the simple to use but vast offering that is the marketplace.

It looks daunting even to those used to deck builders and perhaps there could have been a simple rotation system used, akin to the one in Clank! – where cards are shuffled, the marketplace is filled from the deck and each round the leftmost card is discarded. Just prepare new players by suggesting it looks like there is a lot more choice there regularly is. Alas, it does mean when a marketplace slot is empty you'll probably have to re-explain the cards available to fill the gap.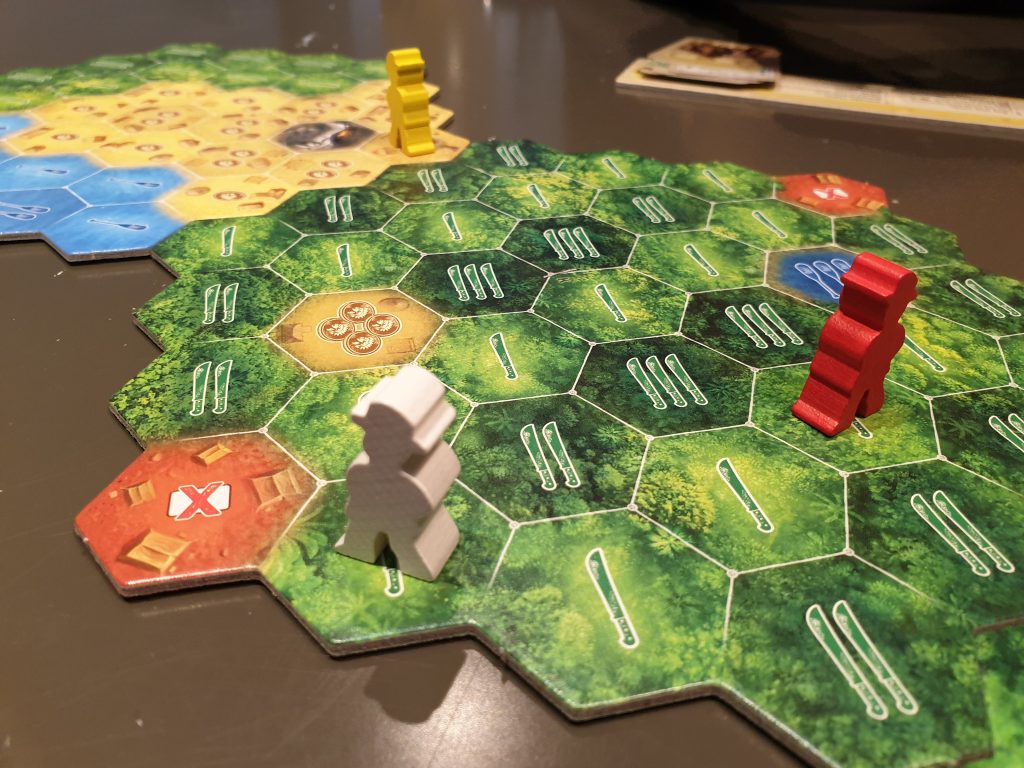 The Quest For El Dorado gets a slightly more mixed response from new players than I had hoped, until it clicks and then pretty unanimously it has been enjoyed. The vast array of cards all in their neat piles does appear a lot. Yet, they are generally variations of each other, with a small selection of special team member cards. It is this wide range that gives the game those special moments, where you are able to draw two more cards and that only just allows a huge charge across the board. Without the range of cards those wow moments would be less frequent. For all the simplicity of playing cards for movement or money, the game has plenty of choices and ways to mitigate luck. For that, and the thrill of the race, The Quest For El Dorado has firmly earnt its jungle overgrown spot on my gaming shelf.

[Editor's Note: The Quest For El Dorado was provided to us by Ravensburger at UKGE 2019 for the review.]