Arguably the best thing about places like Kickstarter and Indiegogo is the number of people trying to make a difference. As I previously mentioned, I love my Nomatic bags and there are a couple other bags I would buy given the right circumstances, but the tech side is especially interesting. A lot of the features seen on premium products are largely premium because there is still a market for low end and they know they can charge more. One such product is noise cancelling headphones. These will typically run you around $350, so when Mu6 promises this feature and more at a price that is still, if you go through their Indiegogo page, below $200, I was both excited and skeptical.
Just looking at the headphones I was impressed. Not only do they have a premium look and feel, they had a good balance of sturdy and malleable. I never got the impression I was going to break them, nor did it feel like I was doing something wrong with them. The leather also feels nice, with more than enough cushion to feel like they're going to last or stand up to long term wear.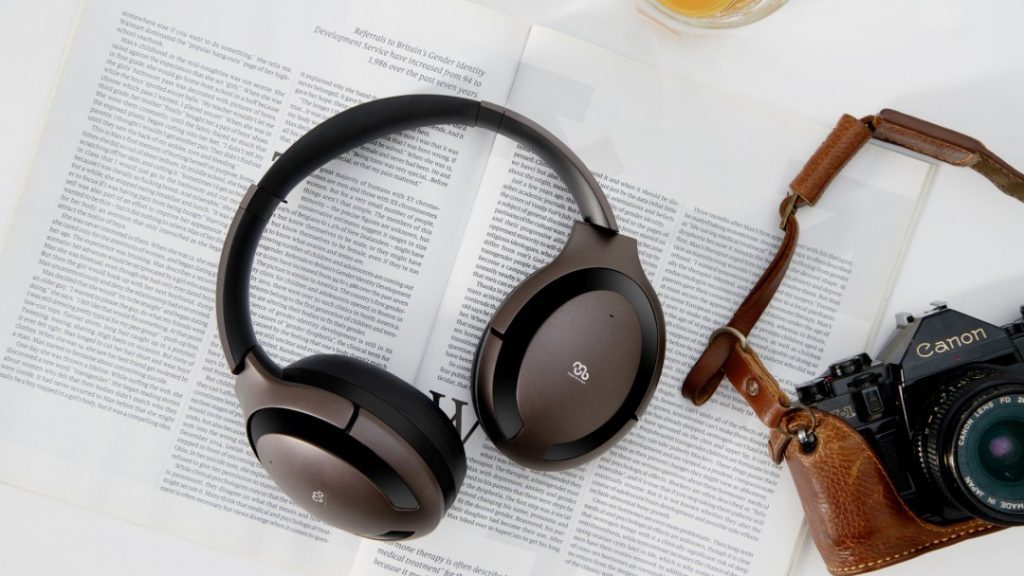 After setting them up with a couple items, they connected no problem and delivered satisfactory sound quality. At no point did I get the rich full sound my FiiO FH5 offer, much less the immersive 3D experience Waves NX can deliver, though I would say it matched or exceeded things like the LucidSound LS41. But, at the end of the day, the main selling point is not amazing sound quality, as much as being affordable noise cancelling headphones.
When push comes to shove, active noise cancelation or ANC is kind of a mixed bag. There is no question the Mu6 delivers this, it's just the type of feature you need to have the right expectations for. While it won't bring you to a place of deafening silence, it will certainly reduce the sounds of the world around you.
The best way to put it is, the sounds will still be there, they will just have less of a presence. My Dyson fan goes from having decent presence, think laptop fan turning on, to a low hum. The keys of my keyboard cycle being completely silent, to making a slight clicking sound. Songs on my iMac's speaker go from being something I'd listen to soft background noise. Even when I was using these to move I had no real issue hearing the world around me, it was just less apparent. I should note, the aforementioned examples are strictly using the ANC feature. When you add some kind of sound it makes a significant difference.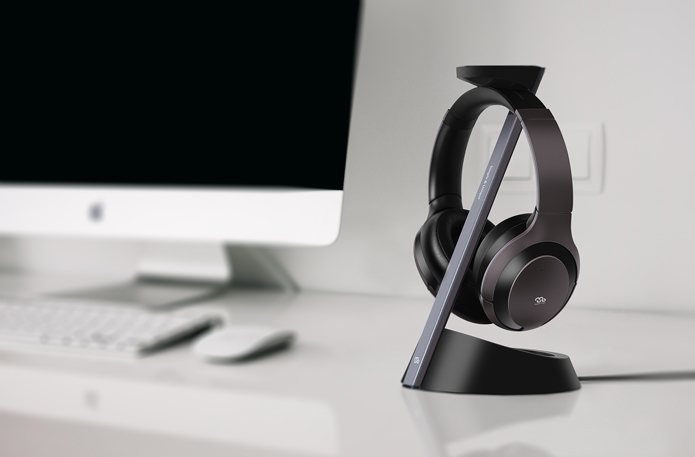 When connected to my FiiO M9 with ANC on these somewhat annoying sounds appear far less prevelant. With the right song I found I couldn't hear my Dyson fan at the volume I typically keep it at (50 to 60 out of 120), with it only really appearing when I reduced the volume by half. With some songs I was able to hit a point where I couldn't even make out my computer playing the same song, at the same volume, I had been playing before. The overall point being, it won't reduce the sounds to nothing but it will reduce them to the point where, under fairly regular listening circumstances, they'll disappear.
Outside of ANC, Mu6 boasts a couple interesting safety and balance features. One such feature is Smart Touch and Talk, which is enabled by putting your hand over the left ear-cup, works surprisingly well, even if I question the actual value of it. Similar to transparency mode, these both increase the sound outside of the headphones, effectively having the opposite effect of ANC. Even items with minimal noise, such as the aforementioned Dyson fan turn into a jet or keys going from my standard Apple click to one that more closely resembles that of a mechanical keyboard. It's to the point where, yeah, you can hear the outside world, but everything is so loud I'd rather just take them off.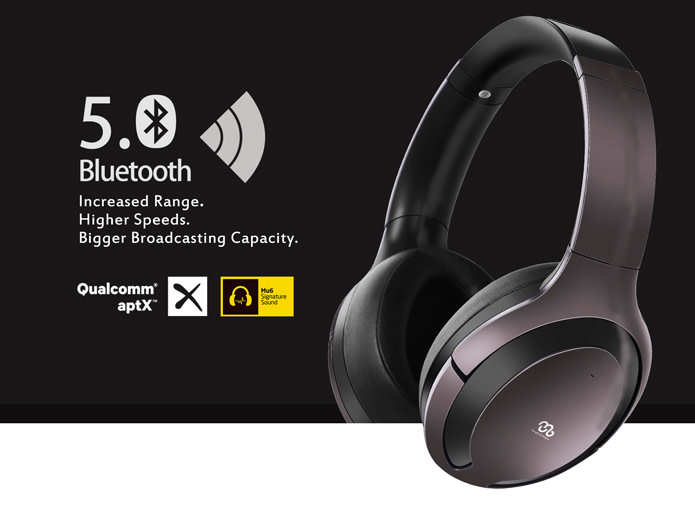 This leads to another feature, the auto pause and play. This can be enabled or disabled via the app and is a system designed to make a seamless listening experience by only playing when Mu6 thinks someone is wearing them. As a whole, I'd say this is probably one of the most frustrating features I've used in a long time. Part of the problem is, if you're like me and have a lot of hair or start to feel uncomfortable wearing them, you'll move them a fair bit and occasionally they headphones will pause playback until you tell them to play, either on the device or headphones themselves. I also found simply wearing them and moving a certain way caused this to happen. Interestingly enough, it only occurred during certain songs, though it didn't occur after disabling this feature.
Another feature I was excited for was the Mu6's 'Golden Curve' equalization. To enable this you need to connect them to a smart phone, download the app, connect the headphones, select equalizer, customize, personal EQ and then at the top right, personalized hearing curve. First off, it's extremely important to read the directions, as it can have a massive impact on your score. From there, the first time I did it I scored "100%," so I was dreading subsequent attempts.
First off, contrary to my initial thoughts, it seems to be fairly strict. My second attempt yielded a 98, prompting my more competitive side to see if the 100 was a fluke or not. My third attempt gave me another perfect score and more importantly, additional data to look at. While I won't claim to understand the algorithm used to determine your personal hearing curve, all three charts looked ever so different. Sadly, due to my score being so high, I can't comment on how well this feature actually works, outside of saying the application seems to actually calculate things ever so differently and is more than happy to fail you.
Arguably my favorite thing about the Mu6 isn't the sound quality or ANC, but rather, the charging stand. Unlike the headphones, which use a USB-C, the stand has a micro port that charges the headphones though a magnetic connection. Once you get use to the placement and way they're intended to work, it's surprisingly good. It makes for a clear look, whether they're on your desk, by the bed or simply in a corner.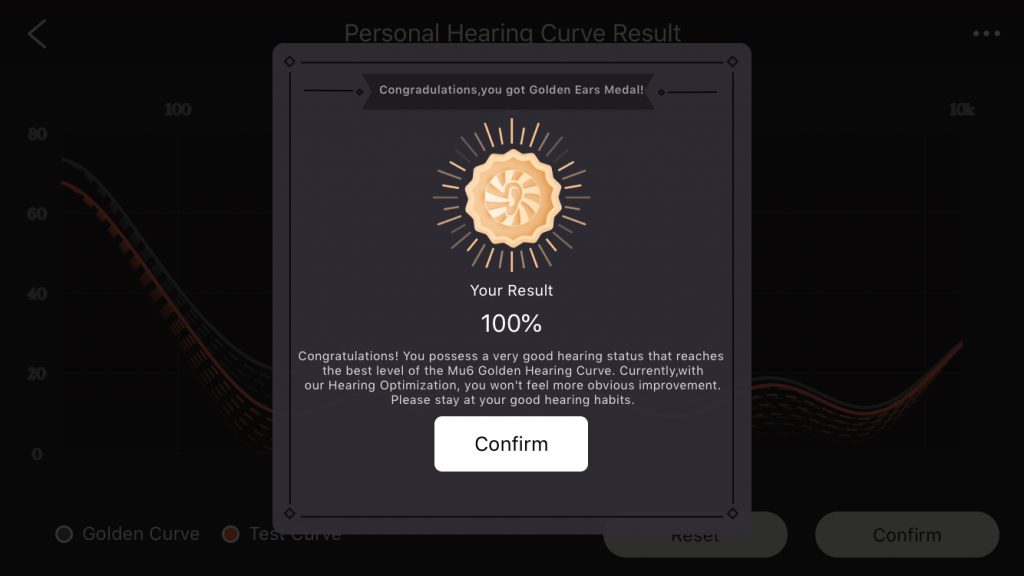 Along with the headphones I got the travel case. These were added as a $150,000 stretch goal and not bad for a bonus item. The hard case is about the same quality as my existing Astro one, with it being fairly universal, meaning you can use them for Mu6 or potentially another one with turning ear cups. The only real criticism I have with the bag is on the side opposite to the headphones is a place for cords. The pouch itself is a net that only sort of holds cords in place. I also did not receive the storage bag, user manual or packaging, so I can't comment on them.
Verdict
When push comes to shove, Mu6 has a good idea of what it wants to be. These are not intended to offer unrivaled sound or 3D surround that rivals Waves NX, they're meant to be a good quality pair of headphones that offer ANC at an affordable price. And, if you go in understanding they won't eliminate all outside noises, it's hard to be disappointed with them, especially for the current asking price of $189. Just make sure to remember they don't have a headphone jack, so if that is a deal breaker, either use or buy a Bluetooth transmitter and you'll be set.
[Editor's Note: The Mu6 headphones were provided for review purposes.]