Ubisoft's Trials series has been going on for many years now spawning lots of iterations. More recently, the last game in the series came out almost five years ago with the release of Trials Fusion in 2014. Now that it's 2019, Ubisoft has released its newest iteration of the series called Trials Rising. Does this new game in the series add anything new to the table? Let's find out as we review Trials Rising on the Xbox One!
If you are unfamiliar with the Trials games, it is essentially a racing game genre where you control a motorcycle and you need to make your way through many hard obstacles. The series is presented in a 2.5D world and you have to make good use of the left analog stick in order to balance your bike so that it won't make the driver fall off. Clever use of the accelerator button is also essential if you want to survive the many levels that are included.
Trials Rising follows the same formula, although there are some controversial new features that might not make older fans happy. We'll talk about those features a little later, as Trials Rising is still similar to all of the other games in the series. The game still focuses on you trying to balance yourself in order to not fall off the many tracks that are included in the game.
What I like most about Trials Rising is that it includes well over 100 tracks in the entire game for you to unlock and many of the levels take place in familiar looking locations from around the world. Some of the places you will get to visit include Mount Everest or even the Eiffel Tower just to name a few. My favorite location however is near the beginning of the game where you are inside of a movie studio filming a futuristic alien action movie!
Graphically, Trials Rising isn't the best looking video game out there, but the various locations you get to visit is varied and fun to play through. I reviewed this game on Xbox One X and I have to say the graphics look similar to Trials Fusion which I played several years ago in the past. Trials Rising is not the best looking Xbox One X video game out there, but the graphics are decent enough for its genre.
In terms of gameplay, Trials Rising is the same addictive gameplay that you should come to expect from a Trials video game. The core game is still you requiring to navigate through many different obstacles in order to make sure your driver does not fall off their bike. It's a simple concept on paper, but the game has a pretty steep difficulty curve. The more you progress through the game, the harder and more complex the levels get.
Trials Rising does not add too many new features in the series, as it's still the same core gameplay as the other games in the series. What I do like about Trials Rising though is that it includes an all-new tutorial mode that will help you through the game's many tough levels. Some of the things that you need to overcome include steep hills, large gaps for you to jump, unpredictable terrain and so much more.
The tutorials are really helpful to aid you through some of the game's most toughest levels. It's very useful and far better than the tutorials that were lacking in the other games in this series.
Another major change is more controversial and that's because Trials Rising has an all-new progression system. Instead of getting medals to unlock new levels, you now need to earn experience points in order to progress through the game. This can be a bit of a grind because earning medals does not earn as much experience points as a new feature called 'Contracts'.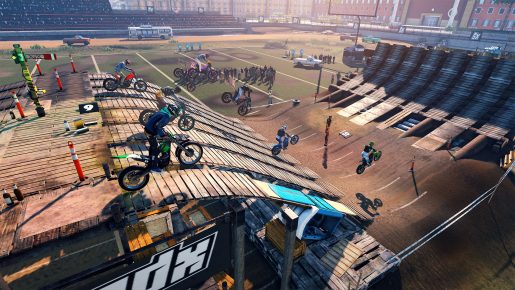 Contracts are newer challenges that further tests the player's skills in Trials Rising. Some of the things you need to do is come first in a race, do lots of backflips or completing courses in a short amount of time. It's challenging, although they make the levels more fun to play since it encourages you to get as many contracts as possible.
Instead of unlocking new levels, another thing you can attain while completing the game is earning yourself lots of lootboxes. All of the lootboxes let's you earn many cosmetic items, although it would have been cooler if you were able to earn stuff without lootboxes. I still hate the fact that lootboxes always doesn't tell you exactly what you have earned.
Outside of the single player campaign, there are a few awesome multiplayer modes that you can partake in. One of the more enjoyable new things you can try is the 'Tandem Bike' mode. Here you and a friend have to control the same motorbike and you have to work together. It's only available in local co-op, but it's fun as hell trying to balance the bike with another player.
If you run out of things to do in the single player and multiplayer modes, you can try and create your own tracks. I wasn't skilled enough to make a cool track,  but thankfully you can download other levels online created by other players from all around the world. The Trials community is creative so there shouldn't be a shortage of new levels for you to try and each and every day.
Verdict
Overall, Trials Rising doesn't change too much of its formula, but this is a good thing because the Trials series has always been challenging and addictive. The new Tandem Bike mode is full of fun, but the single player mode might upset some fans due to its new progression system. Other than that, most Trials fans will love this new entry and what it has to offer.
[Editor's Note: Trials Rising was reviewed on the Xbox One X platform. The game was provided to us by the publisher for review purposes.]