Arguably one of the hardest things about being a gamer is keeping up. Movies and television generally retain the same basic level of quality, making them more a sign of the times than anything else, where as games change a lot. Either through limitations, dated practices or whatever, certain games just can't stand during current standards. This isn't a huge deal with Senran Kagura Burst, though a lot has changed between the original and Senran Kagura Burst Re:Newal. With some changes to gameplay, better graphics and a number of lessons learned through the years, is it a great way to see where the series came from or is it better to forget it, much like a number of dated things?
Senran Kagura Burst Re:Newal retains the two story modes found in the original revamp. The first follows the girls of Hanzo National Academy, with the other covering Hebijo Clandestine Girls' Academy. Even though there are two different stories, one focusing on the 'good' girls and the other exploring the 'bad' ones, they have similar tone.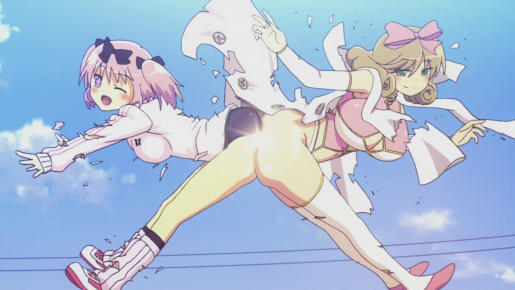 Most of the story deals with interactions and the small things and character interactions. For instance, one part deals with Mirai's feeling of inadequacy, stemming from her less than impressive curves, to others trying to help Hikage find her emotions. Sure, there is some conflict between the schools and a bit more going on but the majority is rather silly things.
Those familiar with these stories or just like games similar to Neptunia or Omega Quintet will be right at home with the experience. Sure, it isn't going to be the most gripping or fascinating story but at the same time, it doesn't need to be. Just having the girls tease Mirai for having a bear on her panties and then showing how they're similar or a silly eating contest are amusing enough to keep players going for the laughs. And, if that isn't enough, the main attraction isn't the story as much as risqué gameplay.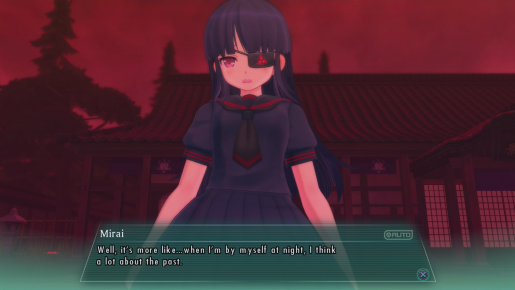 The biggest change between versions is taking the original side scrolling beat 'em up game and making it more like the open world experience found on later titles. This means the game is similar to, say, Dynasty Warriors, as opposed to something like Streets of Rage. It also makes Senran Kagura Burst Re:Newal an easy pick up and play title.
When push comes to shove, there isn't a lot of depth in Senran Kagura Burst Re:Newal. In fact, I found even on the highest difficulty, the average stage can be completed by simply jumping and doing a downward attack. With enough luck and a lack of range attackers, this tactic can honestly finish a lot of stages without taking a single hit with top or at least decent rank.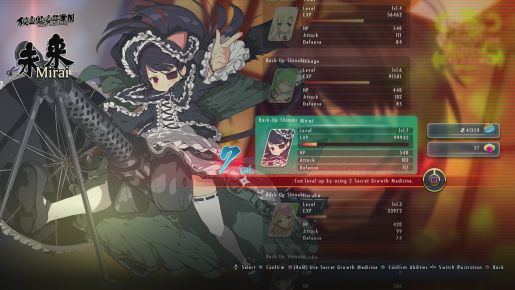 Naturally, this isn't the best way to play, unless that sounds fun to you, which is where boss battles and different characters come into play. Similar to the aforementioned games, every character has their own unique play style, along with different versions and additional moves you can unlock. Mirai uses a gun for ranged attacks, Hikage focuses on close range, Homura uses six swords to quickly dispatch foes, Haruka has a robot to do the fighting for her and so forth. While most story stages will require you to play as a predetermined character, it forces players to have a more diverse experience.
Even if you love one girl and hate another, you have to learn the best way to approach each character. For Haruka I found her group control to be weak, so I would single enemies out and quickly dispatch them, where as Homura is the exact opposite. Not the fastest killer, though superb crowd control.
In addition to basic moves, every character has a burst mode with a finishing attack, a powered up form and some other tools to turn the tides. None of these will make up for a lack of skill, even though the bar is pretty low, so they're just good ways to get out of sticky situations or have a flashy finish.
Regardless of how much I criticize the lack of difficulty, bosses offer a welcome challenge. Often times the issue isn't overpowering them, something that holds true for other stages, as much as watching their attacks and reacting to them. This is best done by perfectly timing your block for a parry, though a block works almost as well, with outright avoiding working as well.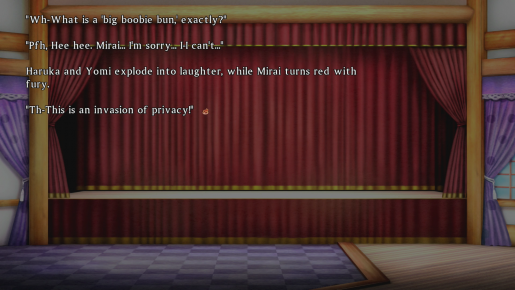 Often times I found bosses hard, not due to their moves, as much as sloppy controls or lackluster options. To prevent them from being overwhelmed, most bosses have juggernaut active, meaning they'll take as many hits as you want to do and still do whatever they want. This can make it extremely easy to take damage or make an error. Speaking for myself, most of my damage came from the boss moving and either the camera didn't track or my character went in a weird direction. It isn't enough to ruin the experience or even frustrate me, just lead to situations where I was either open or should've got more damage in than I did.
Outside of combat and story is a fairly robust selection of costumes. Without unlocking additional outfits, I found roughly 19 different outfits, with multiple colors of each, well over 20 lingerie choices, a fair number of hairstyle color and choices and more. Players can further increase this by purchasing them, leaving those looking for more without spending cash a wide array of options. Those looking for even more are welcome to purchase them though.
Verdict
Senran Kagura Burst Re:Newal isn't perfect, nor were either of the previous versions, but it is fun in a mindless way. Sure, it doesn't have anywhere near the same options of your standard Dynasty Warriors game, though there is enough to have fun. Add in a cute story, cuter girls and tons of costumes to play around with and it makes for an okay experience. So, if you enjoy the Senran series or want to see where it all began, this is a fantastic choice, though if you want something a little more complicated, I'd wait for something else.
[Editor's Note: Senran Kagura Burst Re:Newal was reviewed on the PS4 platform. The game was provided to us by the publisher for review purposes.]