Catastronauts is a brand new action packed four player local cooperative video game, published and developed by Inertia Game Studios. Gamers are thrown into space as part of the Space Fleet, though not everything out there is friendly. To make matters worse, there is plenty that seemingly goes wrong onboard the ships of the Space Fleet. Fires will need to be doused, systems repaired and enemies will need to be fired back at! However, is this a small galactic experience you will want to part of? Let's find out!
Played over individual stages, which see an alien ship open fire, not only must you and the ship survive but also take out whatever is attacking. As rookie cadets just donning the Space Fleet uniform players will soon release to stay alive they will have to be very active in ship maintenance. Therefore, before being able to arm torpedoes or charge lasers, perhaps it is a wise idea to advert the disaster of fire or cracks in the hull. Each ship can only take so much damage before it is game over and no one wants to see that happen.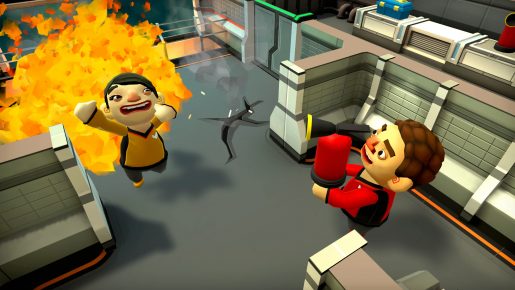 Different Space Fleet ship designs are included, each with their own layouts. This is the perfect excuse for new mechanics, or crises to advert, to appear alongside progression through the game. This helps to keep the gameplay fresh, with different or just more challenges for players to come up against. On top of this, different layouts cause other problems. Suddenly the fire extinguisher that was readily available in fire prone areas, is the other side of the ship… through the fire!
Death is an inevitable event in Catastronauts. Thankfully, cloning is common place – otherwise the game could become frustrating fast. That being said, the game will try its best to make life for each and every catastronaut difficult. In the fast and frantic levels, where players will not have a second to waste, they will be having to juggle multiple jobs whilst keeping themselves alive. Death might only put you out the game for so long but in that time fires may have spread and weapons become damaged.
Catastronauts is designed for 1 – 4 players. Alas, this is not something to experience solo. Not only is the game a significant amount harder on your own, the entertainment produced when friends or family are frantically rushing around with you builds an unforgettable experience which would be sorely missed. Cooperation is key to victory, juggling repairing with fighting back often having to be a fluid partnership not one where players can take on defined roles.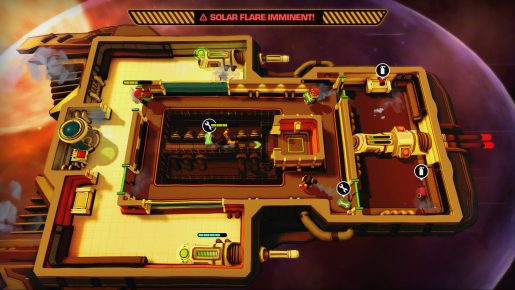 From the gameplay and even the art style, gamers may be surprised that Catastronauts is not from the same developer as the much loved Overcooked. The development team has been pretty open about the inspiration they took from the game and it shines through. Unlike the recently released Overcooked sequel, you cannot play the game online – so local coop is the only option. Local coop is a mode of play which is seeing a heavy revival in recent years and this title shows why – it is simply fun!
The biggest issue with the game is the total amount of content included. While the levels are designed to be replayable, it won't take long before you've experienced each "new" thing. With different groups of players vastly different levels of chaos or methodical captaining can occur, making things interesting. However, part of the fun is driven from when new content is first seen, such as when solar flares start to hit the ship.
Once elements are seen the initial excitement is slightly diminished, as events fade into another issue to fix in a known way. On each level there is an overall goal of stars to give players something to aim for on each level, returning to beat past scores. While not overly obvious it is based on the time taken and if your ship is badly damaged, so retrying early levels when more experienced soon sees the stars rain in. Hopefully, DLC in the future can add to the game – as what is there is extremely fun, it just leaves me wanting more.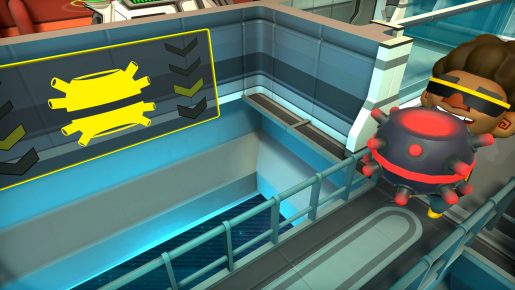 Simply put, Catastronauts is like Overcooked in space. It has a similar, rather cartoony, art style and same hectic gameplay. The only real difference is gone are chopping boards and pans, with players are instead onboard various spacecraft which are under attack. In a similar way to Overcooked players constantly feel under pressure and as if they don't have enough hands to juggle the required jobs, but that just makes the experience entertaining. If the theme captures you more this could beat out Overcooked, otherwise it needs a tad more content to make the game out of this world.
[Editor's Note: Catastronauts was reviewed on Nintendo Switch, with the game provided to us by the publisher for the review.]