Insurgency Sandstorm is New World Interactive's sequel to Insurgency – which came out early in 2014. Just like the original, Sandstorm is a shooter in a modern setting, with both competitive and cooperative multiplayer modes. You can also play the coop modes in singleplayer but you'll be missing out on much of the experience doing that, and sadly the planned campaign was dropped fairly early in development so if you're after a singleplayer game Insurgency Sandstorm is probably not what you're looking for.
The gameplay of Sandstorm veers closer to realism than the likes of Call of Duty or Battlefield, but not to the same degree as Arma. The end result is a fast-paced and brutal shooter, which encourages thoughtful gameplay by only allowing respawns in waves when your team takes objectives. The gunplay is excellent, weapons feel satisfying and even reloading has a surprising amount of depth to it; partially used magazines remain partially used and just go to the back of your reloading queue, unless you interrupt the reloading process in which case they are dropped.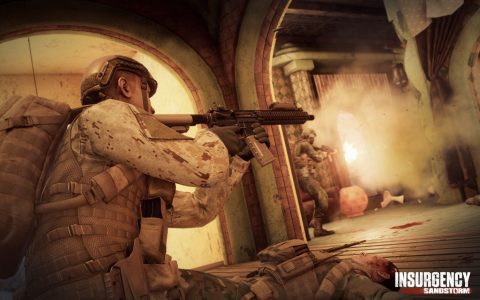 The game-modes on offer all involve securing and defending fixed objective locations. In coop you have a team of eight progressing through a linear, but not so narrow as to feel constricting, map. The competitive mode maps offer a mix of tight linear areas and wide-open areas, even within the same game, in a similar way to some of the better maps you'll find in the likes of Battlefield. There are even some vehicles on offer, though these are more in the vein of armed cars rather than tanks.
Before you spawn players will need to select a class/role, of which there are quite a few. Most of these are fairly self-explanatory and just change the weapons gamers have access to. There are limited numbers of each class (except basic riflemen) so teams won't contain enormous quantities of people toting sniper rifles. Choosing your equipment is based on a weight system, allowing you to add such things as more armour, explosives and weapon attachments. This is pretty intuitive and can be quickly achieved during gameplay between spawns. All of the weapons and attachments are available from the off so if you're unfamiliar with modern weapons it may be a little overwhelming at first.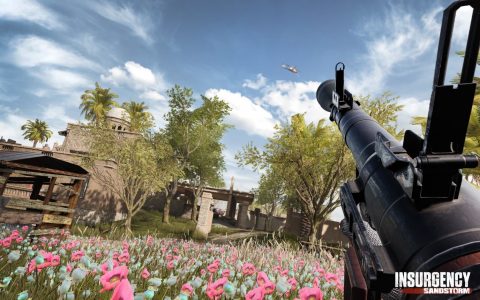 The most interesting classes are the observer and commander, the commander can call in support like artillery fire or various types of air support but only if there's an observer available to relay the commander's orders. These strikes are very potent and really reward a team willing to work together. Both the class system and the game modes available feel like refinements of the systems from the original Insurgency rather than fresh new ideas, but that's no bad thing as that was by and large a very solid game.
A big improvement from Insurgency is the quality of the AI in the cooperative mode. While they certainly still do interestingly stupid things on occasion, they are in general much more likely to take cover effectively. They will also happily use explosives, to force you out of sniping positions if you sit in place for too long; use smoke grenades properly and regularly will flank your position – so it is very important to watch your corners.
The fairly competent AI means that securing victory in coop is by no means a certainty, particularly with a team comprised of random matchmade players. If your team is wiped out or the AI retake an objective then you'll have to restart the mission, and you only get three chances of that. Regardless of whether you win or not you will get experience, though as you'd expect the rewards for victory are far greater.
Player experience goes into a levelling system which focuses purely on cosmetics. There is an impressive array of customisation options available for characters including face, each part of the outfit, voice, tattoos and gender (only for the Security team though). Levelling up can directly provide you with new options but you also get credits which you can use to buy the cosmetics of your choice. While you won't see much of your own character in-game you can see them on the main menu, and other players will see it while spectating waiting for respawns so the customisation does feel fairly worthwhile.
Graphically Insurgency Sandstorm is no slouch, and while perhaps not quite as polished as the latest Battlefield or CoD, the characters and maps are nicely detailed and effects impressive. The animations are particularly nice with much more realistic firing postures being adopted than you see in many games, and nice smooth actions for mantling objects and kicking doors in. Game performance was largely good, with 50-60 fps being achievable playing at 4k on a GTX1080, so if you're using a 1080p monitor with any fairly modern graphics card it should run well. An issue I did run into was significant frame rate drops down to around 20-25 for brief periods, seemingly at random. The original Insurgency was well supported throughout its release and the developers have pledged similar support for Sandstorm so hopefully issues like this will be smoothed out over time now that the game is in the wild.
While the graphics are good, the audio is also excellent. The weapons sound punchy and satisfying, with explosions and air strikes appropriately loud and impressive. More critical and just as impressive are the subtler sounds though – the sounds of reloading or flicking a fire selector, and particularly footsteps. Directional audio works well and keeping your ears open for people moving or doors being opened is vital, particularly while you're forced to stay still to capture an objective.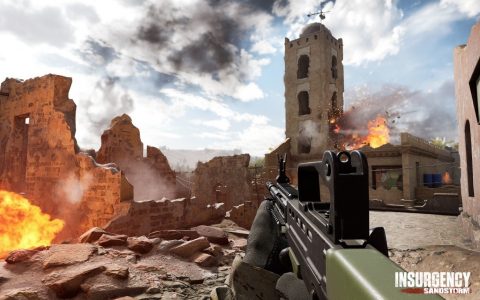 Verdict
Overall, Insurgency Sandstorm is a worthy successor, and a great option if you're looking for a more thoughtful shooter. The progression system doesn't interfere with the gameplay but gives you some nice little rewards to help keep people invested. The biggest weakness is the lack of singleplayer content, but if you've got an interest in modern shooters and a few friends to bring along then Insurgency Sandstorm is a pretty good choice of shooter. Insurgency Sandstorm is available now on Steam for with console versions planned to be released next year.
[Editor's Note: Insurgency Sandstorm was provided to us by the developer for the review.