I will preface this by saying that I went into Fallout 76 with a lot of skepticism – I am very much a fan of the franchise and have enjoyed every title exempting Brotherhood of Steel, as it is an abomination unto Atom. The much-publicized lack of NPC conversations and the public multiplayer nature of this new game do not align very well with what I most appreciated in the Fallout franchise. Being able to tackle problems in many different ways but particularly being able to talk your way out of, or sometimes into, trouble has always been a big part of the franchise and this just is not possible in Fallout 76 due to the lack of conversations.
The first thing that is immediately apparent jumping into Fallout 76 is just how strongly it is tied to Fallout 4, from the character creation to the interface to the feel of the combat – this is multiplayer Fallout 4 in a new setting. That means that many of the criticisms for Fallout 4 still apply to 76: the character creation is fiddly though powerful, the building system is clunky and the inventory user interface is a bit obtuse. Familiarity with Fallout 4 will mean that most of these rough edges are not as noticeable for many players, but the issues are still there for the most part.
Once you have decided on how your character should look you are presented with the opportunity to create an ID card for them, using the new screenshot tool. This tool gives you a freely movable camera (within a certain distance from the player character) and access to all manner of useful tools like field of view, depth of field, brightness and contrast adjustment, as well as a load of filters and effects. This tool is a lot of fun to use, and the shots taken are then used as loading screens, which is a very nice touch.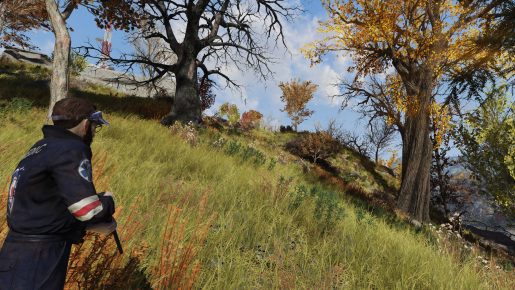 The core gameplay loop of Fallout 76 is fairly simple: go to location, kill enemies, loot everything and repeat. Fortunately, the combat gameplay is fairly strong and offers a broad range of approaches. This includes unarmed punch ups through to power-armored frontal assaults with heavy weapons. The enemies are all interesting and the new additions fit the Fallout universe perfectly.
The enemy AI is sometimes a little lackluster. However, there are normally plenty of them and the combat remains engaging regardless. The contents of each loot container are randomized for each player and looted individually – if another player has just emptied out the safe then you can still go up to it and get your own loot which will probably be different; plus if they unlocked the safe it will be unlocked for you too.
There are many benefits to teaming up with other players, which is achieved by walking up to another player then opening the interaction dial and clicking team up. There is a friend system and you can join the servers of any of your friends unless that server is full, which may well be the case. Yet, you will be teaming up with them only after meeting up in the game world. This system works fairly smoothly if you want to play with only one other person, but the more players you want to group together the more likely it is that you'll run into problems with the servers filling up – especially as there is no way to reserve slots.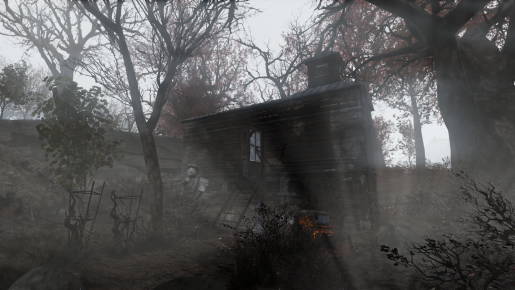 The leveling system significantly diverges from past Fallout games. You still have a SPECIAL stat-line, but they all start at one, with each level-up letting you increase one stat by one point. In place of the perk tree of Fallout 4 there is instead a perk card system. Each time you level, you choose one new perk card from a selection, and you will periodically get packs of new perks to add to your collection (accompanied by cracker-tier jokes). These cards have several tiers (which you get by combining multiples of that card), and are associated with a SPECIAL stat. Players can equip these cards into each SPECIAL category, with the value of that stat determining the number of cards you can equip.
The biggest difference between Fallout 76 and other shooters or past games is the implementation of VATS – in the Bethesda incarnations of Fallout this nearly paused time and let you queue up attacks costing action points that are also used to sprint or jump. As Fallout 76 is a multiplayer game it would be a bit obnoxious to pause the game for everyone, so instead it works in real time as a kind of percentage-based auto-aim, with limb-targeting allowed if you have the right perks.
Fallout 76 let's you build a camp, using almost the same tools as in Fallout 4. A notable change is that players can place this camp almost anywhere, giving everyone the opportunity to build their home wherever they feel like. This camp let's you fast travel to it for no cost, while fast traveling to other discovered locations costs a number of caps based on the distance you are from the location. This alone is useful, but you can also have a stash and all the crafting benches you might need – so your camp is very much a place you will be regularly visiting. The stash is a shared container you can access from your camp, or the camp of anyone else in your team. You can also fast travel to the camps of any of the players in your party, which is another incentive for teaming up.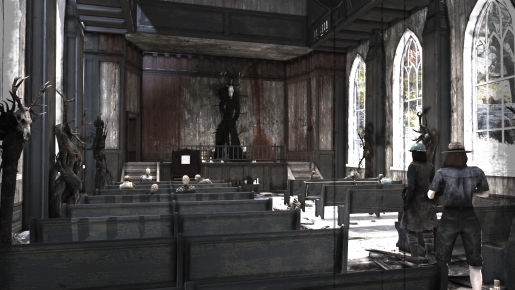 Player versus player gameplay is semi-optional, with the player having to retaliate to an attack before real damage is done. If a player does manage to kill another without them fighting back then the attacker will be marked as a bandit and a price put on their head with everyone on the map free to kill them and receive a reward. If you do die, either to other players or NPCs, then you will respawn with all your items retained except junk (which is useful for crafting materials), so the loss is minimal. Whether that is a good thing or not depends on your point of view – it means that the potential for griefing is minimal but also makes death lack major consequences.
The setting of Fallout 76 proved surprisingly compelling even without NPCs to talk to; there are many new enemies that fit right into the Fallout universe and the premise of the story is distinct and interesting. Fallout 76 is set only 20 years after the bombs fell, much sooner than any previous game and features a decidedly more vibrant color palette than previous games too with actual plant life abounding. The story is told largely through voice tapes and text entries that, while not interactive, still manages to hold players' interest. There are still non-human NPCs that speak but there is no conversational dialogue, no choices to make, which does still feel a little disappointing.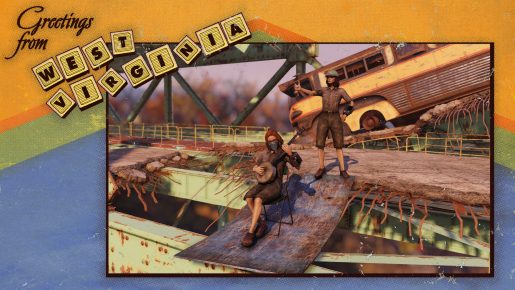 Verdict
Fallout 76 is effectively a multiplayer version of Fallout 4 with a new, and interesting, setting but no conversations. At launch there is no choice but to use the official servers, and there is no date on when an option to run private servers will be implemented. Thankfully, other than a few hiccups on launch day, the official servers seem to be holding up well, and most interactions with other players were friendly enough so you probably needn't worry about constantly being hassled by others.
Whether swapping NPC conversations for other players works is a bit subjective, though the change is not as severe a detriment to the experience as expected. While the roots of Fallout 76 are firmly in Fallout 4 the final gameplay experience is quite different and so there's no guarantee that fans of that game will enjoy it. Fallout 76 is worthy of recommendation with two caveats. You have to go in expecting a light multiplayer survival game in an interesting setting, rather than a deep story-focused role-playing game. On top of this, Fallout 76 is a game that really is better with friends, as that is the real replacement for the NPC dialogue in the world – if you're going in as a solo player you might come away dissatisfied.
[Editor's Note: Fallout 76 was provided to us by Bethesda for the review.]