Battlefield V is the brand new World War 2 themed first person shooter from DICE and EA. The game has just launched and is available on PlayStation 4, Xbox One and PC. The game sees the fight with the Germans on all fronts, from ground troops, through explosive tanks and into the skies. From them launching V1 rockets to holding onto a war torn Rotterdam, war isn't exactly painted in a heroic way.
As the game begins, players are instantly placed into a mood setting prologue. During this time players will witness countless deaths from the skies to the muddy puddles of the battlegrounds. It is a hard hitting start to Battlefield V which ia also a quick way for EA to show some of the various stunning locations and effects, from the arctic chilled winds in snowy Narvik in Norway to the desert and canyon filled Hamada in North Africa.
The biggest mode, building upon the glorious Operations mode from Battlefield 1, is the "new" Grand Operations. Stitching together four operational days the outcome of a game goes on to directly impact the next. Extra resources don't guarantee you the victory but do enough to give meaning to a previous victory, with extended round time, vehicle respawn rates, etc. awarded to the attackers. There also can be no draw with a final stand match taking place as a tiebreaker. Not only are these played over a variety of maps but they also include different objectives. This combination helps longer gaming sessions from becoming stale, instead of just playing Team Deathmatch over and over again.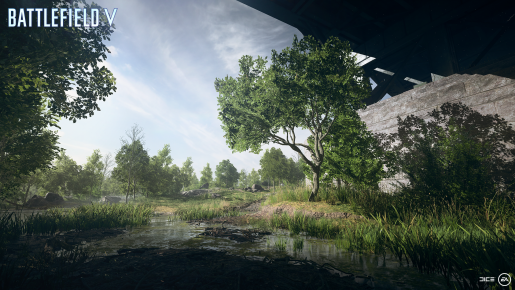 Starting off a lot of Grand Operation matches is a new mode Airborne, which sees the attacking team literally start airborne, leaping from overflying planes. Parachuting down into the action players are given the choice of when to jump, though it is entirely possible for the plane to be taken down – so don't leave it too late! Aside from this unique element the mode uses a respawn ticket system to determine the winning team, though it still makes each game a little bit different.
The new movement system is bound to split the player base. Going from a fairly rigid movement to being able to slide along is a substantial adjustment for the player base to make. This being said, it is a change worth adjusting to. At the end of the day the Battlefield franchise strives to be on the realistic side of war and rushing into cover is now more prevalent without the sliding while spraying and praying, as seen in Call of Duty Black Ops 4, being a problem.
There is also some animation changes to go alongside the "more physical" movement EA promised. On one hand you get legs randomly appearing when in prone and minutely move backwards. Conversely, it also enables the best part, the ability to climb. Being able to get over the rubble, which there is a lot littering the various maps – be it there at the start or after a few tank shots, allows for the destruction to never block routes off completely.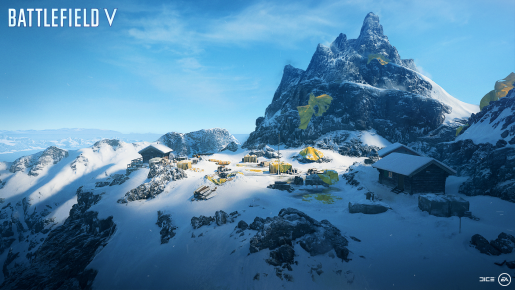 Opportunities open up for different sniping spots or support gunner stations in each and every game, furthering the feeling that each round is unique. The lack of invisible walls, where I'd almost expect them, is a pleasant addition to this system – allowing you to duck into cover if there's room. Alas, the same immersion breaking out of bounds hard limits exist, though their use for protecting spawn points is understandable. The logic behind the change is solid but the execution is somewhat off, even speeding up the animation time would limit the frustration it can cause.
The four well known Battlefield classes of recon, assault, medic, and support return, still there but with less uniqueness than seen before. While medics have health packs and support will be able to hand out ammo, being able to collect ammunition and get teammates up regardless of class makes the defined lines between classes less meaningful. This is in stark contrast to other FPS titles like Overwatch or Call of Duty where distinct over-the-top character powers are key, instead making each player more life-like and human.
The most impactful class difference is probably the support whom can build advanced fortifications, allowing them to build gun emplacements alongside sandbag windows or slopes – making it infinitely harder for sieging opponents. This system works incredibly well to counterbalance the incredible destruction system that the franchise is known for. As things get blown up and peppered with bullets somewhere else can be fortified, dynamically changing the importance of locations round to round.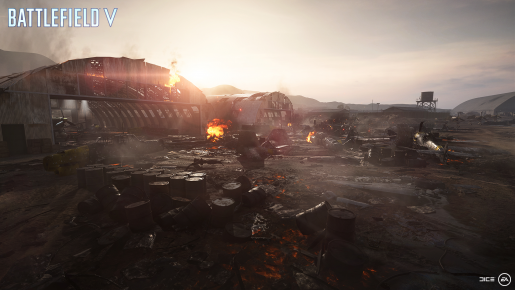 Battlefield V has already received a large day one patch, still bugs remain. Within a couple of minutes of the game launching I'd already witnessed a floating AI soldier in the introduction scenes, when he'd been forced back by an initial sniper shot. A few notable issues are on multiplayer side, where they range from a missing game countdown timer to peculiar ragdoll effects seeing bodies unnaturally move across a street after an explosion. The most awkward is the pop from cover mechanic that can at times see the character on screen bobbing up and down as the player finds the sweet spot that games wants them to pop up from – not only is this frustrating to deal with but can be exasperated when players are killed effectively outside of their own control. Thankfully, these are infrequent but are odd or frustrating enough to be memorable.
Thankfully, EA has decided to do away with the player base splitting Premium Pass of old, replacing it with a service called Tides of War. Aside from bug fixes and balance passes promised as usual, this means that all Battlefield V players will see a steady stream of new content for free. Included in the initial roadmap are new weapons, vehicles and more interestingly maps (with Belgium and Greece being named locations). Firestorm, a new mode, will also be launched next year – being the series answer to the current Battle Royale genre.
Verdict
Battlefield V hits the right notes of war being a bloody affair, with gritty hard fought battles. The maps present real contrast from one another, with each favoring different styles of play. Playing as part of a decent squad can see you noticeably affect the outcome of a battle, and one that is full of period weaponry that still pack a punch. Grand Operations is considered by DICE and EA as this installments crowning multiplayer achievement and as the game is currently missing the new standard of a Battle Royale mode this is the case. At the moment in time, the game has a few niggles bug wise but still presents a strong experience – one that will hopefully improve with a couple of minor patches and the promised future content.
[Editor's Note: Battlefield V was provided to us by EA for the review.]