WWE 2K video games have been disappointing for the past few years, but the franchise has gotten a mini revival thanks to this year's release of WWE 2K19. While there are still some nagging gameplay issues and nitpicks, the overall game includes more features than the last two games in the series.
The past few WWE 2K games were boring because of the lack of content that they possessed. None of the games featured the Showcase mode while the MyCareer mode was both long and repetitive. The career mode felt extra boring too because none of the wrestlers gave their voices to the game!
WWE 2K19 sees the return of the Showcase mode because fans can relive the career of Daniel Bryan. You start off in 2003 where Bryan had to face John Cena in Velocity, with the career mode ending at WrestleMania 34 when he came back heroically after a three year retirement.
While it's great to see that Showcase mode has returned, the mode itself is not perfect. Trying to complete the goals in each match can be a painful experience because the A.I. usually loves to counter your every move all of the time. Not to mention it can be frustrating to force them to lie down on a table because they keep running away!
That being said, completing all of the goals in each of the matches allows you to unlock more arenas and wrestlers. You can finish each matches without doing the goals, although you won't unlock the extra goodies. In either case, there are 12 matches in total so it's not as long as previous Showcase modes.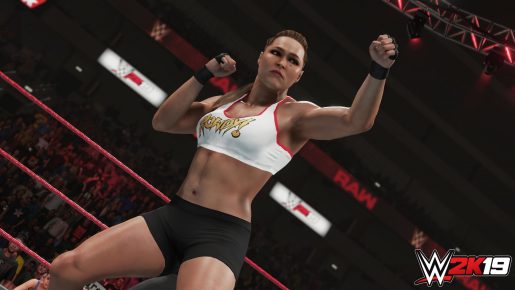 A criticism of the past Career modes were the lack of direction and lengthy grind you needed to do in order to progress. I remember winning lots of matches in WWE 2K18, but still remaining on the mid-card so I gave up and never looked back. Thankfully, the career mode in WWE 2K19 is a more linear and structured journey that mostly feels fun and has an enjoyable storyline.
If you remember the 'Road to WrestleMania' storylines from the older games published by THQ, this year's career mode feels similar to that. It's a 12 hour long journey where you create your own wrestler that makes his start in the wrestling business on a fictional organization called BCW. After BCW, you will be signed to NXT and will eventually be on the main roster of the WWE.
The storyline starts off pretty cool because you and your BCW mates first "invade" NXT before you get officially signed. You will also come across Triple H on more than one occasion as he's one of the main villains in the storyline. Not to mention this year's career mode feels better thanks to wrestlers finally giving their voices to the game!
While I enjoyed the career mode better than previous game, it's still not a perfect experience. Some of the matches can get boring and hard because you have to grind a lot before you can level up your wrestler's statistics. It is also a linear story with only one direction because you cannot make decisions of your own that change the outcome. I was hoping you could lose matches and possibly get a bad ending, but nothing like that is possible which is a bit of a shame.
The career mode can get boring because you are forced to win every match by either pinfall or submission. It's a bit annoying because you cannot even progress even if you win matches via disqualification or countout. It also gets very lengthy because you have to finish each match with either a signature or finishing move. Wrestlers will keep kicking out if you try and end the match with other moves!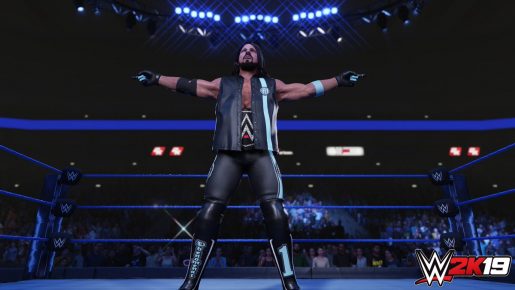 In terms of the core game, not much else has changed other than a few new additions here and there. Steel Cage matches have had a mini overhaul now because you can now use the cage in more creative ways than ever before. There is even a call OMG finisher that you can do that breaks the cage wall down.
Some other small changes have been made to the game that makes it feel worse. For some reason, you can longer use weapons in Hell in a Cell matches and it's still a huge pain trying to put someone through a table. It used to be much easier breaking tables in older games, but it's still a chore to do here in WWE 2K19.
When it comes to the animation, there have been noticeable improvements here and there. Roman Reigns' Superman punch looks more accurate this year as does his Spear. However, Stone Cold Steve Austin's stunner still looks like trash compared to the animations in older video games.
The inconsistencies are also noticeable when it comes to WWE 2K19's graphics too! While stars like Triple H and John Cena look excellent, not everyone looks accurate. Randy Orton looks uglier for some reason why Ronda Rousey looks off too. Not everyone may agree with me, but the overall character models could look better for some wrestlers.
Verdict
Overall, WWE 2K19 is a decent addition to the franchise because it adds more features and fun gameplay modes than ever before. However, there are still some flaws that are present that ruins some of the fun. Still, the game is fun to play if you are a huge WWE fan.
[Editor's Note: WWE 2K19 was reviewed on the Xbox One platform. The game was provided to us by the publisher for review purposes.]