One thing that is great about games based off anime/manga is the ability for a new demographic to experience it. For many in the west, their only experience with Fist of the North Star stems from the various games released over the years. The advantage to this is to give them motivation to look into what makes that series special. My Hero One's Justice does that for My Hero Academia, which is quickly becoming one of Shonen Jump's most popular current series. With a story mode, customizable fighters and plenty of charm, is it a great way to get into the series or does it suffer from the usual anime game issues?
Like a lot of anime/manga games, My Hero One's Justice does a brief overview of the introductory arcs, followed by jumping straight to the more exciting bits. This can make it hard for newcomers to know what is going on, though it does a good job of setting things up. Those looking for a lot of story or details might be disappointed, since it gets quickly to the point. Some arcs might be eight or so episodes long and condensed into a couple fights that last 20 minutes.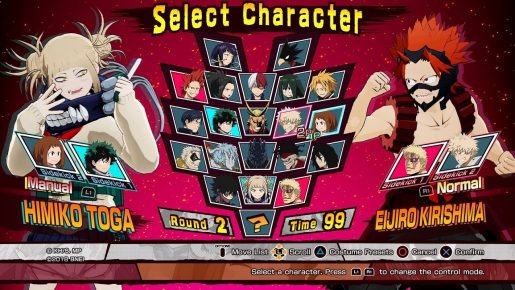 It doesn't ruin the experience, just hard to get into without an affinity for the series. Fans might like the quick nature, as it gives players the opportunity to relive their favorite moments, and doesn't waste too much time explaining things you already know. Finishing the story will offer a different perspective, one that fans will likely enjoy, that expands on what occurred in the original story. But, the main attraction isn't story but the ability to live these climatic battles.
My Hero One's Justice is a fairly straightforward fighting game. Players are given a couple basic attacks, which can be used to create a number of combos, few special attacks and two super moves. For this reason, the depth doesn't come from inputting specific attacks, as much as knowing how to utilize your moves.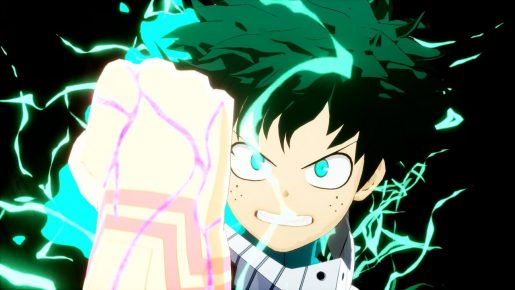 No matter how powerful a foe is, they always have a weakness. This can be as simple as keeping out of their effective range, to being as complicated as waiting for them to leave an opening. Given the limited range of attacks, it sounds harder than it actually is. A lot of times they'll do one of three things and as long as you're prepared for at least one of them, you'll be able to punish.
Much to My Hero One's Justice's credit, characters feel different. Instead of giving everyone a different kick or punch order, their quirks (power) change how these moves play out. For instance, Shoto Todoroki can either burn or freeze you, so anticipating your opponents moves is important. On the opposite end is someone like Fumikage Tokoyami. He doesn't do much on his own, though with his shadow a number of ranged attacks open up.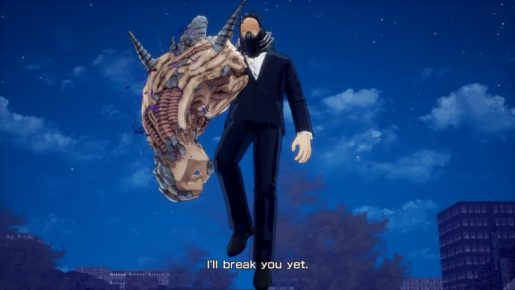 Once you find your preferred play style or characters, you can further things by customizing them. Every character has a variety of customization options that you can unlock. This is predominantly done by performing feats in story, such as S ranking a mission, giving players a lot to work with. The only downside is certain characters are on the more limited side. That being said, it's still better than nothing.
In addition to story, online/offline versus battles and training, there are missions to complete. These also award costume items and ask players to perform specific feats. Most of them are just defeating a specific foe, with a specific amount of points being required for S rank, though they're a fantastic way to improve your skills.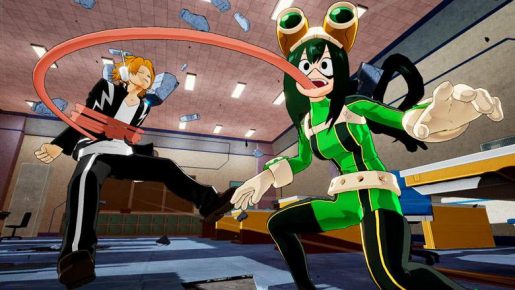 Even if My Hero One's Justice does a lot of things right, it isn't the best in terms of performance. Even doing something basic, like loading mission mode from the main menu, will result in a 26-second-long loading screen. This is especially bad for something like versus where players are asked to wait 21 seconds before getting to the settings screen. When you follow this by asking players to wait another 40 or more seconds to actually get in a match, it isn't long before you find something else to do.
For reference, in SoulCalibur VI I can click battle, versus, select my match configurations, pick my character, stage and load the match in 36 seconds. While not completely fair, since I am comparing a Switch game to PlayStation 4, you could grab ARMS and fight in 24 seconds. With both games doing this in roughly half the time, it's hard to justify that wait, especially when it lags simply moving on the character selection screen.
Verdict
My Hero One's Justice isn't a bad game; it just doesn't do anything to stand out. Combat is okay for the genre, with the ability to destroy/knock people into buildings being fun, it just isn't enough to sell it. Combine that with poor load times and rather short story and it's a fairly hard sell, even to fans. That being said, if you're a die hard My Hero Academia fan or just really enjoy simple fighters and this isn't enough to discourage you, there is enough to still have fun.
[Editor's Note: My Hero One's Justice was reviewed on Switch platform. The game was provided to us by the publisher for review purposes.]