EA Sports is back with their yearly football release, FIFA 19, for Xbox One, PlayStation 4, Nintendo Switch and PC. With new features, the third installment of The Journey single player storyline and Ronaldo in a Juventus kit, changes have been made. EA Sports has not exactly been subtle when it comes to the inclusion of the Champions League in FIFA 19, from the first game when you boot the title to The Journey featuring the classic champions song. This being said it was always odd that the iconic European competition was missing from previous iterations.
When it comes to the gameplay, speed and strength are still king. However, the Active Touch System in FIFA 19 has shaken things up. Reaction speeds and control are now just as important as full speed and being able to shrug another player off the ball. This is because a lot more balls bounce off legs or get badly contained. Being able to pounce on a loose ball can be key to victory. A byproduct of this is that second shots, bouncing back off a defender or palmed away by a keeper, seem a lot more effective than before. Thus, keepers end up looking less effective than in previous iterations.
A tiny addition that is guaranteed to make a big impact in the goal of the week competitions is a new ability to flick the ball up. By tapping the right analog stick players can while running flick up the ball for a volley or even keep pressing it to go into keepy ups. Currently this can devastate players going in for sliding tackles but over time there effectiveness will drop off as gamers get used to the move. Akin to the way cutbacks and chops were once seen as a clear way to carve through an opponent with ease.
Potentially making it even harder for keepers is the new Timed Finishing feature, though my attempts have seen shots fizz off in all directions accidentally. By double-tapping the shoot button you activate timed finishing, with the second button press being for the connection with the ball. From shots outside the box to headers from whipped in corners the feature should allow players to get the exact connection they want, though thankfully it is not a necessity for playing or scoring.
The Journey is back and with it comes the main man Alex Hunter, although this time around The Williams and Kim Hunter also have much more of a starring role – with their own year to play through somewhat interweaving with Alex's story in the cutscenes. FIFA 19 recommends you to jump between the characters to keep their journeys approximately in line during the year and while it isn't a necessity it make more sense to play this way. Whether the rumors that EA had plans for Alex to team up with Ronaldo in this third installment were true or not a real star like him is missed from the "show".
FIFA Ultimate Team (FUT) has had a few changes most notably the inclusion of the most thrilling thing to pop up in a football game, probabilities. Yes, EA has somewhat caved on the loot crate argument and has included the percentage chances of getting specific bands of players in the various packs. Hidden behind a button press rather than popping up on screen they haven't exactly fully committed to the cause but it is there. Aside from this and a couple of "new" ways to play the experience is more of what fans love: if it's not broke don't fix it.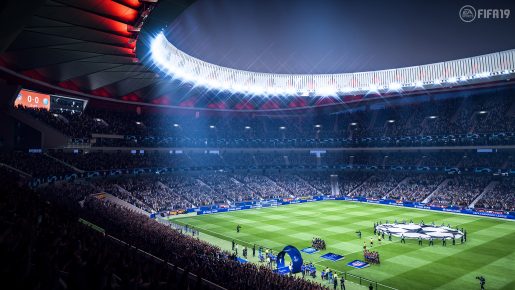 The presentation has seen a slight jump but it is the animations which once again have dragged the yearly installment of FIFA to the next level. This might be as a result of the active touch system, when the ball starts to bounce around and the players react, it looks like some scrappy play from a real game on TV. The UI is crisper but otherwise is similar to what was present in FIFA 18, though at times it now features the actual Champions League logo. The amount of pro players that have face scans seems higher, though lower leagues are still less impressive. My biggest bug bear is that year after year the 12th man is more than lackluster. The crowd looks like it is still from a previous generation. This wouldn't be an issue if it wasn't for the amount of goal celebrations that zoom in on their pixelated faces.
One of the smallest additions UI wise perhaps is the titles biggest accomplishment and step forward. Removing the annoyance of never knowing whom the swap player button would take you to has been removed by a simple highlight marker. Taking a game or two to get used to, confusing it for a new reduced size player marker, this is a change worth getting used to. Knowing who you can swap to, at any time in defense, is as close to revolutionary as FIFA gets. No longer will you unknowingly swap to the wrong player, miss a tackle and simply let someone through.
A new commentary team has joined the mix for Champions League games, comprised of Derk Rae and Lee Dixon. Alas, repetition is still brashly present. EA needs to build a system to determine what annicodes, or even exact phrases, have recently been used – in order to at least give the impression of more variation. Within 3 games the new phrases were already old hat. While we all know real life commentary can be filled with pointless sayings, especially from the likes of Michael Owen, but at least variation is there!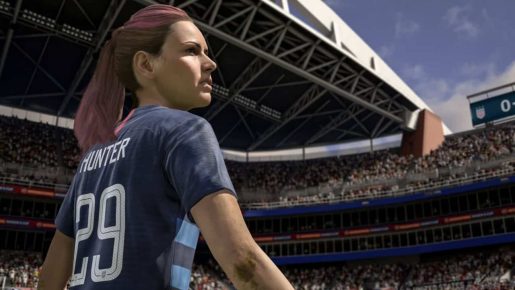 There is an oddity to goal celebrations this year. They have become more restrictive, forcing the players to run off to the side before performing anything from a dab to a knee slide. This has most probably been done to limit the animation breaks and body clipping incidents seen in past generations. However, when you are directing a player to celebrate in the direction of travel and they suddenly vie of it is somewhat jarring. It also means there is no more knee sliding into the goal!
Verdict
Overall, there has been some noteworthy improvements. The biggest of these being the Active Touch System, that not only makes control feel important it makes the game look more realistic. As a result more goals seem to be scored, and no one really enjoys a 0 – 0 draw – be it in real life or in a video game. It is hard to think of the gaming calendar without an installment of FIFA on the books. The little tweaks do add together to make the title a worthwhile purchase. Nevertheless, more and more each year it feels like EA could just charge for an upgrade pack rather than a full game.
[Editor's Note: FIFA 19 was provided to us by the publisher for the review.]