Victor Vran is a steampunk themed action RPG title, developed by the independent development studio Haemimont Games, which has just been released on Nintendo Switch. The city of Zagoravia needs saving and Victor is there to help out; ready to slay demons and monsters alike. The game can be played single player, locally with two players or online with up to 4. However, is the Victor Vran port entertaining both docked and on the move? Let's find out!
A mysterious message, offering a mention of a lost friend, is enough to get Victor Vran into action. Action certainly being something the protagonist will being seeing a lot of on his journey. As a Hunter apparently does, Victor charges off into the midst of a world that is looking a tad sorry for itself. From here on the story does little more than give some context and pad out the experience. It certainly doesn't excite as much as the feeling of combat. Thankfully, that bit comes in copious amounts.
From the get go Victor is a strong character to play as, offering the ability to flick between a huge range of weaponry on the fly. Be it equipping rifle like ranged weapons or huge warhammers, Victor is relatively proficient with each. Enabling player to dabble with each, there is no class based system abitarily locking the use of weapons from players. Countering this each weapon has pros and cons, so players will have to either adjust to the situations dynamically, or face some hard combat sections.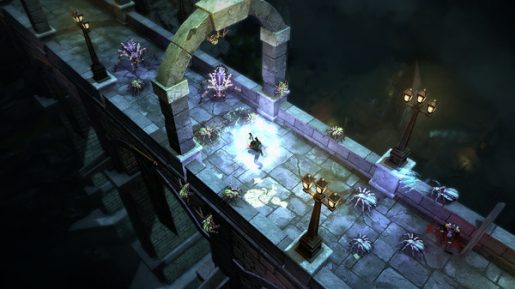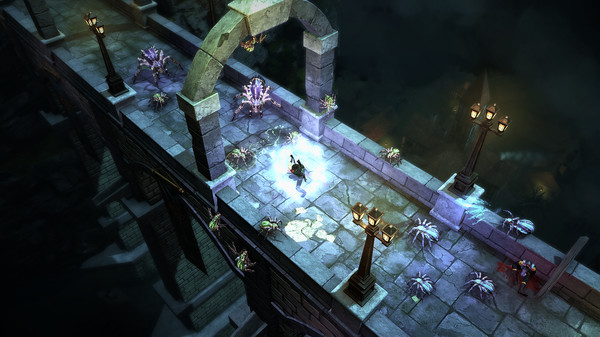 If there is a limit to what Victor can carry it is not noticeable, so no annoying over encumbered messages will be popping up like in Skyrim. This allows gamers to carry a full arsenal and choose what'll work best, for maximum damage and more importantly for maximum entertainment. As if this wasn't enough after some progression Victor picks up the ability to almost dual wield, making swapping between two weapons lightening fast. This is perfect for when you're trying to keep a horde of spiders at bay with a ranged weapon but need to switch out to a melee weapon to pick off those that break through.
Victor Vran does something different from the usual RPG mould when it comes to loot. Instead of players churning through dropped items players will often want to dump loot into the gear store to be able to make a big, sometimes expensive, purchase. While there are some items of worth dropped the store offers an interesting progression tracker of sorts of getting better gear.
Steampunk styled weapons aside Victor can take on the monsters and demons with only his hands. I don't mean in a fist fight, instead a range of demon powers are unlockable. Taking a step back from an onrush of enemies only to solar beam them to the face or drop an area of effect meteor on their heads can be incredibly satisfying.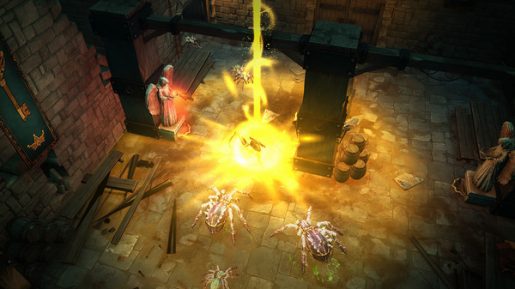 So you have this array of weaponry and spells but what do you get to use them on? That's where the waves of demons, skeletons and more come in. As if this wasn't bad enough players will also have boss fights to contend with. Impressively, be it docked or undocked there have been no notable performance drops, even when the game starts to thrown lots of units at the player simultaneously, and plenty of effects from spells are on screen. It may be the dull tones/colours of the city of Zagoravia, but units and effects pop, making it a decent visual experience – even when on the move.
Victor may be in search for a lost friend but fear not if you feel like you're getting overrun. Victor Vran on Nintendo Switch is built with couch gameplay in mind. Simply hand over a pair of joy-cons, or pro controller, to a friend and you'll find having an ally in-game can be life saving. If this doesn't work for you then playing online is an option or there is a difficulty slider to lower from Normal to Casual. Shamefully I know which end of the spectrum I mostly played on. This is mostly as being able to run through crowds of enemies, slaying them as you go, is an amazing experience – something much harder to replicate on non-casual modes!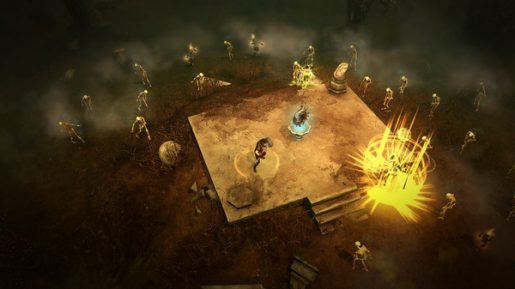 Verdict
Victor Vran is an RPG designed with players like myself in mind, those whom like the idea of an intriguing world but with no class based limitations on what they can and can't do. It's fun for 5 minutes tearing your way through enemies, chaining attacks together, yet suddenly hours have past and you'll still be happily swinging a mighty warhammer. The environments fit the style and steampunk theme of the game, though some do fade into the background – being somewhat unremarkable. Nevertheless, for the fun that is on offer Zagoravia is a city worth venturing in!
[Editor's Note: A Nintendo Switch code for Victor Vran was provided to us by the publisher for the review.]