To set the tone of Two Point Hospital, the latest release from Sega, this is a hospital tycoon game where Freddie Mercury impersonators, lightbulb-headed patients, ghosts, mummies and more roam the corridors. Yet, this would be considered perfectly normal activities in these hospitals. There is a huge list of entertaining, and often punny, diseases and afflictions that patients require help with, and that is where you, the administrator of the hospitals, come into play.
Over the course of the game players will take control of range of different hospitals: different in size but also starting condition. One level could see a tiny, failing hospital thrust in front of you, with the next an empty shell ready for players to go design crazy over. Each possess its own type of problems, new illnesses to deal with and victory conditions. Achieving the first of three stars will unlock the next hospital, allowing gamers to progress. This is often a relatively easy task, such as curing a handful of patients whilst increasing the reputation of the hospital. For completionists it takes considerably more time to achieve each levels remaining two stars, with the number of simultaneous objectives adding up.
Aside from the main hospital objectives players will have to react to emergencies, where groups of patients with the same illness enter the hospital; VIP visits; staff requests, often for better conditions, and more. These all appear as side objectives and are therefore not mandatory. This being said, they do often help; providing boosts of happiness, reputation, fund and kudosh points. The latter being a special currency that enables players to purchase new items from the store, unlocking them for all hospitals.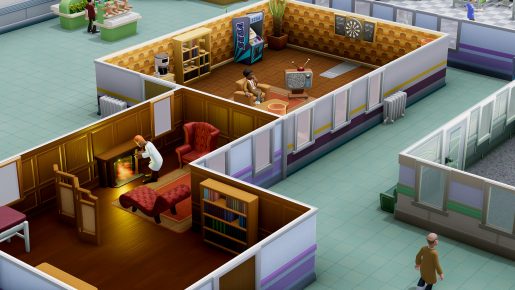 As bad as it sounds when talking about a hospital, Two Point Hospital game manages to never have a dull moment, with one catasphy after another to wade through. Even after multiple hours, and seeing the same diseases, there is still something slightly different waiting to happen. For example, one painful occasion I hadn't paid attention to how my doctors were coping, which led to a otherwise simple batch of diagnoses going out the window, and an influx of clowns ended up either dying in the hospital or worse…rage quitting! It's things like this that mean you are constantly battling the tide, waiting for the next thing to break. Thankfully, it is a fun battle to participate in.
Worrying about your staff is a feature too, with each having personality traits and training attributes. There's a trade off of paying a lot for a new top of the range doctor or getting a cheap junior doctor and slowly training them up. Training is the key then? It also has issues, as staff are taken out of the rota. Training two doctors how to be better GPs sounds a great idea, until the remaining doctors all want to go on a break! Then, when it comes to breaks, on top of the normal features like vending machines and toilets, the staff even want a staff room! Equip the room with items like a punching bag and dart boards to boost happiness and it might be enough to stop them resigning.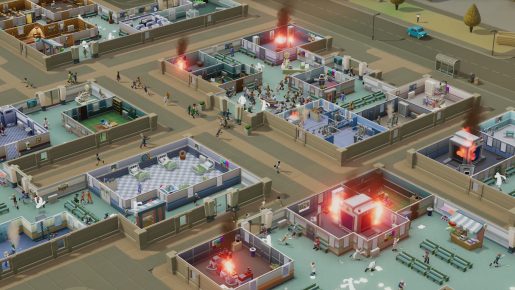 If puns aren't funny to you then a huge part of Two Point Hospitals wit and charm will pass you by. From the Extract-a-Pan medical device, that uses a huge magnet to remove saucepans from patients heads, to a illness of Freudian Lips, the game is almost designed around ways the designers could turn puns into afflictions. This isn't to say every strand of comedy in Two Point Hospital is based on puns, the rest is instilled via the in-game announcements and the phenomenal animations.
When, not if, a patient dies in the hospital there's a chance they will come back as a ghost. Patients will soon scatter and flee upon seeing a ghost, so a janitor with the right training is required to hoover them up. A personal favourite has to be when players start to face an infestation of monobeasts. There is just something comically brilliant about the concept and the animations of patients slipping on swatted bug like unibrows. Couple these with the wonderful animations of the treatment rooms and you could spend hours just watching what occurs in the hospitals, being constantly distracted.
Comedy aside, which is an amazing element to ignore, Two Point Hospital has plenty of systems for players to delve into to run a profitable hospital. As with the best tycoon style titles, players can pay as close attention to the pursestrings as they wish, delve into what is making patients and/or staff displeased or get more of an overview. For example, a lack of funds isn't a constant problem, though at times players will need to balance the books. If you have too many staff hired you'll have to read about how long employees have worked for your hospital and even reasons why they are there, all before firing them. At the other end of the spectrum when things are going well the game doesn't artificially pull you back allowing some splurge on "necessities" such as attractive plants, happiness boosting staff room items and even glorious artworks to adorn the hospital walls.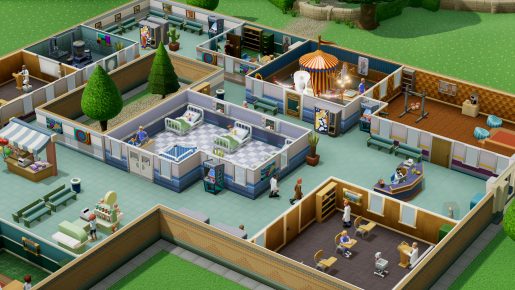 Verdict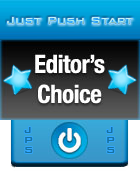 Two Point Hospital nails so many aspects that it makes it easy to call it a worthy spiritual successor of Theme Hospital. There's no doubt that gamers will be sinking hours into the title, with there always being one more challenge to complete and another issue that needs solving. Patients and staff aren't just wandering sprites, each come with traits that make them react differently, and not always in a helpful way! This is all rounded off by the comedic elements; which are perfect for turning what could be a depressing serious tycoon game into a light hearted entertaining experience, which is impossible not to love.
[Editor's Note: Two Point Hospital was provided to us by Sega for the review.]