Point and click adventure games were popular back in the '80s and '90s especially on the PC platform as we received a ton of them. Sadly though with the rise of consoles and 3D gaming, the genre started to die out. However, the genre somewhat makes a minor comeback this month with the newly released State of Mind that is releasing on all major platforms this month. Is State of Mind a game that will win over fans of the point and click genre?
State of Mind is not a literal point and click video game, although it shares many similarities with the genre. It's best to describe the game as something similar to the Telltale games or anything directed by David Cage. It's a game where you have to investigate and solve puzzles, plus there some minor to major decisions that you have to make in the game that affects the narrative.
Anyway, State of Mind is a game set in the year 2048 in a futuristic version of Berlin. The design of the game is quite impressive mainly because it takes a lot of inspiration from the Blade Runner movies as well as the planet of Coruscant in the Star Wars prequels. You will see fancy looking high rise buildings all over the place, police droids, drones and even cool looking cars.
However, since this game is not an open world title, you don't really have the chance to explore the vastness of the city of Berlin. You are mainly stuck inside linear levels where the only thing you get to explore is where the green arrows tell you where you need to go to next. I understand this game was made on a budget, but it would have been cooler if the levels were bigger as the lack of open space ruins the immersion just a little bit.
Another thing that might off-put some people are the weird looking polygonal character models. For some reason the designers of this game decided to make every human character look blocky like the Tekken 2 character models back in the PSOne era! It just appears like the game is unfinished and it looks particularly ugly during cutscenes. Yes I know this is a design choice, but personally I am not a fan of this unorthodox look.
Speaking of unique, the plot in State of Mind is one of the most original stories I have ever encountered in a video game before. The game centers around a character named Richard Nolan who gets himself into a car accident. After the accident, Richard realizes his son James and his wife Tracy have gone missing. The only person that can help Richard out is a character named Adam who lives in another place.
Richard and Adam have a special connection and the two have to work together to uncover an intricate plot that has a lot of twists and turns that is sure to make players gasp due to the level of unpredictability. I don't want to spoil too many details about the story, because this is a game that you have to play for yourself to truly appreciate it. All I am going to say is that the game's story might be hard to follow at first so you may want to play the game more than once to truly understand what is going on.
What I will say though is that this game has a very slow pace at the beginning and it takes a VERY long time for the story to pick up. It's also worth mentioning the main character of Richard Nolan is highly unlikable mainly because he's a selfish grumpy prick for the majority of the game. There are choices at the end of the game where you can somewhat redeem his character, but I never really liked him when I played the game. Adam is a far more likable character in my opinion, although he's not in the game as much as Richard is.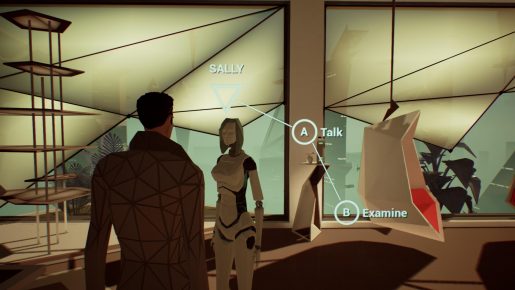 There are some other playable characters in the story, although I won't mention them here as that will go into spoiler territory. Being different characters does not really change the gameplay, although they do have to do different types of tasks in the unique universe that they live in.
In terms of gameplay, State of Mind is kind of like the aforementioned Telltale Games or something by David Cage, but there are less options for you to do to change the story's outcome. Most of the decisions that affect the story does not happen until the very end of the game so most of it you are just following a linear path. I would have liked if this game had more choices involved, although the story isn't too bad once you understand what the heck is going on!
The majority of the game is just you controlling the characters and needing to find which green arrows in the levels you can interact with. There are some more interactive moments in the game such as you getting to control a drone or needing to avoid security cameras, but these moments are too few and far between. Not to mention the game lacks any type of exciting action because most of the time you will be listening/reading a lot of spoken dialogue…
Verdict
Overall, State of Mind is a good game if you are into a heavily narrative based title. It's also worth playing if you are wanting to play something different that doesn't have to rely on you shooting things all of the time. That being said, this game is not for everyone as the slow pace and lack of interactive gameplay is going to bore some people. It's best to look at gameplay footage first before you decide to pick this game up for yourself.
[Editor's Note: State of Mind was reviewed on PS4 Pro platform. The game was provided to us by the publisher for review purposes.]