Defiance 2050 is a remaster/remake of sorts of the MMO third person shooter that came out last generation which was simply called Defiance. It's currently free to play and this new version of the game promises to have new content, updated visuals and more. Despite the game being free to play, is it still worth checking out?
Well right off the bat Defiance 2050 did not leave a good impression on me at all with the time I had playing the game. First off, I think developer Trion Worlds released the game far too early because at its current state the game can be annoyingly unplayable thanks to the many launch day bugs I encountered in its first week.
On the first day I played the game, Defiance 2050 crashed on me three times without warning. My Xbox One X froze and the game booted me out to the main menu. On the second day I played the game, it would freeze up and crash whenever I wanted to look at the in-game map. By the time it came to my third day of playing, surprisingly the crashes stopped, but then the servers went down and I wasn't able to play the game at all temporarily.
It's not just crashes and inconsistent servers that drag the game down either. Actual in-game bugs and glitches would always occur when I played the game. One annoying occurrence were two times I was unable to progress in the main story because the quest marker failed to show up. In the first incident I was supposed to kill a bunch of enemies, but they failed to appear. I had to restart the game again for the enemies to show up. The second time a mission glitched on me was when when I had to follow an NPC character, but he just froze up and never wanted to move to his next destination!
The last annoying glitch that I see often in this game is how enemies and NPC characters move around in the game. I'm not sure if it's lag or not, but sometimes characters in the game will walk like if they are standing on ice and glide through the map. The enemy AI is also sometimes very dumb as they get themselves stuck inside the environment or they fail to look at you and just stand there doing nothing.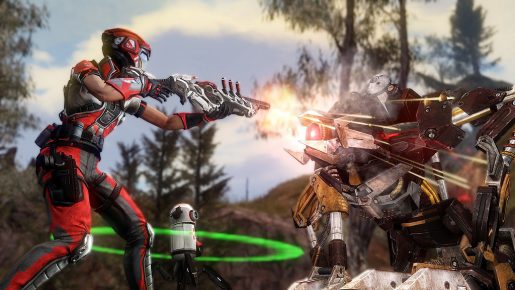 I know it's a bit unfair judging the game by all of its glitches, but these are all of the issues I experienced during the first week Defiance 2050 came out. As I mentioned before, Trion Worlds may have released the game far too early and they should have delayed the game by a few weeks to sort all of these issues out before release date.
Even if the game was running perfectly, Defiance 2050 did not leave a good impression on me. Despite being a remaster, Defiance 2050 still looks like a very outdated video game and just appears ugly for the most part. Characters sometimes don't even move their lips while they are talking to you and objects (usually plants) pop in and out of view randomly. Not to mention the animation looks stiff and jerky much like many games looked like in the PS2/Xbox era.
The in-game HUD is also annoying because the text is way too small for me to read even though I was playing on a 43 inch Samsung television. I usually cannot see modern video game text when I play on my old 32 inch TV, but Defiance 2050 decides to use even smaller text than usual! It's just a minor gripe, but I always hate it when I have to play video games so close to the TV so I can read what is going on.
Despite all of the bad things I have said about the game so far, there were some glimpses of fun here and there. For one thing, the controls are very easy to learn as it plays like any other third person shooter out there. Aiming is very easy as you lock onto enemies and killing hordes of them can be fun. You will even encounter huge enemies that act like bosses from time to time. Even AI NPCs are helpful during battle so you don't have to do all the work by yourself.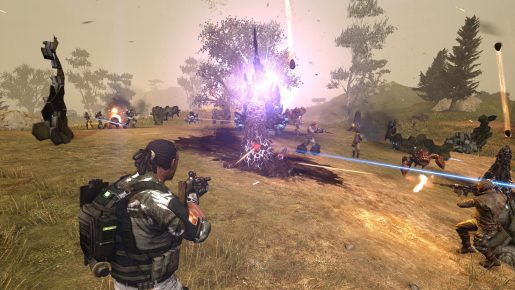 Missions are also better if you are able to co-operate with many online players. I remember when I first played the game, the online community was quite large as many players were doing the same missions that I was doing. Co-op is more fun in this game as the missions get very boring and repetitive when you are playing the game by yourself.
Sadly though, the main story missions are a chore to play through because they follow the same formula. You are either killing a certain number of enemies, or you have to wait until an AI partner is finished doing a job and you have to protect them. There's no variety in the missions and I got really bored just killing all of the same enemies over and over again…
However, you can spice things up mainly because you can customize your loadout and add new upgrades to your arsenal. I think it's kind of cool that you are free to use any gun you want so you can snipe enemies from afar or even go full Rambo and shoot close range with a shotgun. Another cool thing you can do is spawn an ATV and just ride across and explore the huge map that this game offers. Vehicles can pretty much travel on any terrain and traversing the landscape is very fun and satisfying.
Verdict
Overall, Defiance 2050 is not a very good game thanks to all of the technical hiccups I encountered during its launch week. Even if the launch issues are all fixed, the game itself leaves a lot to be desired. The outdated visuals and repetitive gameplay are a turn off and you're better off playing Warframe or any other free to play MMO instead. That said, you can still find some type of enjoyment in this game if you are a fan of shooting games, but other games offer better variety than this.
[Editor's Note:  Defiance 2050 was reviewed on the Xbox One X platform. The game was provided to us by the publisher for review purposes.]