For years I've used The Elder Scrolls Online as an example of how Destiny should be. Even if it isn't perfect, which it most certainly is not, they've done a fantastic job of adding content, experiences and catering to a variety of demographics. The reason I bring this up is because Warmind has a lot in common with Summerset. At their core, the intent isn't just to give players a fantastic experience, it's to suck them into the world and motivate them to take the journey. With a lot of requested features, new locations and countless other exciting things, is Summerset a must or is it just a trick to get new players?
The Elder Scrolls Online: Summerset takes players to a new location, filled with familiar faces. What stands out isn't that Razum-Dar or Queen Ayrenn return, but rather, they just add to a variety of tasks. As for the story itself, it's honestly standard Elder Scrolls fare. Stop monsters, look into mysterious happenings, defeat some foe or just deal with some weird puzzle. With so many different ones, it's hard to really elaborate without devoting the review to it, so I'll leave it with fans will enjoy it, where as those who don't care for ESO's storytelling will continue to dislike it.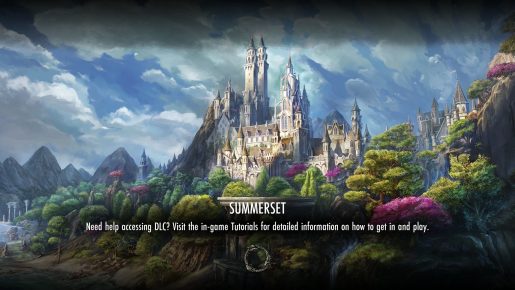 Outside of the story, Summerset is simply a beautiful place to look at. After a couple dark and drab adventures, you're greeted with a lush and vibrant world filled with interesting creatures and pretty locations to explore. This isn't just the landscape itself, even some of the world bosses stand out by being majestic creatures that test your players' skill and understanding of mechanics.
One of the biggest changes in Summerset are abyssal geysers, which are basically dark anchors. You and ideally a group of players meet up, it will randomly start and then waves of enemies will spawn ultimately leading to a boss. It's hard to comment on how much lasting appeal this will have, but the ones I did had a wealth of people ready to overcome the obstacles, making it likely far easier than it would be with three or four, if even that.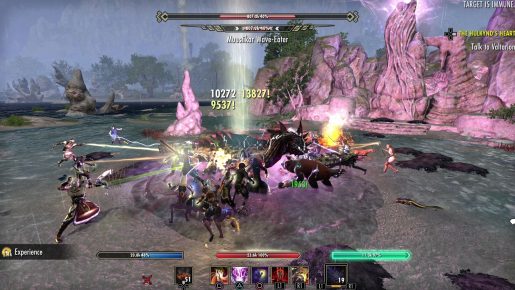 In addition to a new challenge, crafters can finally make jewelry. This small addition gives players a variety of new build options, along with, in some cases, making it a little easier to get the perfect build. Time will tell how much of an impact it will actually have, just, for now, it's something exciting.
Those looking for more will want to check out the new trial, Cloudrest. This one is different from the others for a couple reasons. It's likely the easiest trial and you can immediately fight the last boss.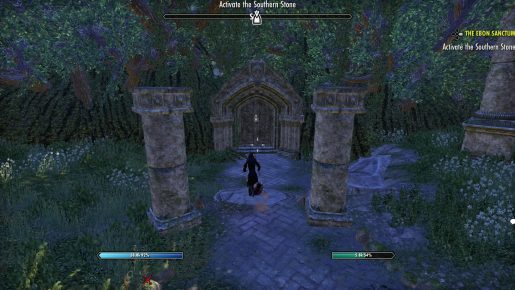 The trials overall difficulty depends on how many bosses you defeat prior to the last boss. Those looking for the most challenge can rush to the end, where as those overwhelmed by it all can defeat them all and lower the difficulty. As cool as this is, there aren't a lot of mechanics, kill orders or things to worry about, with the normal difficulty being so easy my randomly assembled group took 20 percent off the final boss, at max difficulty, without even realizing our group lacked a tank and a variety of people being inexperienced. Said group found a tank and easily beat it and all the bosses separately without a wipe and minimal deaths. Sadly, I can't comment on veteran difficulty, though I expect that to still give players a run for their money.
In addition to glory, the new trial features a couple of extremely powerful sets, giving everyone a couple new items to chase after. Best of all, the drop rate doesn't seem terribly unforgiving and something even a more casual player can reasonably accomplish.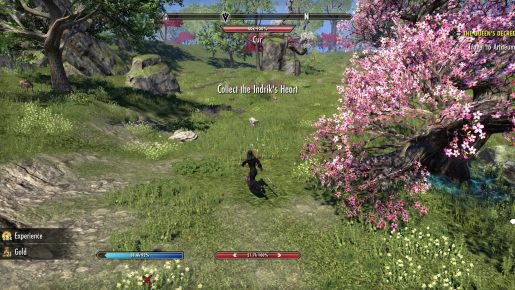 While a lot of things are geared towards multiple player activities, something that should be expected in an MMO, there are still some things for solo players to do. These include a couple delves, public dungeons and other crazy things going on in the world. It might not be the most robust solo experience, though there is still plenty to see and do.
Verdict
The Elder Scrolls Online: Summerset does a good job of giving everyone something to be excited for. Crafters have jewelry, solo players have more of the usual things, guilds get a new trial to grind and world event chasers have a new challenge and world bosses. This, plus the beautiful world of Summerset make for a fantastic experience. Sure, the trial could be harder and some other minor things but overall this is a solid expansion that will make many happy.
[Editor's Note: The Elder Scrolls Online: Summerset was reviewed on PS4 platform. The game was provided to us by the publisher for review purposes.]