One of the biggest trends in gaming is to make battle royales combine multiple genres into a new experience. This is nothing new, in fact, some of the best games are amalgamations, but this doesn't always yield success. Fallen Legion: Rise to Glory tries to merge action and turn based mechanics, resulting in a rather unique experience. With simple mechanics, dynamic gameplay and plenty of enemies to defeat, does Fallen Legion: Rise to Glory or is it more fall than rise?
Fallen Legion: Rise to Glory is a combination of Sins of an Empire and Flames of Rebellion, in one convenient package. Which gave you play is determined by the character you select, with both games covering different sides of the story. Sins follows Princess Cecille on her quest to unite her deceased father's empire, with Flames giving Legatus Laendur a chance to overthrow the royal family.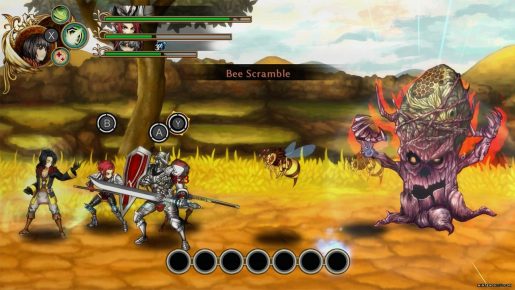 Neither story manages to shine and often falls victim to overly vague plot points or generally uninteresting details. Between politics, quick moves one way or the other and an overwhelming need to just go with it, there is little to make Fallen Legion: Rise to Glory memorable. However, the same can't be said about gameplay.
What makes Fallen Legion: Rise to Glory unique is the dynamic turn based mechanics. The idea behind it is simple, with the execution being difficult. Players need to input commands, paying special attention to who can and can't attack, making sure to pay attention to attack order and being mindful of what the enemy is doing. It sounds harder than it is, though it will likely take some practice to get down.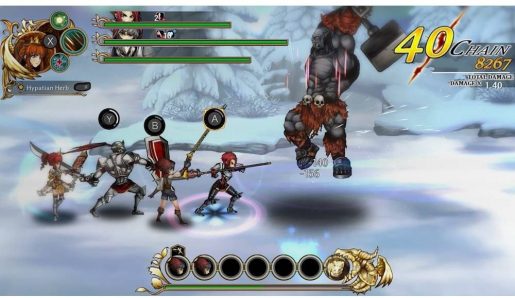 Most fights are little more than attacking until you see an enemy making their move and then, right before they attack, block to perform a perfect block, get some bonuses and maintain your combo for additional damage and other benefits. The window for a perfect block is generous enough to have some leeway, with enough to actually require some skill. Moves can also be cancelled for blocks, so a great defense will typically beat an amazing offense.
To aid fighters you can use spells to heal, attack or revive, making the experience a little more forgiving. Losing a fighter isn't the end or even a big deal, you just have to stall long enough to revive or at least bank another revive. Actions will happen fast, so you need to be cognizant of what is going on.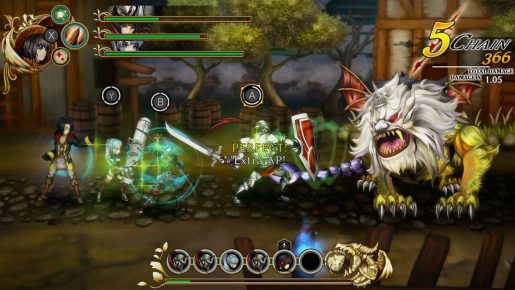 Where Fallen Legion: Rise to Glory falls short is progression. Story will unlock characters and additional abilities, all of which offer different advantages and disadvantages (more range, high damage, multiple targets, status aliments, etc), along with items that give various perks, though these small handful of things are all the customization you'll receive. Well, outside of choices you make on the battlefield for short term buffs. This causes the experience to feel a little hollow and gives less skilled players less to work with. If you're good at blocking and understand the need to attack, you can honestly S rank every stage, on your first try, without having to worry about leveling or progress.
I also noticed classes don't make a big difference, outside of catering to different play styles, so if you're fond of a specific group, you can finish the campaign with them. Likewise, gameplay doesn't really change as you progress, outside of different skills potentially being used. Whether it's five minutes or five hours, the gameplay experience is exactly the same. This can be dull for some, though this will vary.
Verdict
Fallen Legion: Rise to Glory isn't perfect, especially in terms of story, though it's a fair amount of fun. The lack of a sense of progression can be off putting, as can the largely repeated gameplay cycle, though those looking for a more dynamic turn based RPG will probably have fun. Level based choices give players the ability to either dominate or turn things around, resulting in a fun extra. So, if you want a thrilling, yet simple RPG to play on the go, Fallen Legion: Rise to Glory is a solid choice.
[Editor's Note: Fallen Legion: Rise to Glory was reviewed on Switch platform. The game was provided to us by the publisher.]