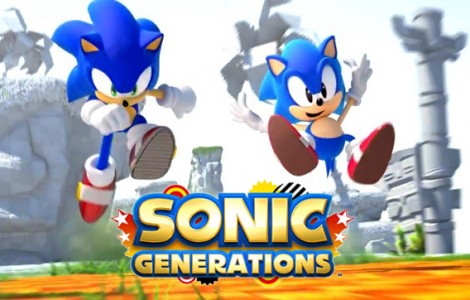 Sonic Generations is a consequential game. It could be a lot of things, an affirmation of the hope the Sonic fanbase holds on its shoulders, a love-letter or blessing come too late or truly the final nail in Sonic's coffin. Sonic's revival is one that has been awaited and expected and denied over and over again and to a lot of gamers, this could be the final word on whether there's any life left in the blue hedgehog. It's been 20 years and after two decades, is this game the long awaited apology? Or is it the dying sputters of a mammal long since dead? Check out the HOTs and NOTs of Sonic Generations.
HOT
Gameplay
Let's not waste a minute and get right to the chewy center of Sonic Generations, the big question and the eternal failings of Sonic's latest adventures. The gameplay of Sonic Generations is strong, it's fluid, quick, strategic and deeper than the average Sonic fare. Sonic moves like a hot knife through butter and the game is designed around this very fact. Each level hits the sweet spot betwen Sonic's two greatest failures, the tedium of holding the control stick to the right and waiting for the victory music, and the frustration of speeding along at Super Sonic speed just to run into a wall, enemy, pit or glitch.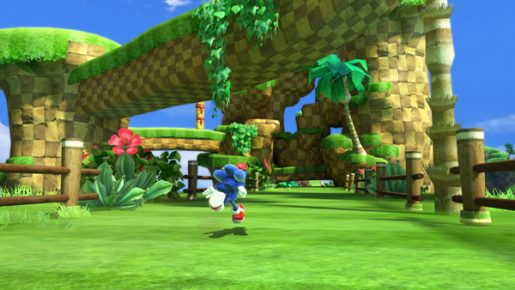 The game has done the impossible and a modern Sonic game has managed to engage the player. This is the greatest Sonic has been in a long, long time. Building on the improvements that Sonic Colors brought, but with a fatter budget, a PS3/Xbox controller and SEGA's dreams behind it, Sonic Team has taken the formula to an art form.
The game takes two separate paths in gameplay, split into Classic Sonic and Modern Sonic. Classic Sonic is all side-scrolling, all the time, while Modern Sonic takes the newer 3D perspective, though still managing to turn to a side-scrolling occasionally. Classic Sonic plays it simplistic and is more of a building built on the foundation of the first few Sonic games but with refined controls, amped speed and built with glittery HD graphics. The Classic stages are great fun and quite a trip to those nostalgic for the days of Sonic 3 and Sonic & Knuckles, plus it allows for a new twist on modern stages such as City Escape and Crisis City.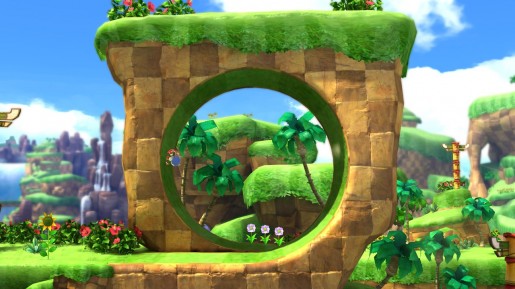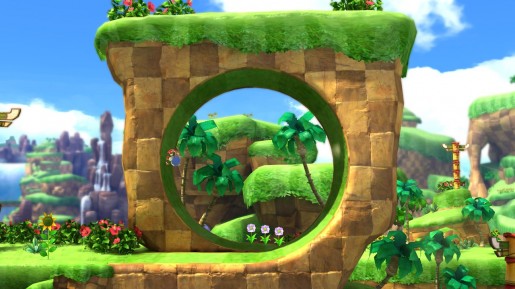 However, no one was expecting the classic stages to light the world on fire, as much fun as they may be, it's Modern Sonic that has dropped the ball over and over again and is what will make or break the game, especially because these segments are significantly longer. Put your fears to rest, these segments are just as polished as Classic Sonic's and implement the camera angles and modern abilities well with well timed set pieces, excellent level structure and a strangely deep mid-air combo system that can make or break a timed level run.
Great Visual Design
Something that Sonic 2006 and Sonic And The Black Knight sorely missed was color. Sonic And The Black Knight toned down its visual to compensate for its medieval fantasy setting while Sonic 2006 was just trying to be Final Fantasy. Sonic Generations has some of the most interesting visuals I've seen in a long time from gaming, let alone Sonic titles. Every object has a tangible, full feel to them and every level is filled to the brim with great color choices, Chemical Plant, Crisis City and Planet Wisp in particular manage to boggle with visual design and a fantastic feel that can switch from campy and colorful to epic and dangerous at the drop of a hat. This is the game you want to show off your HDTV with if you don't have RAGE readily available or there's children in the room. Or Sonic fans. That works too.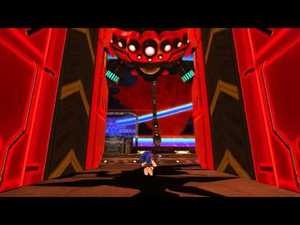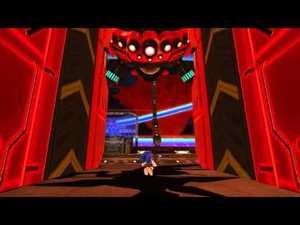 Audio Design Nears Perfection
I'd like to speak directly for a moment. I haven't seen a game put this much work into audio design in a very long time. Many developers don't realize exactly what audio design can add to a game, but whoever was working effects, foley and music at Sonic Team obviously did. Where many may go as far as making the music cool or the shotgun in their game sound blasting and heavy, Sonic Generations puts very noticeable work into the way that Sonic Generations sounds.
The music has been a missed opportunity in Sonic games for a while now, but none of the Sonic tracks or remixes fall into a trend, pitfall or generic mess as has been the case in the past. Every music track is a joy to behold, the remixes hold true to their original songs' spirits without sacrificing newness (the zenith of these remixes happening during Shadow's boss battle) and the music, rather than blaring out or distracting, is subservient to the game's feel. If you run with boost on, the audio quality turns down the bass and ups the treble to accentuate the game's speed and the sound becomes muffled and bass-y when Sonic goes underwater.
The chirpy retro sound effects are toned down enough to enjoy but never annoy and there's something oddly satisfying about the audible WHACK sound when Sonic smashes into Silver the Hedgehog. After listening to that cathartic thump and the clanging and crashing of flattening Silver under a giant pile of cars and trash, it will remove any and all feelings of antipathy you ever had for the character and/or the entire game Sonic the Hedgehog(2006), and the truth is, that is the greatest thing that Sonic Team could do for the game. If a game could make me not only forget about what even Sonic Team considered a failure, but actually use the negative energy to make the game more enjoyable, then Sonic Team has to be doing something right.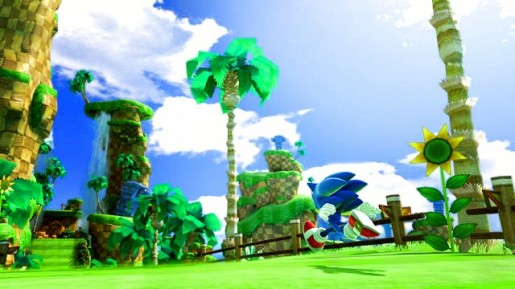 Story
While not the game's strongest point, there is an oddly satisfying twist to the Sonic Generations' entire outlook… and that twist is that Sonic Team is finally okay with making fun of itself. The way that the story flies through the Sonic history had to call for at least some form of self-awareness, Sonic Team is strangely fine with noting little annoyances or oddities about the Sonic Mythos, like Tail's reaction to the Chemical Plant's pink water or Sonic's aggrieved expression after a torturous voice clip from series un-favorite Charmy The Bee. Plus there is a small twist at the end of the game that some may see coming, but is extremely entertaining nonetheless.
A Philosophy To Aspire To
Lastly, Sonic Team has admitted to a few mistakes, accepted some of the complaints about their games in the past and has spent an entire game (entire two games if you count Sonic Colors) fixing all of them. This is something that developers never seem to get after any length and what's greater is the sheer amount of things they have fixed. Instead of ironing out the wrinkles of an otherwise plain, boring shirt, they ironed out the wrinkles, added glitter and slipped some chocolate in there for you during lunchtime.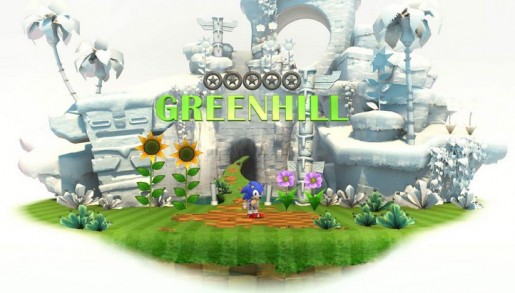 To put this in a statement that isn't tortured, Silicon Knights created the game Too Human, a dreadful, poorly received hack-and-slash beat'em up with the right control stick used for melee. After the unimaginable amount of crap Too Human took, Silicon Knights decided to fix the system in time for X-Men Destiny, a dreadful beat'em up that is okay, doesn't use the right control stick for melee, but was content with wallowing in mediocrity. Sonic Team has done the impossible and went above and beyond. They have fixed problems plaguing the series for years now, and decided to create, not just a good one, but a great one in it's wake.
NOT
Short… Really Short
You will finish Sonic Generations in a day.
If you don't finish Sonic Generations in a day, you will finish it the next day. If not that day, the day afterward, and that's just because you have been playing all of the side-quests.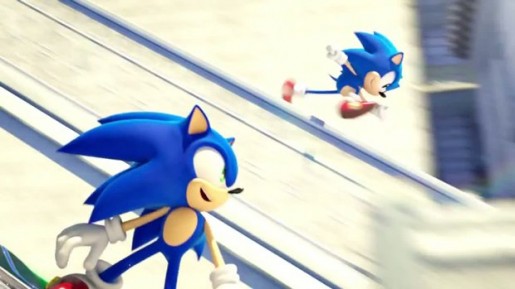 It is an absolute shame that Sonic Generations is so short. It's a game that asks to be revisited, so it's not a failure or a game without purchase value, there's limited Xbox Live content, will be receiving DLC and the side-missions are plentiful, but all in all, the game will last you about six hours, four if you're a maniac or the blue hedgehog himself. This small fact undermines the entire game as a purchase, but not it's overall quality. It's a game that you can come back to at anytime, replay any mission or any boss fight and there's always the oft-uttered mantra of "Let me just try to beat my time". The levels call for enough strategy and exploration that even once you finish the game, you can still find joy in revisiting levels, but if you demand dozens of hours, or in true RPG fashion, hundreds of hours from your gaming experience, then consider this a buyer beware.
Celebrating A Generation Of Failure
This will ultimately prove to be a petty complaint to any besides those deeply invested in their Sonic The Hedgehog history, but it boggles the mind that Sonic Team would spend entire levels celebrating games like 2006 Sonic or Sonic Unleashed and dedicate a boss fight to Silver The Hedgehog, a character chosen by much of the fanbase to be the harbinger of Sonic's decline. This is a flaw that can easily be looked past, due to the extreme amounts of effort put into polishing the game, but for some, it may be difficult to forget the sting that came along with previous Sonic heartbreaks.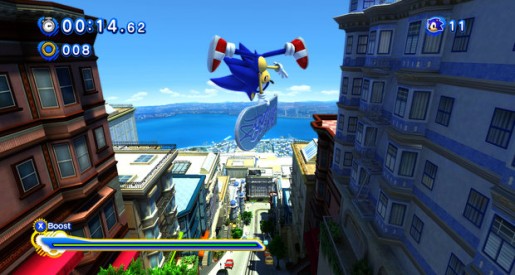 VERDICT
Sonic Generations is a rare thing in today's industry. A developer previously thought to be over the hill, lazy or incompetent suddenly decides to become great. Many may pump out a good time-sink or at least a sequel marginally better than it's predecessor, but after the commercial success of Sonic Colors, Sonic Team has decided to make this game truly great. While it's brevity may turn some players off, the absolute giddy joy of racing through Sonic's history on a control scheme that, finally, not only works but excels, well… this is the Sonic game that players have been waiting and hoping for. Enjoy.
[Editor's Note: Sonic Generations was reviewed on the Xbox 360 platform. The game was provided to us by the publisher for review purposes.]
Sonic Generations Review

,