Outside of maybe Super Smash Bros. Ultimate, there is no game more exciting than Kingdom Hearts III on the E3 show floor. With so much mystery, hype, delays and amazing trailers, a little worry is certainly understandable. Now that I had a chance to experience Kingdom Hearts III, I have a lot more faith in it.
Editor's Note:While I was able to play both the Olympus and Toybox demos, I only had 20 minutes to complete them. According to those working the event, there is over seven minutes of cutscenes, which I skipped to increase my chances of finishing both demos.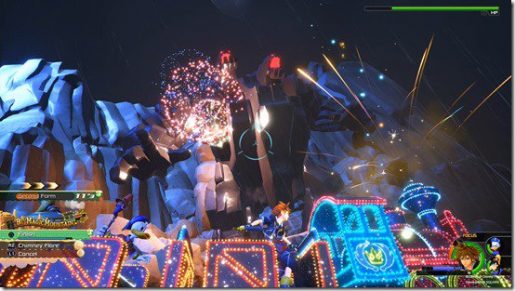 Olympus takes place towards the end of some mission, with Sora getting ready to fight The Mountain King. Before the climatic battle, Sora has to dodge a number of rocks and other obstacles.  Outside of a lack of speed if you try to progress and move horizontally, it's an enjoyable struggle. It's just hard enough to force players to try but not hard enough where anyone is going to get stuck for any extended period of time.
Once players reach the top they have to fight The Mountain King. Most of this fight is reacting to attacks and trying to figure out the best way to deal damage. Nothing is terribly difficult, though there will likely be a small learning curve, with the most common attacks having an aura appear where they're set to appear, making it fairly easy to stay alive. What will likely happen is players taking damage due to being greedy, over genuinely having issues with the enemy.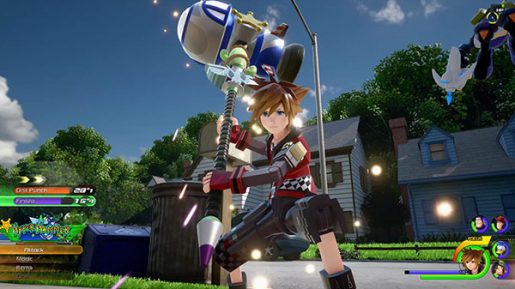 When The Mountain King takes a certain number of hits and/or damage, there is a brief stun phase. Sora needs to jump up to the head and deal damage, something that is largely automatic, so those unskilled at platformers have nothing to worry about, with enough damage triggering one of the attraction attacks. For this fight Sora riding a train made of lights, complete with rockets and other crazy things to deal damage. It makes for a thrilling way to close out the fight or at least deal significant damage.
Toybox is a little less exciting. Instead of fighting a boss, players need to defeat waves of trash mobs before heading to the toy store. While combat and movement was a little floaty and lock-on could be better implemented, it doesn't detract from the experience. However, there is the very real possibility of certain attacks being entirely too common and making them feel less powerful or special.
The final part requires Sora to defeat a bunch of robots, either with another robot or by using his keyblade. Piloting the suit isn't particularly difficult, there is just a lot of enemies more than capable of destroying your armor. Losing the suit isn't the end of the world, as Sora can fight them without it and even take over defeated units. If nothing else, it makes for a more diverse experience.
In all and all, Kingdom Hearts III wasn't completely perfect, but it's certainly quite the experience. Flashy moves and vibrant visuals make for an experience worthy of this generation, with the content certainly having potential. Obviously this demo doesn't paint the full picture, though it certainly suggests a bright future.