Last year Astro made some rather big moves announcing a low tier wired and wireless headphone. This year there were people hoping for a massive revision, considering the A40 and A50's was rather hard to find earlier this year, but instead their E3 offerings were largely cosmetic.
First up is The Legend of Zelda: Breath of the Wild themed A10's. Astro went with the A10 because of it's durability and ease of travel. As far as changes, the headset is purely cosmetic, featuring a lot of nods to Breath of the Wild. The two icons on the side are accompanied by the Sheikah tower/guardian pattern (the wavy one). This icon has a small texture, something that isn't a problem, just something to consider. Beyond the main design are a bunch of small touches and references, with a very small Zelda branding on the top.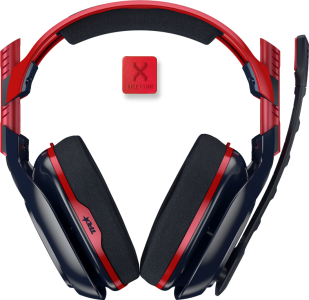 In addition to including the headset, what makes this A10 different from their current offerings is the included 3.5 connector. Instead of being a simple aux cable, it comes with a splitter, allowing it to connect to the Switch and your phone, giving players both without compromising either, well, outside of what they can't control. The cord also features some unique branding and makes for a neat headset.
The other featured headset is the A40 TR X. For those unaware, this is a special design for the headsets tenth anniversary and features a red and blue design that is intended to reference Halo. Outside of looks, the A40 TR X is essentially just a different colored A40, with the only other difference being some subtle nods to it being an anniversary edition (X Edition badge hidden under the speaker tags). Those interested will be able to get it later this year, though keep in mind that it is intended as a replacement, so the mixamp is not included.