This past week has been one filled with interesting conversations and mixed reactions in regards to Street Fighter. As someone born in the late '80s, I have a lot of fond memories of playing Street Fighter in arcades, the thrill of seeing The New Challengers the first time and over 20 years of Street Fighter II edition jokes. While I have this connection with Street Fighter, it is one that is lost on later generations, those who had too many other options or didn't quite grow up with local being the only option for multiplayer. This bittersweet reaction also sums up my experience with Street Fighter 30th Anniversary Collection.
Street Fighter 30th Anniversary Collection is as much a celebration of the series as a reminder of just how far Street Fighter, and really fighting games as a whole, have come. Perhaps the most interesting thing about this title is reading the game info. Instead of just highlighting obvious differences, like The New Challengers added Cammy, Dee Jay, T. Hawk and Fei Long to the mix, there is a long explanation of both small and large.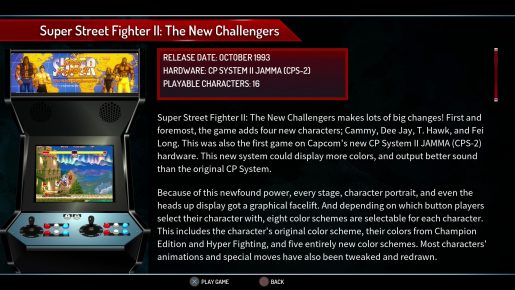 In addition to the aforementioned characters, The New Challengers is also the first Capcom title to use CP System II JAMMA (CPS-2), allowing for better graphics and more. Beyond history, changes to characters are noted, allowing players to really see just how far the series has come, like Chun Li gaining her Kikoken in Hyper Fighting, allowing the experiences to feel like more than just a bunch of random titles called Street Fighter II.
Gameplay wise, for better or worse, players can expect the same or an approximation of the original experience. This means a couple things for players unfamiliar with the history of Street Fighter, ranging from overall experience to difficulty.
While later titles put a strong emphasis on combos, the ability to do an impressive amount of attacks and perfect timing, older titles are more about outplaying your opponent. Even if you can't perform a charged attack or remember how to play as whomever, just knowing when to punch or kick is enough to win, provided you out think your opponent. This moves more to the ability to execute longer combos in later titles or at least knowing when to hit X or Y, giving players an idea of just how much the series has evolved. The same can be said about difficulty.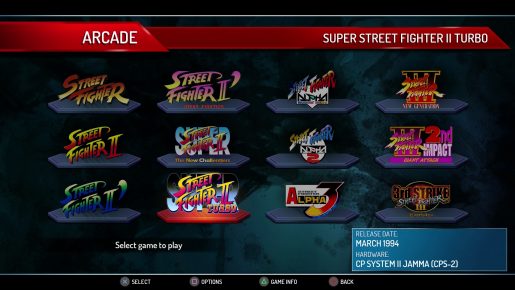 Like a lot of older fighting games, Street Fighter II is notorious for difficult, something that can actually exceed the average player, even on lower difficulties. To put it simply, the AI knows what you're going to do and reacts in a way designed to counter it. The issue with this is not only does the AI know exactly what you're planning, it can react faster, never messes up, something that is always possible with a human player, and can react in ways that don't feel completely fair, such as getting a hit and then instantly getting grabbed. This forces players to play around countering the AI, a tactic that can actually limit your skill, and makes for a less thrilling gameplay experience. Titles after Super Street Fighter II Turbohandle difficulty significantly better, so keep that in mind.
That being said, Street Fighter 30th Anniversary Collection suffers from a lack of resources for players to learn and improve, without checking an outside source or figuring it out. Training only applies to Street Fighter II' Hyper Fighting, Super Street Fighter II Turbo, Street Fighter Alpha 3 andStreet Fighter III: 3rd Strike –Fight for the Future-, meaning you're out of luck if you want to practice a specific version. From there, training is just fighting a programmable dummy, so best practices for dealing with certain attacks, combos or just mastering simple elements are not included. This can make it hard, especially since some people are absurdly good at these games, to improve and improve your skills.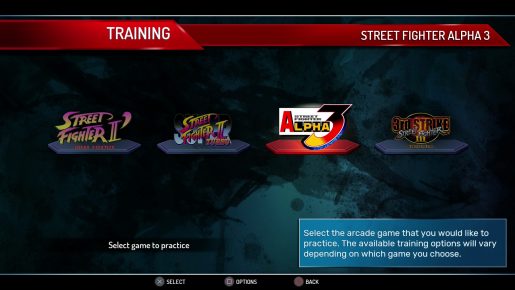 To further this, very little is explained. Moves are limited to just special attacks, with controls covering punches and kicks, meaning players need to figure out what a charged attack is, how to perform a throw and other elements. Some of these things are, however, explained elsewhere in-game, but it adds another step that will limit newcomers.
Thankfully, there is an online mode where players can play arcade, ranked, casual or set up your own lobby. However, online is limited to the aforementioned four titles, meaning those looking to play one of the other eight games online are out of luck. These are some of the most advanced versions, meaning there isn't much of a loss and it will limit issues players, but something to consider.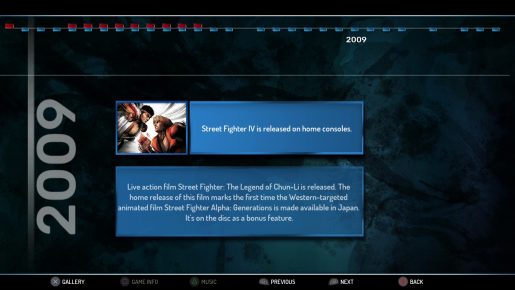 For those interested in more history, Museum covers practically every noteworthy event over the past 30 years. This is complete with explanations, visuals and all kinds of fun things to look at.
Verdict
In the end, Street Fighter 30th Anniversary Collection isn't perfect but it has enough content to give it value. The various games might not have obvious differences, yet they're something fans and newcomers will appreciate. The ability to save and play online give it longevity, with history giving players more to experience. Sure, it sucks online doesn't include every title, or at least all the non-Street Fighter II ones, and there could be more training, yet this is still a great experience for fans and newcomers alike.
[Editor's Note: Street Fighter 30th Anniversary Collection was reviewed on PS4 platform. The game was provided to us by the publisher for review purposes.]