Queendomino is the sequel to Blue Orange's Spiele des Jahres winning Kingdomino. Designed by famed designer Bruno Cathala, the game sees players building out their kingdoms via rectangular tiles, in a similar way that the age-old game of dominos works. Being a standalone title, on its own Queendomino plays with 2 – 4 players, though mixed with the simpler Kingdomino this is extended to up to 6 players. Queendomino's predecessor was loved for its simple drafting and placement gameplay. By increasing the complexity to appeal to more "gamer" gamers has the charm been lost? Let's find out!
Being a sequel to Kingdomino the gameplay is to some extent similar. In Queendomino on a turn players will once again be placing tiles, before choosing their next rounds tile and adapting the turn order. However, between placing your current tile and deciding on your next are three new optional actions. The first of these optional actions is to send a knight out into your kingdom, placing either one or two on the tile you've just placed. The player then gains coins based on the amount of squares that make up the territory, be it a large desert or small lake, that the knight visits. There is very little limitation to knight placement, including previously placed knights not blocking territories.
What are these coins used for though? Coins are utilized for the next optional action which is to purchase a building, for a single empty orange coloured construction/town square in your kingdom. It is rare but not impossible for these buildings to offer crowns, so on their own Town squares will offer little more than potential. Buildings have a range of ways for players to gain bonus points at the conclusion of the game.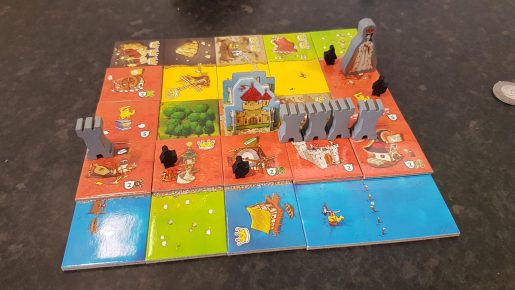 The most basic of these is straight up victory points, offering an instantly recognisable point return. The next type scores the player 2 points per territory of a specific kind. These can drastically change the way players place tiles, making it possible to win while having lots of small territories, rather than large sprawling ones. Some tiles will come with knights to place on future rounds or towers that get instantly built on the building tile. When you get the most, or joint most, towers the queen comes to visit. Not only are all building costs reduced by one but if the queen is in your kingdom at the end of the game she adds 1 crown to your largest territory. There are two final types which score points depending on the number of towers or knights in your kingdom.
Buildings do not have a set price, instead the cost is determined by the location on the builders board. Ranging from 5 to 0 coins this board offers players the risk and reward situation of waiting for a tile to drop down in price before picking it up. To counter this is the doom bringing dragon. The final optional action is to bribe the dragon, to leave its cave. Costing 1 coin the dragon can remove one of the purchasable buildings from play. In the first couple of games this action is often significantly underused. It is not only important, but it can be key to keeping those buildings that could score opponents a large point return out of their hands, and off their kingdoms!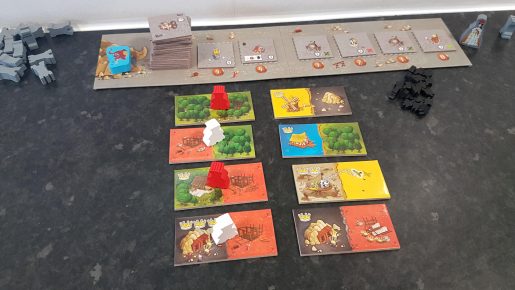 As with Kingdomino all the point scoring is done at the end of the game. The same territory scoring is done, multiplying territory sizes by their crown count. On top of this all the buildings score points and every 3 gold scores a victory point. Naturally, the player with the most points at the end is crowned the winner. To help what can be mathematics lesson style scoring is a scoring pad, which is included in the box. It is very reminiscent of the pad from 7 Wonders, where players write down the score for each element then add the parts up without having to remember them all at once.
It is hard to go directly from a Kingdomino mindset into Queendomino. They might look almost identical tile wise but this is an entirely different game. This is something that sounds more obvious than it is when you initially play. While the knights sound cool they add only a little into the game. It is the building tiles, which add in a load of new ways to score points, that drive this change from a light-hearted tile placement game into a more thinky title.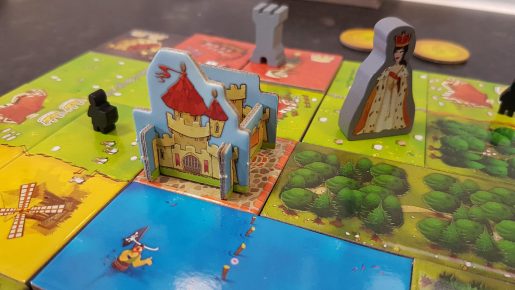 New ways to score inevitable increases the amount of player choice. Players can still try to score via large sprawling territories, though is it worth getting tiles with town squares to pick up some buildings? It's up to the player to decide if it is worth it. As the player count increases you'll have potentially less building choices, as the builders board is only re-filled at the start of each round, making turn order from domino choice even more impactful. In Kingdomino going last would mean you're left with whatever tile others don't want. In Queendomino it can also mean missing out on amazing and cheap building too, so going for the 4th tile comes with big consequences.
These decisions add complexity to the super-simple Kingdomino and, consequently, a fair amount of time (especially if playing with someone prone to analysis paralysis). In the time 2 players could complete one game of Queendomino the same players will comfortably be half way, if not all the way, through a second game of Kingdomino. Bear this in mind when working out when you'll be able to get the game to the table. For those using Kingdomino as a filler, Queendomino will most probably not be an ideal filler replacement due to the additional time it's on the table.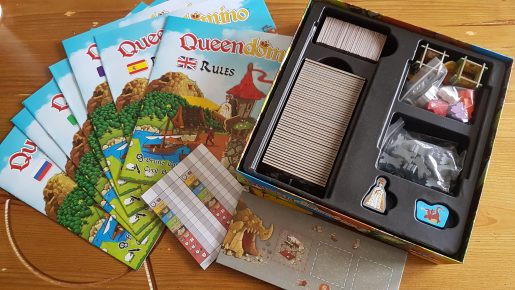 The player pieces are the same chunky turrets from Kingdomino, the towers are large in size and the Queen and Dragon pieces are equally robust. This list is absent of one component, The Knight pieces. For some reason these are small and fiddly to use. It would make sense scale wise, with the knights dwarfed by the towers, if the queen component was not the same size as the towers. Knights being that bit bigger would have just made playing ever so slightly easier, but it is hardly game breaking.
Queendomino will sit in an odd space for many, being similar to Kingdomino it may be hard to warrant the purchase if you own the original. It is also hard to recommend skipping over Kingdomino, as you'd miss the streamlined, elegant and simple tile placement filler. This being said, what Queendomino adds is perfect for those gamers whom have seen Kingdomino hitting the table time and time again, looking to change things up and use new strategies, or those looking for a slightly meatier game. The extra decisions are more than welcome, making each carry more impact, yet I would still introduce players to the series with Kingdomino first.
[Editor's Note: Queendomino was provided to us by Blue Orange for review purposes.]