Just Push Start recently got to sit down with Maxim Games the small indie behind the World War 2 turn based strategy game, Klotzen! Panzer Battles. The game aims to have a massive branching campaign, with "challenging difficulty and aggressive counterattacking AI". Scheduled for a Summer 2018 release the game is still very much in development. However, we were able to ask the team a handful of questions to learn more about the upcoming title:
Just Push Start: You've described Klotzen! Panzer Battles as offering a classic gameplay experience for Panzer General lovers. There is of course another Panzer General 'spiritual successor', 2011's Panzer Corps; how does your game set itself apart from that title?
Maxim Games: I love Panzer Corps, I have played it a lot. But I think it is almost identical to Panzer General, sort of a Panzer General with updated graphics, lots of minor upgrades and different maps. There is almost no difference in gameplay. So when I am talking about the differences between Panzer General and Klotzen, all of the differences still apply.
There are a few major differences: In my opinion, Klotzen has a more realistic supply system that takes strategic bombing into account. We have an absolutely massive branching campaign with lots of random events, 65 scenarios in total. Also, air power is completely reworked, being much more realistic and with more options that allow players to utilize air power in ways that are not present in the genre – aforementioned strategic bombing, but also air interdiction and attacking enemy airfields that can devastate enemy air power.
There are lots of other changes that should make playing the same scenario feel fresh on each playthrough. AI is much more active and should give players a real challenge. There are random scenario events, and players chose different Generals and Commanders and their skills and those change how the enemy responds. There are other changes, and we plan on covering different aspects in video tutorials so I would invite anyone interested in learning more to go to our website and subscribe to our newsletter to stay up to date.
JPS: Often games of this type feel intimidating to newcomers, particularly those without an extensive knowledge of WW2 history and equipment. How does Klotzen! Introduce its mechanics to those unfamiliar with the genre? And do you need to have an encyclopedia of WW2 equipment on hand to know how units behave?
MG: I remember when first playing Panzer General, and wondering why my panzers are doing poorly against some cannons, and butchering others. It took quite a bit of replaying until I realized they are doing poorly against cannons with barrels facing horizontally and great against cannons with barrels at an angle. That's when it dawned on me some were AT guns ?, so I looked at unit statistics and saw hard attack values.
We will have in-game tutorials about these things so I think newcomers will have it much easier than I did ?. That being said, I always enjoyed learning about differences between different models and I am pretty sure the process will be reversed – people will learn about the details of ww2 equipment by playing the game, which is great. That being said, I must warn you that the manual has some 80 pages and for some rules it will either be trial-and-error or studying in advance as any self-respecting general would do.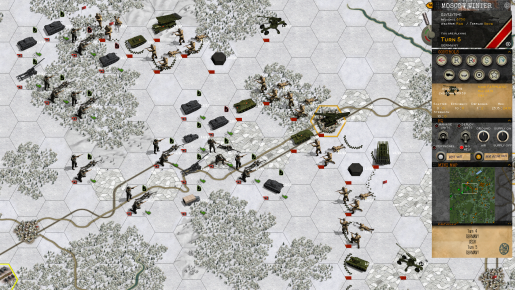 JPS: Turn-based strategy games are amongst the most prone to inducing analysis paralysis in players, where they are overloaded with potential options and gameplay slows down. Agonizing over critical decisions is a core part of strategy gaming, so how does Klotzen! maintain the flow of gameplay with such large battles with many units to control?
MG: Oh we are not making it easy ?. There will be different difficulty levels to match each players skill, but Klotzen will offer the most to the seasoned players. Our game adds a few more layers, supply and air operations being the most important. Players can choose to ignore them and keep it simple, but AI won't. However, the reason we are using the basic gameplay very similar to Panzer General is because in my opinion it struck the perfect balance between being a fun and easy to control on one hand and on the other being sufficiently realistic to cover most of the aspects of ww2. By sticking to this I believe we have a deep but simple to play game, as much as it is possible.
JPS: The steam page for the game mentions battleships blowing up following a hit to the magazine, or sitting helpless after the rudder is disabled. Presumably there is some random chance governing whether incoming fire triggers these effects. Generally this type of effect feels cool to see happen to your enemies but potentially infuriating when it affects your own units; how are random effects managed in the game to minimize player frustration?
MG: I was always fascinated by battleships. Extremely expensive, extremely deadly. They take years to build, and they get destroyed in engagements that rarely last for more than a few hours. Because of that, I wanted for players to experience that fear. You know, what Churchill had felt when he heard that HMS Hood blew up after a few salvos. I wanted for players to feel anxiety each time they hover their mouse over enemy battleship.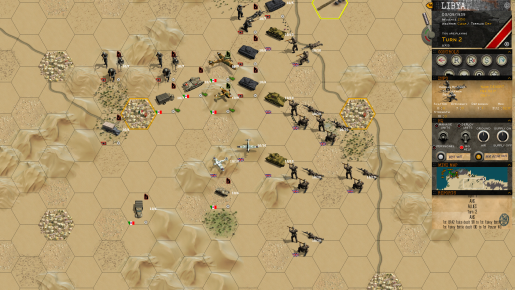 There are two types of players regarding this, people that aim for the perfect score with minimal losses, and the others, that let things happen. I used to be the first group, and was simply reloading when faced with a massive negative random number impact. We have autosaves so those players are covered. However, the more I have read about the decisions great generals had faced, lack of information and resources they had to deal with, the more I've come to enjoy the randomness. So I sort of started respecting their difficulties by not reloading after random disasters.
It is much more fun to play without reloading EVER. I would advise anyone to try it. Sure, reload on the first playthrough. But if you always win everything as a maximum victory, you will not experience a lot of great scenarios where you can only get to if you lose or perform poorly in some scenario. But as always, the choice is left to the players.
JPS: The game description also talks about customizing your own generals with different personalities, flaws and traits. To what extent is this player customization a focus for the game?
MG: The idea behind it was to model how different personalities changed the course of war. The impact of good (or bad) leadership was largely ignored in the genre, so I wanted to show large impact talented commanders had on the general outcome. As an added bonus, this significantly increases the replay value. That being said, Commanders and Generals are more of a spice and the main focus are the gameplay changes I have mentioned earlier.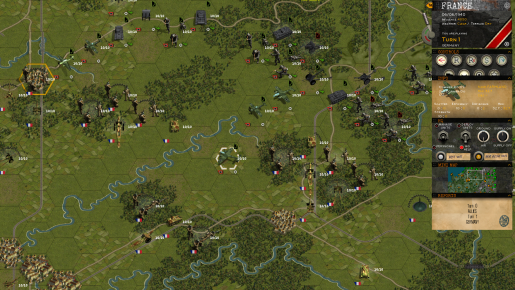 JPS: Given that a scenario editor is planned for inclusion, will there be steam workshop support for sharing player-made scenarios? And is there also potential for other forms of modding like re-skinning or adding more unit types?
MG: Yes, we plan on integrating the workshop time permitting. We are on the tight deadline and it might happen after the release but we will try to make it happen. As for the modding, reskinning and adding more unit types will be easy to do provided the players create the appropriate assets.
JPS: Other than Panzer General, what games have you taken inspiration from during the development of Klotzen!?
MG: Two most important ones are the Unity of Command and the Panzer Corps. Most of the other systems, changes and design decisions were a product of the books I've read and different discussions at the forums I have visited, forum.axishistory.com and others. Most of the changes came from the inside, a result of lots of thinking about the different aspects of the ww2 I've read about.
We'd like to thank Maxim Games for taking the time to answer our questions and direct interested gamers to the game's official website and the Steam store page.