One commonly heard quote is everyone has a price. What price means depends on the individual and could be anything from a concept to cash, but it's generally true. This is a core element that ultimately defines Penny-Punching Princess. With the ability to buy loyalty, obtain power through wealth and the usual charms associated with games published by NIS America, but is this enough to make a good game or should the princess use some cash to bribe reviewers?
Penny-Punching Princess follows a pretty straightforward story. The rise of capitalism resulted in companies gaining power and the princess, who originally didn't care for money, was broke and without a kingdom. Seeing the error of her ways, she decides to chase cash and bring an end to the organization that brought her kingdom down. It's a simple story, one that relies more on jokes and silliness than actual plot. This can get so bad that nearly two chapters are devoted to comments about how bad the zombie girl smells, something that gets old long before it stops.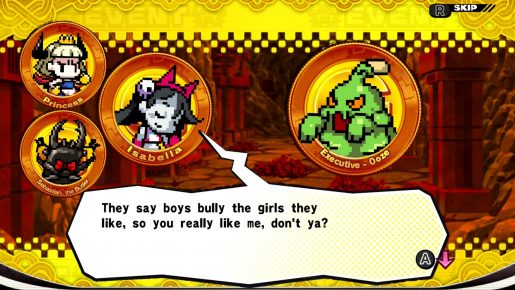 Once you move past the story you're introduced to the rather odd world of Penny-Punching Princess. Much like Cladun, it makes for the perfect portable title. The average level ranges from 5 to 20 minutes, with the layout being quite straightforward. Players shouldn't need a guide to find secrets or figure out where to go, as all this information is either given or can be obtained by not following the waypoint.
Combat is equally simple but is done in a way that is quite enjoyable. Every monster has some kind of unique attack and it's your job to bait, avoid their attack and punish. Sometimes this will stun monsters and give you the opportunity to shake them down for cash. It's an amusing tactic, one that is essential to being successful.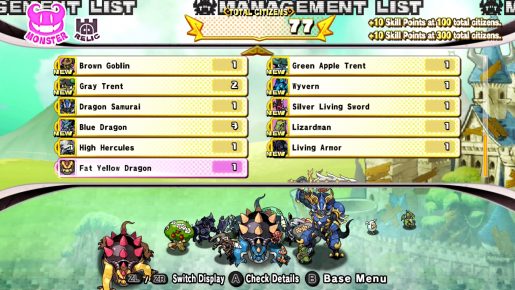 What makes money useful isn't just the ability to buy things, though that is also quite helpful, but rather, it gives players the power to buy loyalty. Outside of the company executives, any enemy, including bosses and traps, can be recruited for a price. This introduces a couple of interesting ways to play beyond using the same couple of attacks and/or special attacks.
Arguably the simplest way is to just recruit any difficult monster. There were a number of times I found a boss too fearsome that I resolved to just recruit them and not deal with it. The same is true for traps. Often times traps are more difficult to deal with than enemies, since they strongly influence how you play and move. Not only is this an effective way to decrease difficulty, traps are extremely useful for defeating enemies. Often times luring enemies into a trap is better than fighting them, especially since they're cheaper and more useful than most enemies.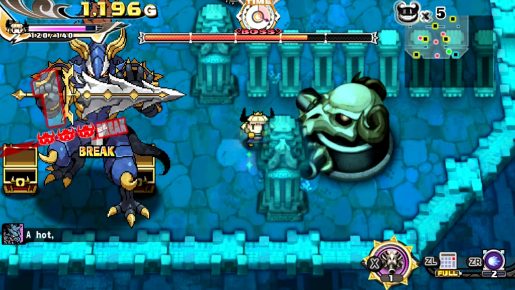 While Penny-Punching Princess has some of the advantages of Cladun, it also has the same annoyances. Since Penny-Punching Princess lacks a lot of depth, as in there aren't a variety of weapons and stats to increase your survivability, progression relies on playing smart, grinding previous levels or perseverance.
Considering almost every stat is increased by going different directions and recruiting specific monsters/traps a variety of times, players will quickly find themselves at a disadvantage if they don't prioritize armor and statues for skill points. Unless you want to stick with a specific perk or chase a small number of things, there will be a lot of grinding just to progress through the story. Not only is this annoying, it gets old fast.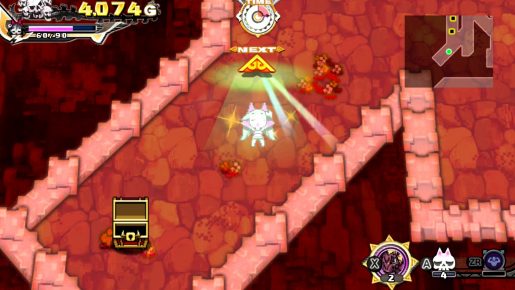 After spending three or four runs buying a specific monster and/or collecting cash, players will unlock a new armor that gives a couple points of attack or defense. Two or three goes a surprisingly long way, but it's a number that also feels entirely underwhelming. Even if everything was exactly the same and the difference was 20 or 30 it would feel like you're working towards something much better than the couple of points you actually need to survive.
Verdict
Regardless of the problems, Penny-Punching Princess is a good portable game. While players can sit and grind all day, levels are short and simple enough to make it the perfect grab and go title. This is especially true if you want to build your kingdom or play enough to unlock the proper gear before progressing, otherwise there might be some struggles. With the ability to return to older levels for better grades, hidden items and another character that has a completely different fighting style, it's a solid pick up and go title. Assuming difficulty and grinding are not an issue.
[Editor's Note: Penny-Punching Princess was reviewed on Switch platform. The game was provided to us by the publisher for review purposes.]