Century: Golem Edition is a reimplemented/rethemed version of the board game Century Spice Road, both of which were released in 2017. Coming from designer Emerson Matsuuchi the Golem Edition was initially only available at conventions or online but is now out for wider release. This instalment of the series, which is for 2 – 5 players, replaces the focus on spice trading with crystal delivery. However, does an aesthetical change elevate the title? Let's find out!
The gameplay is not only reminiscent but identical to Century Spice Road, so I won't go into great detail, giving and overview of the title. However, you can check out our review of Century Spice Road for more details. The aim of Century Golem Edition is to obtain combinations of crystals to complete demands on point cards. As with Century Spice Road, players will do this by playing cards to attain new crystals, upgrading their crystals, buying new cards, resting to regain cards and eventually spending a combination of crystals from their caravan.
As with the original players start with two basic cards, to gain two yellow crystals (instead of cubes) or upgrade twice. Crystals come in four colours: yellow, green, turquoise and magenta. Respectively, these crystals range from easy to acquire to needing multiple turns to get to; this is why new cards need to be acquired. Additional cards will range from gaining different crystals directly, allowing for more than two upgrades on a turn or even splitting apart the rarer crystals into many crystals of lower colours.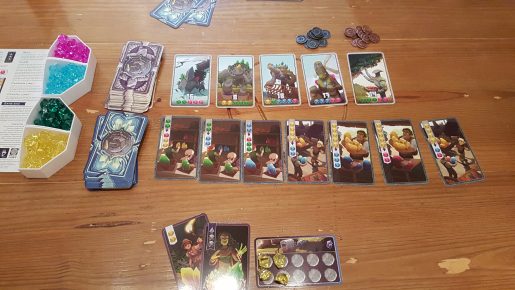 The reason for all the card play is to gain the required combinations of crystals to claim point cards, importantly before your opponents do. This can make it a race to get the crystals needed and cause others to adapt their aims throughout the game; when the point card they were after gets claimed by another player. The last two slots of the 5-card long Point Row have bonus coins making cards more valuable if claimed when in these spots. The game continues with new point cards becoming available when others are purchased until one player has purchased their fifth point card (sixth in a 2-player game). Finally, the best crystal merchant is crowned, determined by whomever has the most points, taking into account both coins and cards.
While the concept of the spice road and merchants trading is a much more real world setting in terms of believability, it was not without faults. The eye-catching crystals which are used only referred to as colours have a similar upgrade path to the spice cubes. However, in Century Spice Road there is a disconnect when it comes to why red saffron is considered a much cheaper ingredient compared to brown cinnamon. That disconnect is removed when merely talking about crystals, removing a large pet peeve I have with the original.
Alas, at the same time a discontinuity leaves the game an unintuitive element is introduced in the form of the bonus coins. In Century Spice Road gold and silver coins are included to represent 3 points and 1 point respectively. For no reason at all the gold has been replaced with copper coins, which retain the 3-point value. Yes, this means in the Golem universe copper is much more valuable than silver. Intuitively players will go to set the game up with the coins backwards thinking silver should be the more sought-after coin. This feels like a change for the sake of change; it would have been much better if they had been identical to the coins from Spice Road.
The size of the cards is again on the large side and this is brilliant for showing off the different yet still stunning artwork. While my attention wasn't drawn into the details of the artwork its vibrancy certainly made my eyes wander away from the game and onto the cards in the middle of the table. The shallow plastic bowls of Spice Road have been replaced with more angled containers. With these flat walls I've found it significantly easier to grab some crystals from the "bank". This ease is then followed by much more satisfaction when you hold the crystals in your hand or have them in front of you on the table in comparison to the rather uninspiring cubes.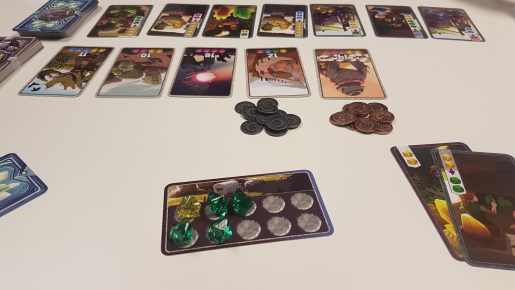 Call me dull, but I prefer the warmer colour pallet and art style of Century Spice Road. Conversely, most new players when given the option went for the more colourful Century Golem Edition. The drive for others to play this newer version extends far past the art design, as soon as it becomes a competition between wooden cubes and shiny crystals. While it does come down to personal choice, it would be good to consider whom you're playing with. Century Golem Edition has certainly got more people interested in playing, that were put off by the less vibrant artwork of Spice Road.
Gameplay-wise there is nothing different between the two so there really shouldn't be the question of owning both. The only major thing to note is that Century East Wonders, the sequel of Spice Road, will integrate with the original but not the Golem Edition, that makes me slightly less inclined to recommend it over the original. If it wasn't for those glorious shiny crystals it would be an easy choice between the two versions, with them included I'm left completely undecided which version I truly prefer. Therefore, for now, at least until Eastern Wonders is released, I'll have to somehow find room for both on my shelf.
[Editor's Note: Century Golem Edition was provided to us by Asmodee UK for review purposes. The game is currently available on 365 Games for £28.99. It is also available from local UK board game stores, find your local store here]