Telltale's Batman: The Enemy Within is the fourth episode of season 2 giving us a continuation of Batman's/Bruce Wayne's quest to stop 'The Pact' getting their hands on a virus that could have dangerous implications getting in the wrong hands. Wayne's cover is blown at the start of the episode, meaning things are getting harder than ever.
What I admire most about this episode is that Batman finally gets a chance to shine. In the previous two episodes, it had all been about Bruce Wayne so it was great to see the cowl and cape again. That said, Bruce Wayne still plays a big part in the latter end of this episode.
Anyway, my favorite moments in 'What Ails You' are at the beginning where Batman and Catwoman have a bit of a scuffle with Harley Quinn, Bane, John Doe (Joker) and Mr Freeze. Although the action in this episode is scarce, it's cool to see Batman confront Bane and Mr Freeze as he uses some brutal moves to try and mobilize the two villains while Catwoman tries her best against Harley Quinn.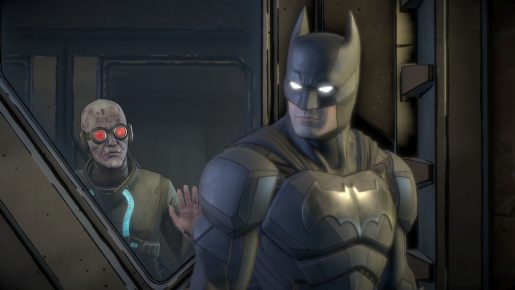 However, the meat of the story happens after this scuffle where Bruce Wayne has to gain the trust of John Doe (Joker) in order to capture Harley Quinn who is still on the run with the dangerous virus. The virus is dangerous, although each of the villains want it in order to satisfy their own personal needs and requirements.
You do get a chance to talk to Joker a lot and you get to witness his more villainous side for the first time in the season. Earlier episodes Joker was like a cool and funny sidekick, but this episode shows us how he becomes evil and why he cannot trust many people. It's a great twist that will culminate in the final episode.
Another major side story is getting more details about The Agency and Amanda Waller. Without giving away too many spoilers, let's just say Amanda Waller does not like to share lots of details with her comrades even though she is working with the "good guys". It makes me feel Amanda Waller is sure to have a bigger part in the fifth and and final episode coming out in the near future.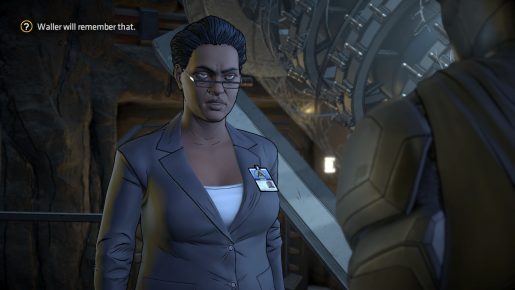 The main thing I didn't like about this episode is how short it is. My first playthrough only took me around 75 minutes to complete which is far shorter than the 120 minute offerings from previous episodes in season 2. Hopefully the last episode is longer because we need a decent finale.
In terms of actual gameplay, there are not many interesting things for Batman and/or Bruce Wayne to do here. Most of the time you are just talking to people rather than solving puzzles or investigating things like in other episodes. The middle part is also quite boring because nothing really interesting happens.
Verdict: I've been enjoying several parts of Telltale's Batman: The Enemy Within although its recent episodes have been kind of disappointing. The lack of Batman is still annoying to me and none of the episodes have been as exciting as the first one where you were battling The Riddler. The first episode is by far the best one of Season 2 and Telltale has yet to reach the same highs. 'What Ails You' picks up at the end thanks to the Joker, but it's not as exciting as other episodes. Hopefully The Enemy Within ends with a bang with episode 5 in a few week's time!
[Editor's Note: Telltale's Batman: The Enemy Within 'What Ails You' reviewed on the Xbox One platform. The game was provided to us by the publisher for review purposes.]