With bigger and more complicated games, it can be hard figuring out where to find new content. Sometimes you need to find a new location, head to familiar places and other times talk to a specific vender. While Monster Hunter: World tells you where to access DLC content, it can still be tricky to find and in some cases use. To make this easier, this guide will show you where to find them and more importantly, what you need to do to access them.
How to claim add-on bonuses
After downloading the game and said bonuses, load up Monster Hunter: World. Before hitting the title screen, there should be a pop up that lists what items you've unlocked, like the one below.
Depending on how many things you've unlocked, there might be an additional page with more items. Note, if you don't see something you own listed, make sure to verify you own it, said content is downloaded and if that doesn't work, you might need to restore licenses on the PlayStation 4 (settings > account management > restore license) or potentially something similar on the Xbox.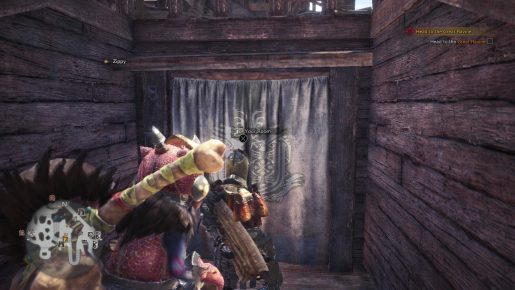 After this, head to your personal area. If you can't find it, refer to the image above.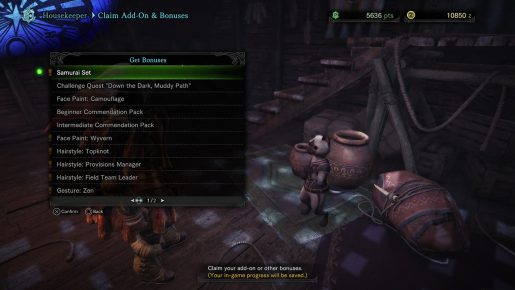 In there, look for a palico that is different from the one you created and talk to them. One of the options should be "claim add-on & bonuses." Select that and accept any items you want and this will give you access to them.
Accessing additional content
Since some people have reported issues finding said content, this is how you use these items.
Face Paint and Hairstyles
By the palico that gives you the items is an item box. Select that, followed by change appearance and then change appearance. There you'll be able to edit certain parts of your character, including face paint and hairstyle.
Cosmetic Armor (Samurai and others)
Repeat the steps listed above, but instead of selecting change appearance a second time, choose layered armor settings. This will bring you to a new menu that has all your cosmetic armor, allowing you to change one or more pieces to match whatever ones you've unlocked.
Gestures and Stickers
Push start/options and then move over to the communication tab. There you should see various options, including gestures and stickers. Select gestures and then on the last page you should find newly added ones, with stickers working the same way. Those interested in seeing what the deluxe edition stickers look like can find them in this posts featured image.