Okami came out on the PlayStation 2 back in 2006 and it was rated as a masterpiece by many critics. Sadly though, the game's sales were less than stellar and Capcom has yet to make a proper sequel outside of a spinoff released for the Nintendo DS.
Over the years, more people have jumped on the bandwagon to finally notice how great this game really is. In 2012, Capcom released an HD version of the game on PlayStation 3 giving new people to experience this masterpiece on their own.
However, the PS3 version of the game was only available on the one console and it was only purchasable on the PlayStation Store. Fast forward to 2017 and the game finally gets a bigger audience with Okami HD being out for PC, PS4 and Xbox One both digitally and in retail stores.
The thing that makes this game so unique is that you are not playing as a human character. Instead, you are playing as a powerful sun god named Amaterasu who takes the form of a white wolf. The fact that you are playing as a creature with four legs makes jumping puzzles and navigation feel far different than lots of other games out there.
Anyway, the story of the game is based on old Japanese myths and legends. The big bad in the game is a powerful demon named Orochi who was inadvertently freed from his 100 year prison. He has ravaged the world into literal darkness making it look ugly and full of evil demons. Amaterasu along with her small friend Issun have to venture out to break Orochi's curse on the land and kill him once and for all.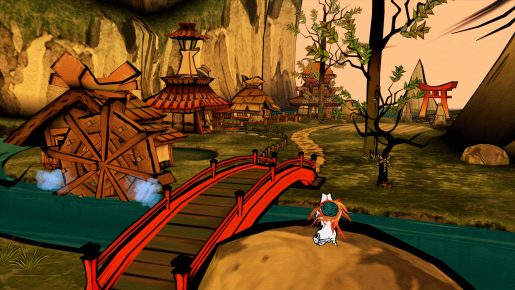 The story is interesting and there are even some funny side stories for you to experience too. Most of the characters are memorable and likable apart from maybe the annoying and cowardly Susano. Susano aside, Okami offers an experience you do not want to miss out on.
At its core, Okami HD is an epic action adventure video game that mimics the style of The Legend of Zelda franchise. There's a huge map for you to explore with many side quests plus a main quest for you to follow. Along the way, you will have to fight many evil demons as well as big bosses hidden in dungeon style environments.
To aid Amaterasu's quest to take down the evil Orochi, she has to acquire many abilities from other Celestial gods by freeing them. To use Amaterasu's powers, players can use the Celestial Brush which is a paint brush that can literally alter things that happen in the real (game) world. For example, Amaterasu can paint the sky with a circle forcing the sun to rise earlier than normal. She can also paint over a river in order to repair a bridge and more.
In terms of platforming abilities, later in the game she can somewhat hook onto pink flowers with a vine that acts similarly to Link's hook shot in the Legend of Zelda games. You can also use the paint bush during combat too. When you encounter bad guys, it's like an action RPG because you are forced inside a small area to kill all of the enemies. The brush comes in handy because you can use it to slice enemies in half, cover them with black paint and even draw up a bomb to explode them!
The boss fights are also epic and you have to be creative in order for you to beat them successfully. You have to remember every new ability that you earn as they come in handy against the bosses. Another thing I like about the game is that it doesn't hold your hand all of the time. It's up to you to solve puzzles, talk to the right people or explore new areas in order to know what to do next. This is not a game that always has an arrow pointing you to the right direction all of the time. You will have to think for yourself which I admired since many games released these days are too linear and easy.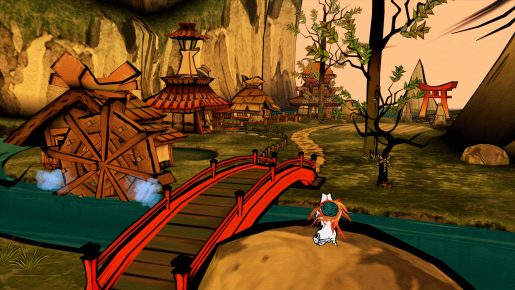 If you have never played this game before, you are in for a treat when it comes to the visuals. Okami is like you are playing an old Japanese painting come to life. The cel-shaded graphics don't look outdated and the game looks great especially if you can play the game in 4K!
That being said, the graphics aren't all that different to the PS3 version I played five years ago. Sure some of the colors are brighter and the character models are smoother, although I didn't notice many differences with the PS4 version I reviewed.
Not to mention Okami HD does not offer anything new in terms of content outside of the new 4K presentation. As much as I love this game, this is the third time I have played it and it feels too similar to the PS3 version to make it essential for you to buy if you have already played this game.
Verdict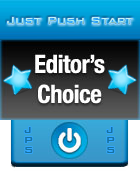 Overall, Okami HD is an essential purchase if you have never played the game before. This will be the first time the game is available for PC and Xbox gamers so you guys should try it ASAP. This is one of my favorite games of all time and is one of the best Zelda clones out there. However, if you already played the PS3 version five years ago, this version doesn't offer anything new. If you still own your PS3 or PS2 copy of the game, you don't really need to pick this up a third time unless you want to see the 4K visuals on PS4 Pro.
[Editor's Note: Okami HD was reviewed on the PS4 platform. The game was provided to us by the publisher for review purposes.]