Call of Duty: WWII has just been released for PC, PlayStation 4 and Xbox One. For the first time since Call of Duty: World at War, released back in 2008, the world-famous franchise returns to World War 2. In those 9 years gamers have jet-packed around in the future and battled through Favelas. Returning to the muddy trenches this iteration has stripped out some of the over-the-top elements, though is it still the Call of Duty experience we all love? Let's find out.
Story wise this isn't entirely another generic World War 2 storming beaches, endless struggle plot. Though, players will still be storming a beach among other places. Instead of focusing solely on the war as constant struggle it portrays more snapshots of the bonding of brothers in arms. It doesn't depict a glorified vision of war, with the Allied forces swooping in to save the day, there are plenty of no punches pulled moments of gore. With scenes like this, it does go some way to show the darker side of war where many lives were lost. There are parts which feel like Saving Private Ryan and not overly nitty gritty but this is a game for entertainment. Entertainment being the much more accurate word than fun, as the tension and struggle of some situations, are there to drive players' emotions.
Respectful is one word that rings out. Respecting the time period, the sombre mood, and the devastation that the war caused, the normal AAA blockbuster that gamers expect is still there but is toned down. One thing that it is interesting to see included is the racism of the time, within the allied forces. It is only briefly touched on but shows that the game isn't shying away or sugar coating anything.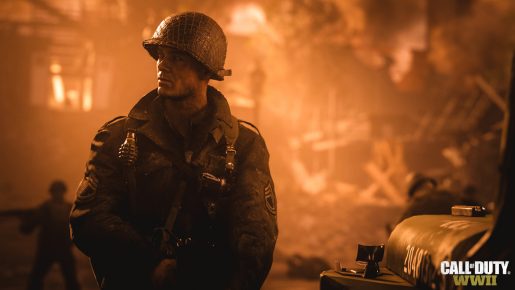 Call of Duty WWII is the same as other games of the series when it comes to the explosive, fast paced style. Gamers get into the franchise for this and it doesn't disappoint. Everything players will want from a game set in this era are included: tanks, an obligatory beach assault scene, mortars, anti-aircraft guns, explosions, enough bullets to block out the sun, and everyone's favorite Call of Duty weapon sniper rifles.
When it comes to the arsenal, players are treated to a lot of periodic weaponry. They have been designed in a way that they feel slower, via rate of fire and reload speed. Regardless of this chunkiness they are no less deadly. The WWII classics are all there and players will often trend towards the likes of the German Kar98k rifle, the MP40 or PPSh-41 when it comes to submachine guns or everyone's favourite (at least mine) the Panzerschreck.
Sniping wise the slowed down nature is most apparent though it is still possible to pin enemies down from range, getting some one hit kills and pretty much guaranteed two hit kills. Despite the changes players do still seem to be running and quick/drag-scoping online, though it is less effective. The other major type to mention are shotguns, as they are a bit of a mixed bag. Some feel powerful at close range, whilst others seem to require almost melee range to be effective. Notably, it seems the Double-Barrelled Shotgun has been nerfed a tad since the beta.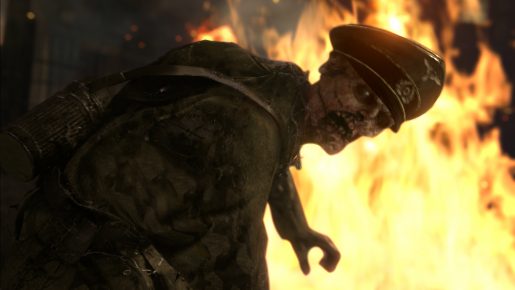 For the singleplayer story, gone is regeneration of health. Instead players have a limited health pool, which is only refilled via health packs. On normal mode the spacing of these health packs is rather lenient, and your squad can often throw you another, making it only a step below just regenerating health. As soon as only a few of these are removed, for harder difficulties, then that health bar become very precious. Instead of hugging a wall and waiting to regen health players will be hugging walls hoping the bullets will stop flying their way. Without regen, fragility has been re-introduced which has not been present, and missed by many, for a long time in the series. It is similar to the no respawn zones within Destiny 2: where the ability of respawning, which is taken for granted, is taken away from you.
Jump onto the most played feature multiplayer and gamers will feel almost at home. Gone is Create-a-Class, to be replaced by create-a-… it's called Divisions. Effectively this limits players to set classes, though from there the customisation is very similar. For those whom used the create-a-class system to build vastly different build it will pose no significant change. Others who had only intricate changes it will mean a little difference but not one that will hamper them in a game breaking way. Each Division is levelled separately, as well as the character, how this will affect players that stick to their one favourite class is yet to be seen.
Map wise there is a nice variety, although not in colour palette as much as the last few games of the series. Each is like a small snapshot from different parts of World War II, be it close trench fighting, onboard the USS Texas Battleship or through snowy outbuildings. War is the new addition game mode wise, offering a smaller, close quarters, version of Battlefield's Conquest mode. This was something Call of Duty was missing and in its design is reminiscent of Wolfenstein Enemy Territory. Teams push up to objectives and must do things such as construct bridges to advance, build tank barricades or gun emplacement to hamper the enemy's advance.
This new spin on the classic multiplayer isn't for everyone but it does breathe new life into the game for many. The spawn zone limitations for movement, which stops players from flanking round behind objectives, is an instant turn off for many. Yet, this does see spawn camping kills reduced to almost zero, whilst offering bottle neck situations. The modes gamers would expect such as TDM, Domination, Capture The Flag, Etc. are all there, War just adds something different to break up any capacity for monotony.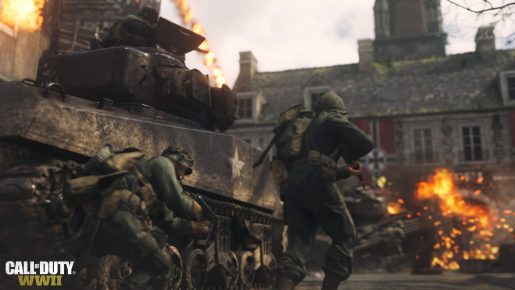 Nazi Zombies returns with some fine actors and actresses taking up the roles. While this does little to elevate the mode, it is nice to see David Tennant fighting off zombies. The mode has for a while now been a fan favourite and people have expectations for the mode. It provides the classic wave on wave action, a nice large map to sprint around in fear of a range of zombie types. It also has objectives to do that gives some additional structure, stopping the wave based gameplay from instantly becoming samey.
These objectives aren't always that obvious, so players will need to work out how to do things in a trial and error like experiment. An experiment which is made harder by the undead trying to constantly end you. It does enough to hold players interest when looking for a different experience away from multiplayer or the storyline: with it being easy to sink a good hour into an attempt with the right group.
The immersion generated by the visual and audio experience is incredible. The atmosphere built up caused me to literally duck at times, not overly helpful when trying to play but that is how immersed I was. The audio depth of the scenarios is what creates this, more so than the stunning graphics. The explosions, the gunfire, the orders being barked around all combine to surround you with the action. The only immersion breaking aspect to note are some of the invisible walls used to stop players going off in the wrong direction. These are a pet peeve of mine that have been present in Call of Duty games for as long as I can remember. At this point I've learnt to accept them though designing a level slightly different could make for a better experience.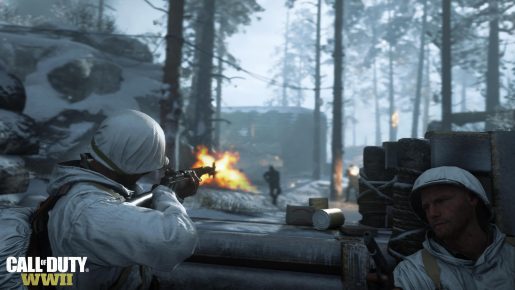 Loot crates, or as they are called in Call of Duty WWII Supply Drops, were always going to be included. So, I can't really hate on the developers for continuing the trend of these great (sarcastic) items. One issue I do have with them is their rather flashy, fancy unlock scene. It starts of fine, fitting the time period, popping the lid of a weapon crate. Then the flashy UI side of things takes over seeing digital item sheets zoom out the crate… Surely there is a more rustic way to do it that would fit the theme better. This is of course only a minor grievance.
Jet packs and wall running made a fast game even more fluid. Returning to a dolphin dive only is a refreshing change. One that long-term fans of the franchise will appreciate. In an era that was all about troops being stuck in a trench, fighting over inches of land, dialling back the movement seems the right decision. This isn't to say that the pacing of the game is slow, far from it. Especially when it comes to the multiplayer element of the game the famous run and gun style of the Call of Duty franchise gameplay is just as prevalent.
Verdict
Does Call of Duty WWII fall into the trap, of feeling like a re-skin, that many other games of the franchise have? To some extent, yes. The run and gun feeling is still there in multiplayer despite the weapons being slowed. They do feel different but the identity of the series is still so strong some are bound to claim it is a simply a World War 2 reskin. This mindset, while being somewhat inevitable, is a shame as there is plenty of entertainment to be had. This is a return to comfort for many and is good timing with the modern and futuristic shooter market becoming a tad congested. Call of Duty WWII does plenty of things right, perhaps gamers were just expecting too much of a change for the game to live up to.
[Editor's Note: Call of Duty WWII was reviewed on PC. The game was provided to us by Activision for review purposes.]
Call of Duty: WWII Review

,