When Sony revealed the PlayLink series, no game was more interesting and out of place as Hidden Agenda. Created by Supermassive Games, the talented team behind Until Dawn, it asks players to work either alone or together to solve a crime thriller. With multiple dialogue choices, some gameplay elements, fantastic graphics and a gripping story, is this a must for interactive movie fans or does it sound better than it is?
Hidden Agenda starts with two cops, Rebecca "Becky" Marney and Tom Nelson, investing a suspicious building. Inside they find what looks like The Trapper's latest victim, along with Jonathan Finn. He gets captured, pleads guilty and is sentenced to death. As his end nears, he claims he isn't actually The Trapper and Adam Jones, an orphan that is presumed dead, was suppose to kill following Finn's capture. With the killer possibly on the loose, you need to solve this before a potentially, somewhat, innocent man is killed.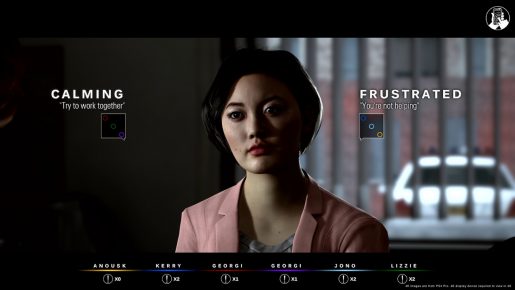 It's an interesting set up, one that goes down some unexpected paths. Based off your choices you'll find there is more to this case than meets the idea, including large secrets, evidence that Jonathan Finn might be telling the truth and other characters having their own hidden agendas.
Without revealing too much, the brief three or so hour adventure offers more than enough to keep players interested, with several different paths you can take. Some result in massive changes, including key players dying, with others causing a different end. Whatever path you end up taking, the ending should be satisfying enough.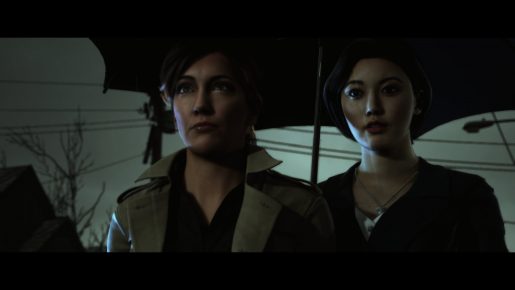 Since this is a PlayLink game, it uses a smart phone and supports multiple players. This is an odd choice, one that only makes sense in certain situations. The basic idea behind multiplayer is simple. Players try to achieve the story they want, by shooting, acting and behaving certain ways, with one player possibly working on a hidden agenda. Everyone else needs to catch them, with the other players fighting to see where to go. For the story it's basically just majority rule, with single player letting players do whatever.
Even though the smart phone app offers some neat features, like a creepy app that flickers and glitches when looking at the story so far, character bios and events, it is still less effective than a DualShock 4. With some prompts appearing for a couple seconds and being hard to track and click via a touch pad, it makes for a journey that would, if nothing else, work better if it supported both. Even though that is not the case, it isn't so bad to make the game unplayable, just could be better.
With most choices being simple words and a general idea of what the characters are going to say, you move your finger on the screen to move towards that box, followed by a poke to click. Other times you'll examine a room, possibly shoot someone or deal with a trap. These can be a lot harder to get in time, but not terrible in the grand scheme of things.
Verdict
Hidden Agenda is an amazing looking game with an intriguing story. At times the stories direction is a little too obvious, with other twists being sudden, it makes for an enjoyable ride. With multiple paths, different outcomes and plenty of information to find and understand The Trapper, it is a fantastic experience held back by questionable choices. With the smart phone app giving a slightly worse experience than the DualShock 4 and maybe not the most logical multiplayer experience, it's still something fans of the genre or Until Dawn will enjoy.
[Editor's Note: Hidden Agenda was reviewed on PS4 platform. The game was provided to us by the publisher for review purposes.]
Hidden Agenda Review

,