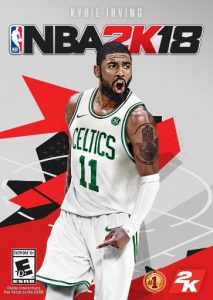 2K Sports has revealed an updated NBA 2K18 cover earlier this week. This is the new cover with Kyrie Irving now wearing the Boston Celtics uniform.
The official NBA 2K18 Twitter page posted: "Introducing the NEW #NBA2K18 cover ft. @KyrieIrving in a Boston Celtics uniform, to be released at a later date!"
If you are getting the physical version of the game at launch, you will still be getting the older cover with Kyrie Irving in Cleveland Cavaliers gear. 2K Sports wasn't able to update the cover quickly since his trade happened at the last minute.
The game itself will be released this September 15th on multiple platforms. If you live in Canada, DeMar DeRozan is the cover star while Shaquille O'Neal features on the special edition covers.