Part of what makes certain arcade games timeless, is the low skill entry and endless replayability. Players don't need a tutorial to understand Pac-Man, nor is there much to explain. Move in the direction you want to go, avoid ghosts, eat pallets and the four larger pallets let you eat the ghosts for a brief period of time. Despite the simplicity, mastering these games take time and practice, with the high score giving players something to always work towards, be it beating someone else or just improving as a player. These elements are the foundation for what makes a game like Namco Museum so appealing. Will these timeless games continue to offer value to players or is the market oversaturated?
Namco Museum starts by offering the three big arcade titles, Pac-Man, Dig-Dug and Galaga. All three of these titles are there in their full glory. So whether you want to pop some enemies or shoot down some ships, you can do so with confidence. Galaga '88 is also included if you want a more modern version.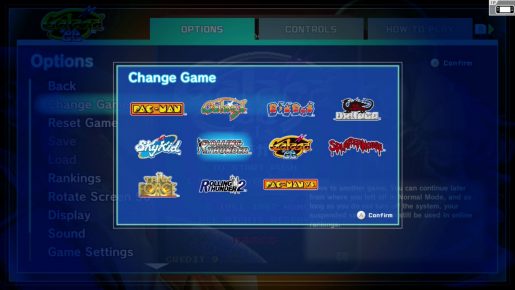 Joining them are other classic and niche Namco games, including Splatterhouse, both Rolling Thunder titles, SkyKid, Tank Force and The Tower of Druga. These titles, like the aforementioned games, are really simple, making them easy to start, finish and improve.
Splatterhouse is a horror game where you move forward and punch down enemies to prevent taking damage. Rolling Thunder requires players to walk, jump and shoot their way through a number of locations. SkyKid is a side-scrolling flight game where you avoid enemy attack and destroy hostile forces. Tank Force asks players to control a tank, hunt down enemy tanks and defend your home base across a number of levels. Finally, there is The Tower of Druga, a game where players navigate around, fight enemies and proceed to your goal.
If you've never heard of SkyKid, Tank Force or The Tower of Druga, that is likely because they're not particularly great or special games. SkyKid doesn't have the best controls, Tank Force is not the most engaging experience and The Tower of Druga is very slow and clunky. None of these things prevent the games from being played or in some cases enjoyed, just, if you haven't played them they're not as good as the more notable titles. That being said, I would say Rolling Thunder and Splatterhouse are a cut above.
Rolling Thunder has a number of opportunities to boost your score, find interesting things and it's simple and challenging enough to make high score runs a lot easier. While Splatterhouse isn't quite as accessible, it's interesting, if only for the gruesome look. It will likely take a bit to master the controls, but once you have it down, there is a lot to see.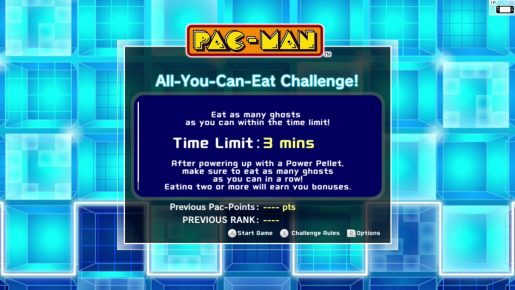 All of these also have optional online rankings and challenge modes. What's nice about online rankings is you can opt to see where you fall or just try to be the best you that you can be. Better yet, you can see how your rivals are doing, so even if you don't have what it takes to be the best, you can at least be the best person on your friends list. As for challenge mode, instead of playing the game normally, players are asked to accomplish some kind of task within a time limit. For Pac-Man you need to eat as many ghosts as possible, a task that is both fun and challenging. None of them are too outlandish and typically just push for a certain type of play.
These games also have a number of settings to make the experience match your needs. These include additional lives, lower or higher difficulty, the ability to play it landscape or horizontal or zoom in or out. Some of these settings will disable online ranking, so watch out, but they're a good tool if you want to practice Pac-Man or just get better. Players can also cheat the system by abusing save states, a tactic that is, if nothing else, a good way to either practice difficult stages or finish a game you wouldn't otherwise finish.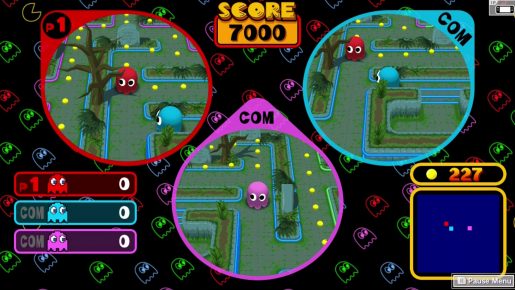 While this covers the basic features of Namco Museum, the most exciting thing is the ability to relive Pac-Man VS. In this mode, players take control of ghosts and compete to catch Pac-Man. If you play with multiple Switch consoles, a feat that can be accomplished with one system thanks to a free application and a copy of the game, the ghost that catches Pac-Man takes control of them and needs to avoid the ghosts. It's a fun mode that sounds easier than it is.
Most of the screen is obstructed and you'll rarely catch Pac-Man with a straight chase, forcing players to guess where Pac-Man is going, potentially resulting in losing them. Other players can also track Pac-Man by looking at the stage coloring or by gauging what other players are doing on the mini-map. It's not the best solo mode, but if you can find others to join in, it's a lot of fun. Especially since it works well with the Joy-Con set up.
Verdict
Namco Museum is essentially what you expect it to be. There are a bunch of classic games, with some touches, some nostalgia (the ability to use scanlines), online ranking and more. The addition of Pac-Man VS. is big for fans of the original or for someone looking for a party game with some other classic games. Combine this with an easy system to navigate, plenty of accessibility and it's a solid choice for anyone looking to play these classic games at home or on the go.
[Editor's Note:  Namco Museum was reviewed on Nintendo Switch platform. The game was provided to us by the publisher for review purposes.]