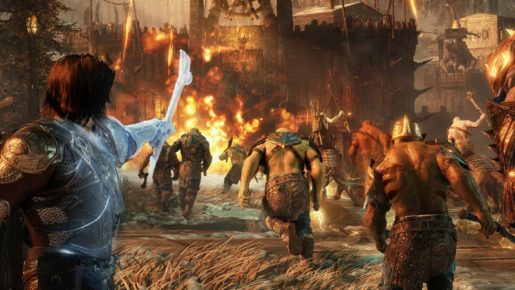 The ESRB has now rated the content that is to be featured in Middle-Earth: Shadow of War. As expected, the game features a lot of violence as you slay a lot of orcs.
Middle-Earth: Shadow of War has been rated M for mature players 17 and over. The content descriptors are for Blood and Gore, Intense Violence. It should have the same type of violence that was featured in Shadow of Mordor.
The rating summary says: "This is an action-role-playing game set in the Hobbit/Lord of the Rings universe. Players explore the open-world environments of Middle-Earth, complete mission objectives, interact with characters, and battle fantastical creatures (e.g., orcs, trolls, goblins) in frenetic melee-style combat. Players use swords, arrows, and knives to kill enemy creatures; some attacks result in decapitation and/or dismemberment, leaving bloodstains and body parts on the ground. Cutscenes depict intense acts of violence: an orc decapitated in slow-motion with a close-up camera angle; a woman accidentally killed by a character with a blow to the head; soldiers impaled and slashed to death."
The game is out on October 10t, 2017 for the PC, PS4 and Xbox One platforms.